Bootstrap 5 Admin Dashboard is a Very Powerful Admin Template and it is having Stunning Framework, Multiple Demos, Clean Code, Stunning Designs, and Well Documented. You can track and analyze your job statistics from our HTML template plugins and widgets. Modern looking HTML Template on Bootstrap 5 latest platform.
Power BI Admin Responsive Bootstrap Admin Template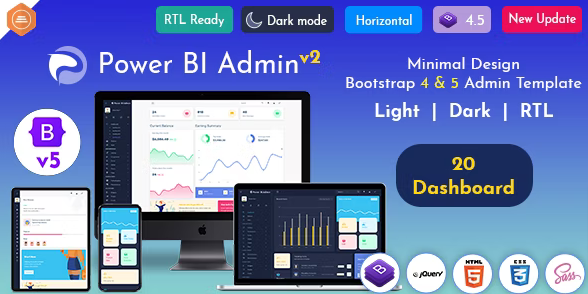 Power BI Admin Dashboard Template comes with 20 Dashboard, minimal Design Bootstrap 4 & 5 Admin Template, RTL Ready, Dark mode, Horizontal, 400+ UI Component, 50+ Widgets,  5+ Color Skins, 6000 + Font Icons, 85+ Integrated Plugins, Build Stunning apps with The most developer-friendly and highly customizable HTML Admin Dashboard Template. It Works on all major web browsers, desktops, iPhones, iPad, tablets, and all other smartphone devices. Lightweight and easily customizable it is basically designed for the developers who want to customize it.
Power BI Admin is a fully responsive Bootstrap 5 Admin Dashboard built with Bootstrap 4 stable Framework, modern web technology HTML5, and CSS3.  Power BI Premium Admin Template can be used by developers developing web applications like custom admin panels, project management systems, admin dashboards, application backend, CMS, CRM, business websites, corporate, portfolio, blogs, etc.
Bootstrap 5 Admin Dashboard Template – WebkitX Admin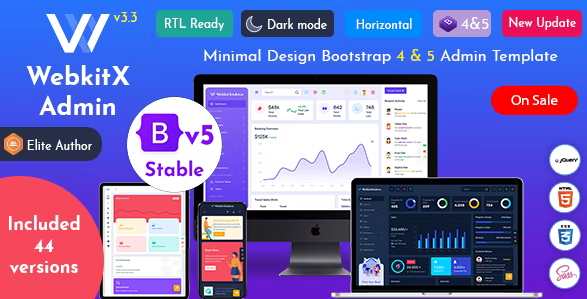 WebkitX Bootstrap 5 Admin Dashboard is Easy To Customize, Social Media Elements, 2640+ Pages (Dark+Light+RTL+Horizontal), 80+ Plugins, 600+ UI Component, 44 Style Layout with RTL, 100+ Widgets, and The Dashboard shows how much your store sales were in the current month. You can track and analyze your job statistics from our HTML template plugins and widgets.  WebkitX Admin Dashboard Template is a clean way to use the design for your dashboard projects. This can be used for admin dashboard Applications for your online applications.
WebkitX Responsive Bootstrap 5 Admin Templates Provides Components and it consists of Bootstrap Switch, Date Paginator, Advanced Medias, Range Slider, Ratings, Animations, Fullscreen, Pace, Nestable, and Draggable Portlets. The Admin HTML template can be used for online applications and software. Clean, Modern, New, Creative look for your application.
UI Kit
Badges
Buttons
Floating Action Buttons
Carousel
Modal
Dropdown
Dropdown menu
Sortable
Nav
Breadcrumbs
Pagination
Alert
Callout
Tooltip
Accordion
Tab
Process
Progress bar
Spinner
Timeline
Timeline activity
User Cards
Sweet Alert
Notification
Advanced Medias
Badges
Dropdown grid
Dropdown menu
Dropdown
Border
Color
Draggable Portlet
Bootstrap Switch
Date Paginator
Horizontal Timeline
Nestable
Ribbons
Emails
Read To Use Pages
Invoice
Invoice List
Support Ticket
User Profile
FAQs
Apps
Calendar
Contact List
Chat
Todo
Map
Ecommerce Pages
Products
Products Cart
Products Edit
Product Details
Product Orders
Products Checkout
Chart
ChartJS
Morris
Sparkline
Flot
Inline charts
jQuery Knob
Apex Charts
Widgets
Statistic
Chat
Social
Weather
Blog
Chart
List
Social widgets
Pricing tables
Coming soon
Live Chat
Toastr
Form
Default inputs
Material inputs
success inputs
warning inputs
error inputs
Combine inputs
Custom checkboxes
Custom radios
Password strength
Form layouts
Color picker
Date time selector
Select picker
Upload buttons
Form Validation
Form Wizard
Code Editor
Markdown
Xeditable Editor
Formatter
Pre-made Forms
Extra pages
Invoice
Profile
Login
Register
Lockscreen
404 Error
500 Error
Blank Page
Pace Page
Recover password
Maintenance