The Most Powerful CRM Dashboard Bootstrap 5 Admin Templates Comes with CRM, HRM, Sales, Hospital, Project Management, University/School, eCommerce, Restaurants, Dashboard with RTL. CRMi is one of the unique modern admin dashboard HTML Templates. Premium admin dashboard with high endless possibilities. CRMi Admin template is fully responsive with Bootstrap Framework, flexible and fully customizable, Free updates for 6 months after you buy the template.
CRMi admin is a unique dashboard with features like Project and its status; activities timeline option. Revenue, Orders, Sales visits, monthly revenue, and performance tracking. Bootstrap Admin dashboard template.
Vertical Dashboard Admin Template
CRM LTR Dashboard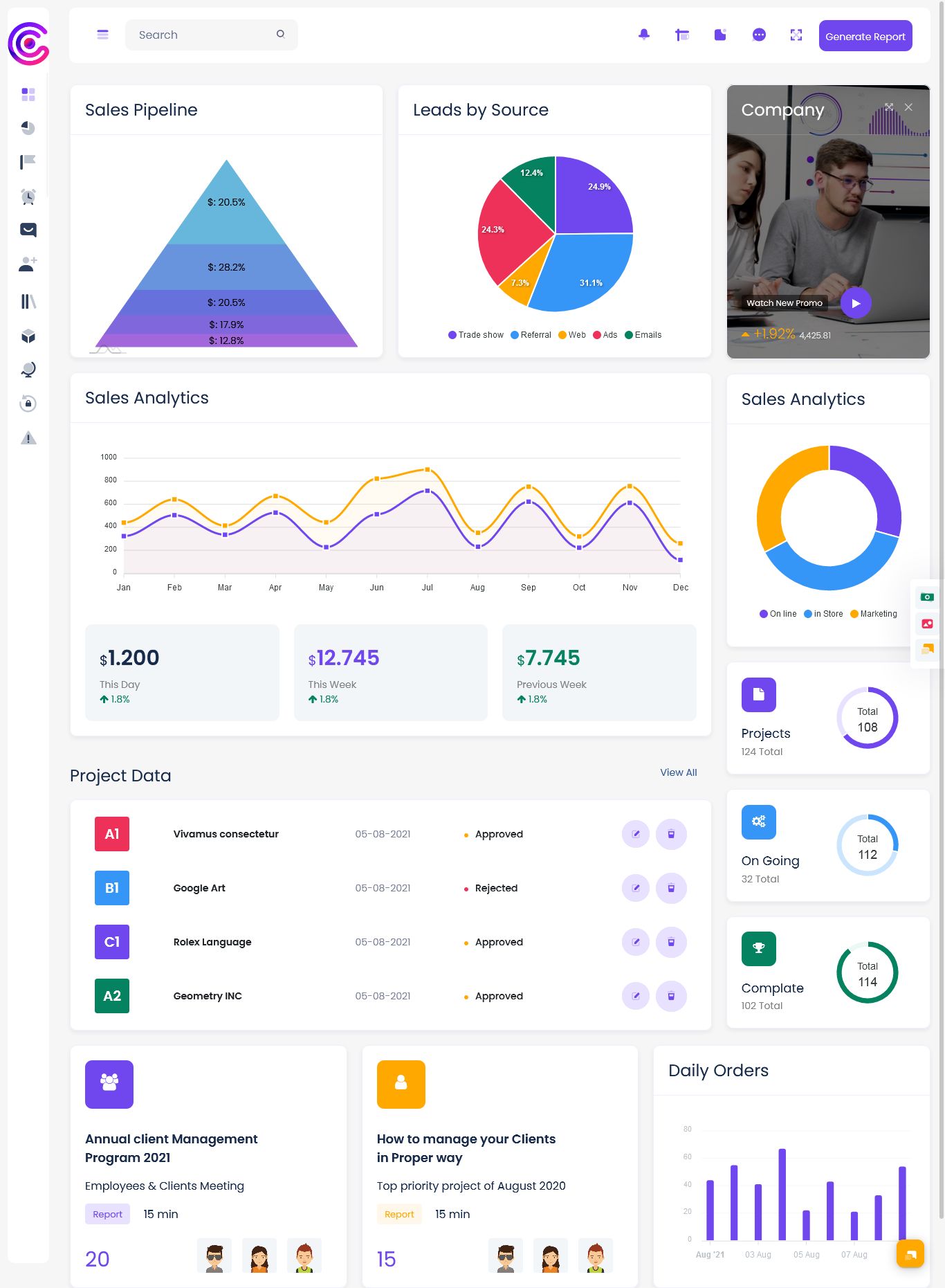 The Dashboard of CRM LTR Bootstrap Admin Template Includes Sales Pipeline, Leads by Source, Company, Sales Analytics, Sales Analytics, Project Data, Daily Orders. it comes with Apps in the Contact list, todo, and mailbox.
CRM2 RTL Dashboard
CRM2 RTL Dashboard Template is Provides Recent Activity, Complete, On-Going, Projects, Revenue Analytics, Sales Analytics, Daily Orders, Agents Stats.
HRM Dark LTR Dashboard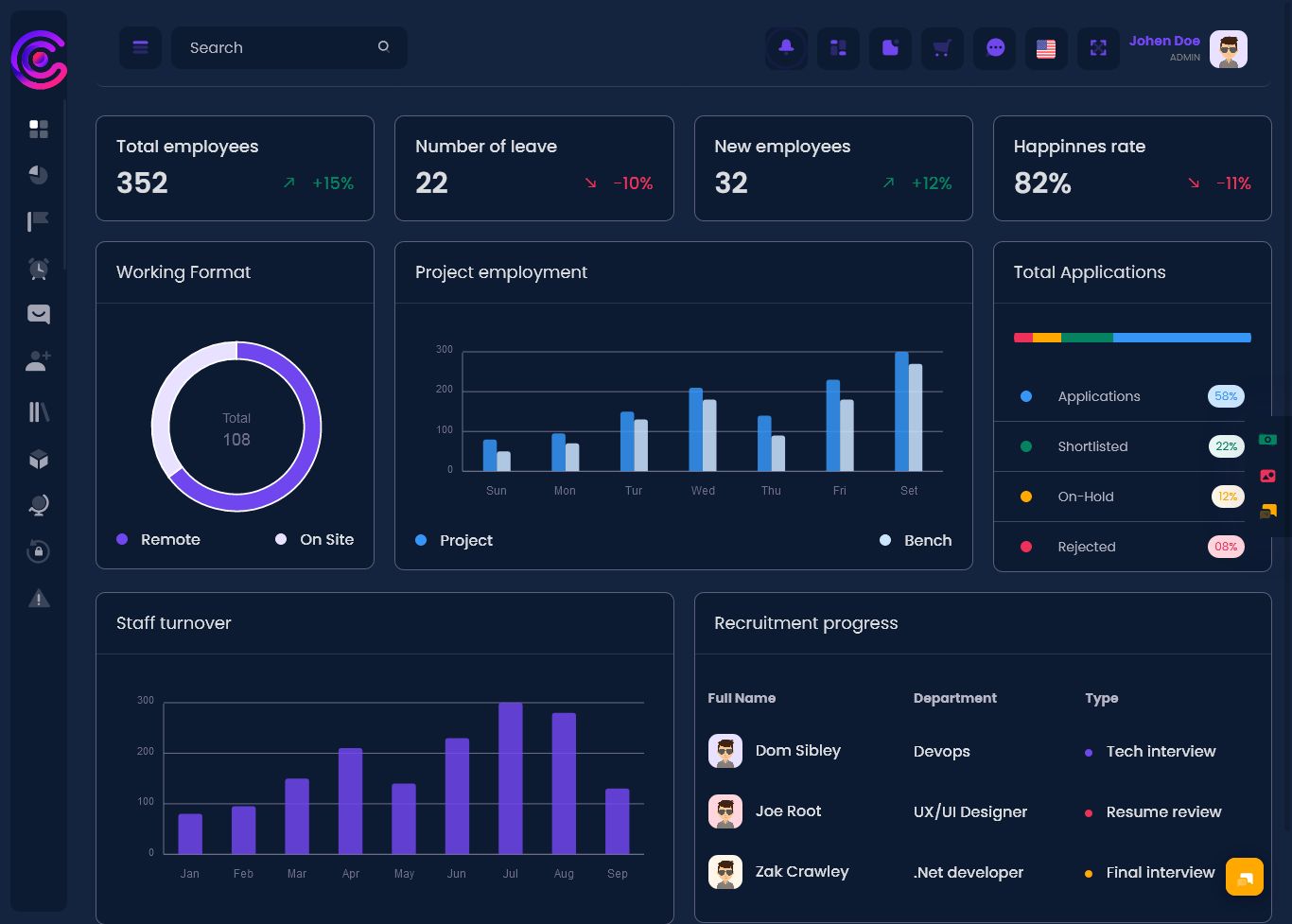 CRM Responsive Web Application Kit HRM Dark LTR Template comes with Total employees, Number of leaves, New employees, Happiness rate, Working Format, Project employment, Total Applications, Staff turnover, Recruitment progress.
Sales Dark RTL Dashboard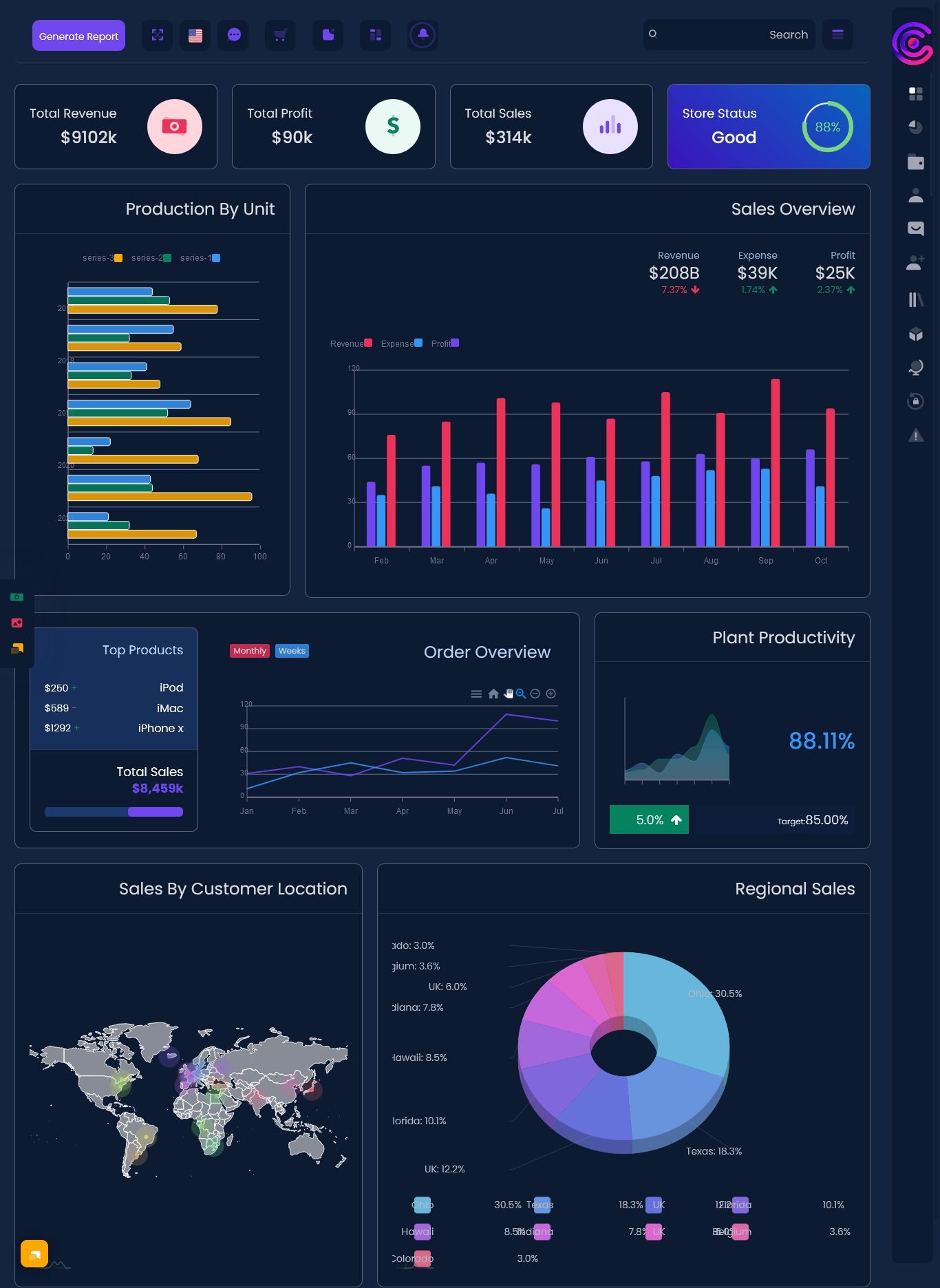 Sales Dark RTL Admin Dashboard UI Kit Template shows how much your store sales were in the current month, Sales By Customer Location, Regional Sales, Plant Productivity, Order Overview, Top Products, Production By Unit, Total Revenue, Total Profit, Total Sales, Store Status.
Hospital LTR Dashboard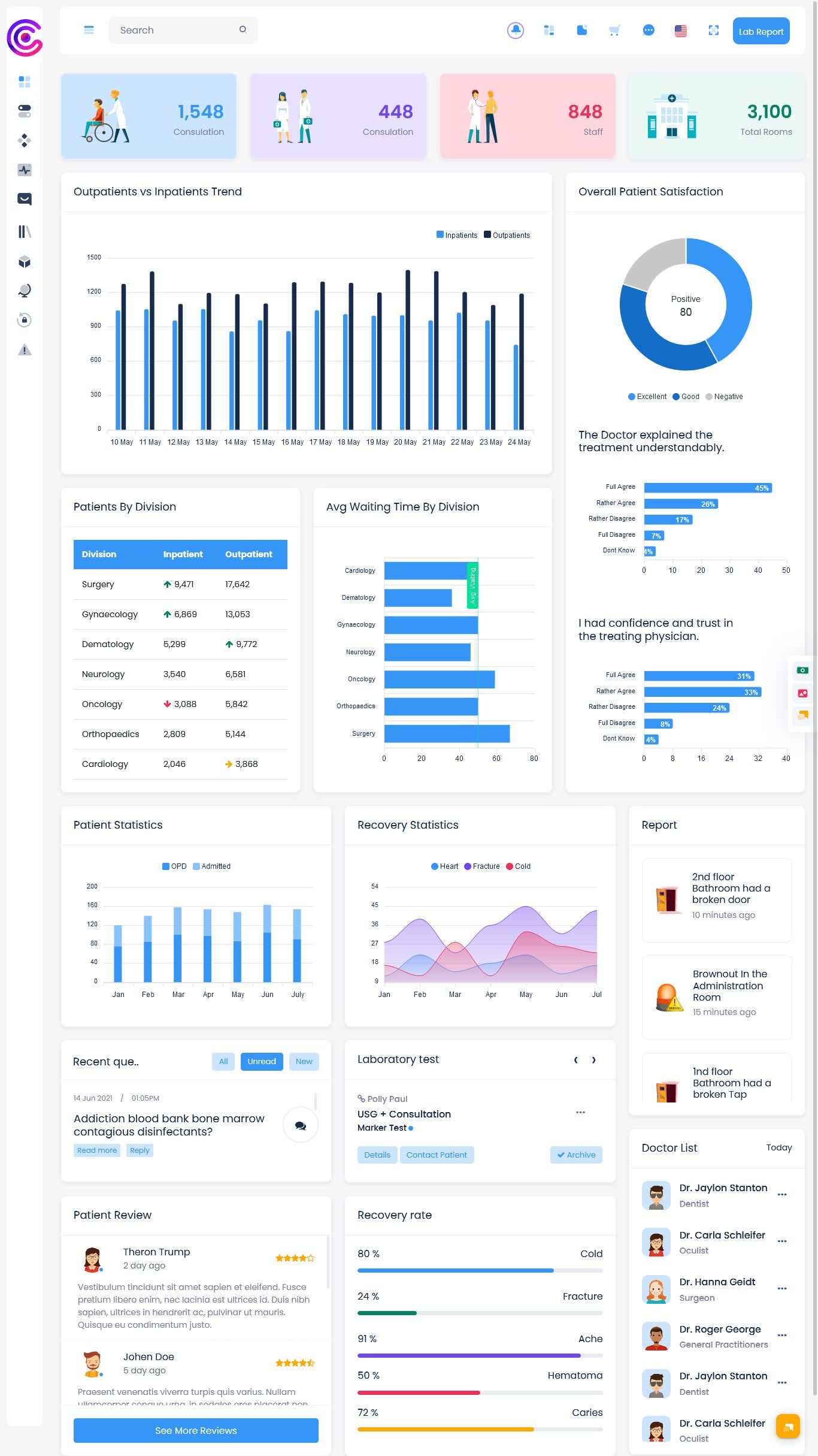 The Hospital LTR Bootstrap 5 Admin Dashboard Comes with Consultation, Total Rooms, Staff, Outpatients vs Inpatients Trend, Overall Patient Satisfaction, Patients By Division, Avg Waiting Time By Division, Patient Statistics, Recovery Statistics, Report, Recent question, Laboratory test, Doctor List, Patient Review, Recovery rate.
Project Management RTL Dashboard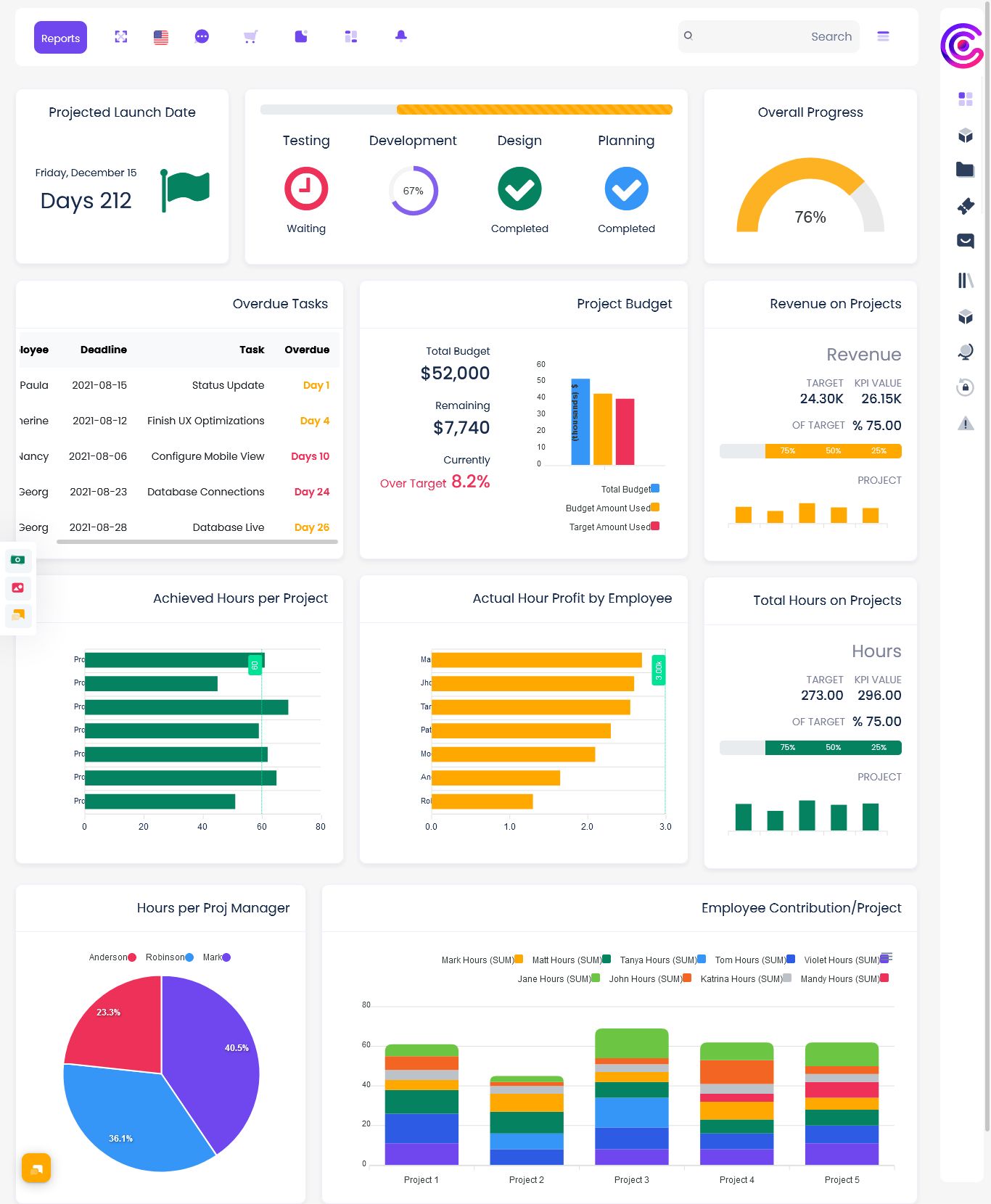 Project Management RTL Bootstrap 5 Admin Template  Provides Projected Launch Date, Planning, Design, Development, Testing, Overall Progress, Overdue Tasks, Project Budget, Revenue on Projects, Achieved Hours per Project, Actual Hour Profit by Employee, Total Hours on Projects, Hours per Project Manager, Employee Contribution/Project.
University/School Dark LTR Dashboard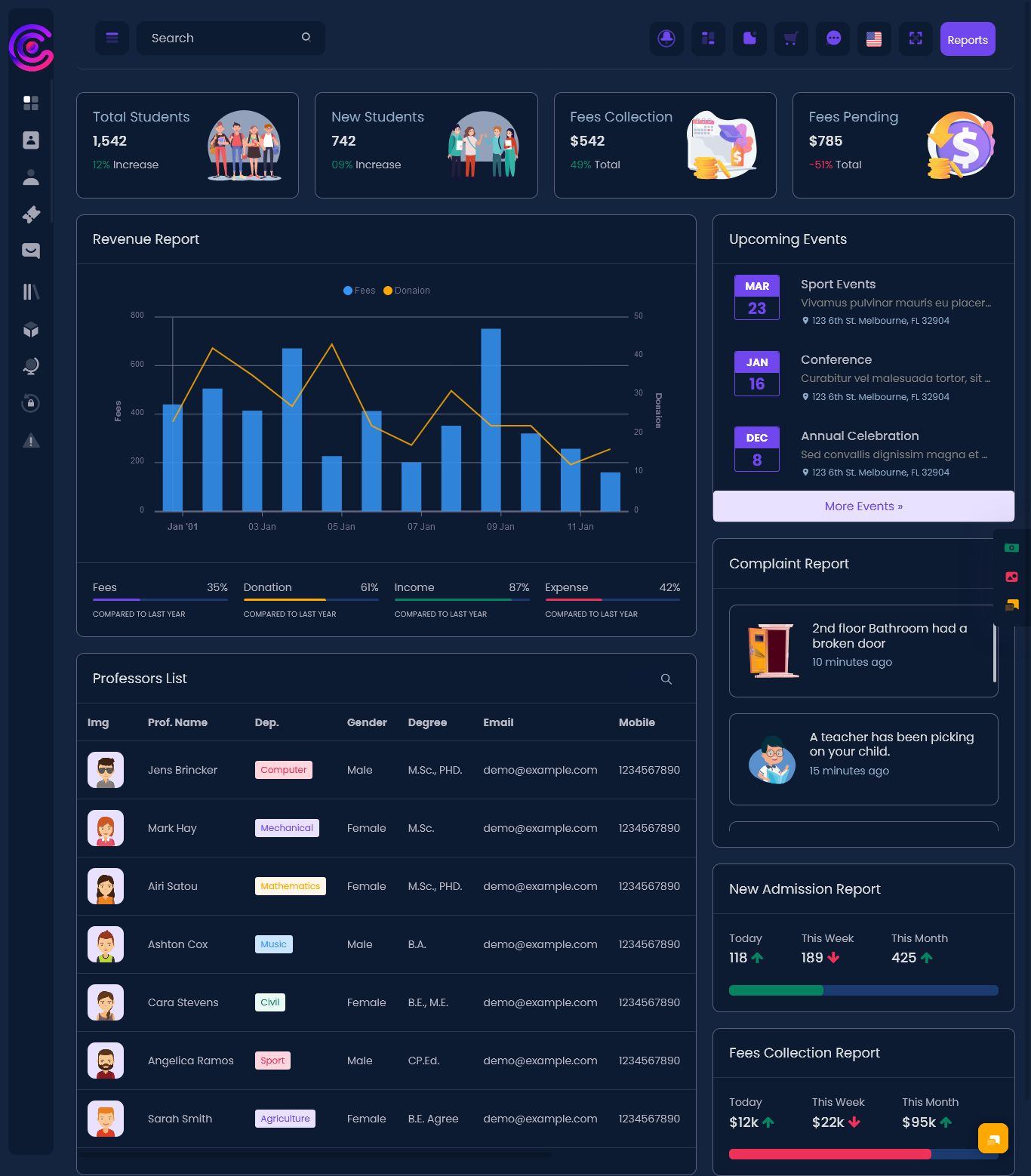 The University/School Dark LTR Bootstrap Admin Web App Template is Comes with Total Students, New Students, Fees Collection, Fees Pending, Revenue Report, Upcoming Events, Complaint Report, Professors List, New Admission Report, Fees Collection Report.
eCommerce Dark RTL Dashboard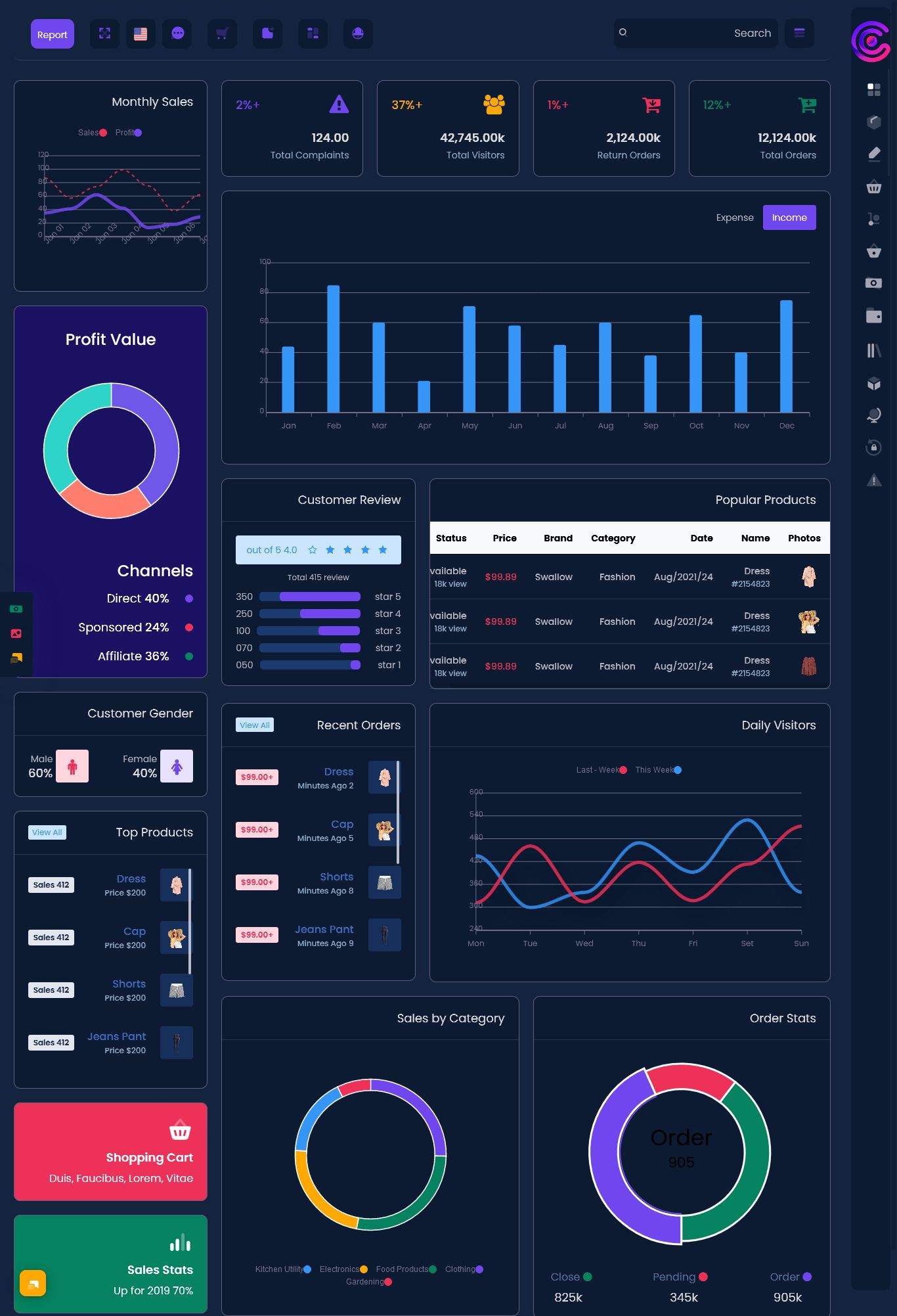 eCommerce Dark RTL Admin Panel Template Comes with Monthly Sales, Total Complaints, Total Visitors, Return Orders, Total Orders, Profit Value, Customer Review, Popular Products, Customer Gender, Recent Orders, Daily Visitors, Sales by Category, Order Stats.
Restaurants LTR Dashboard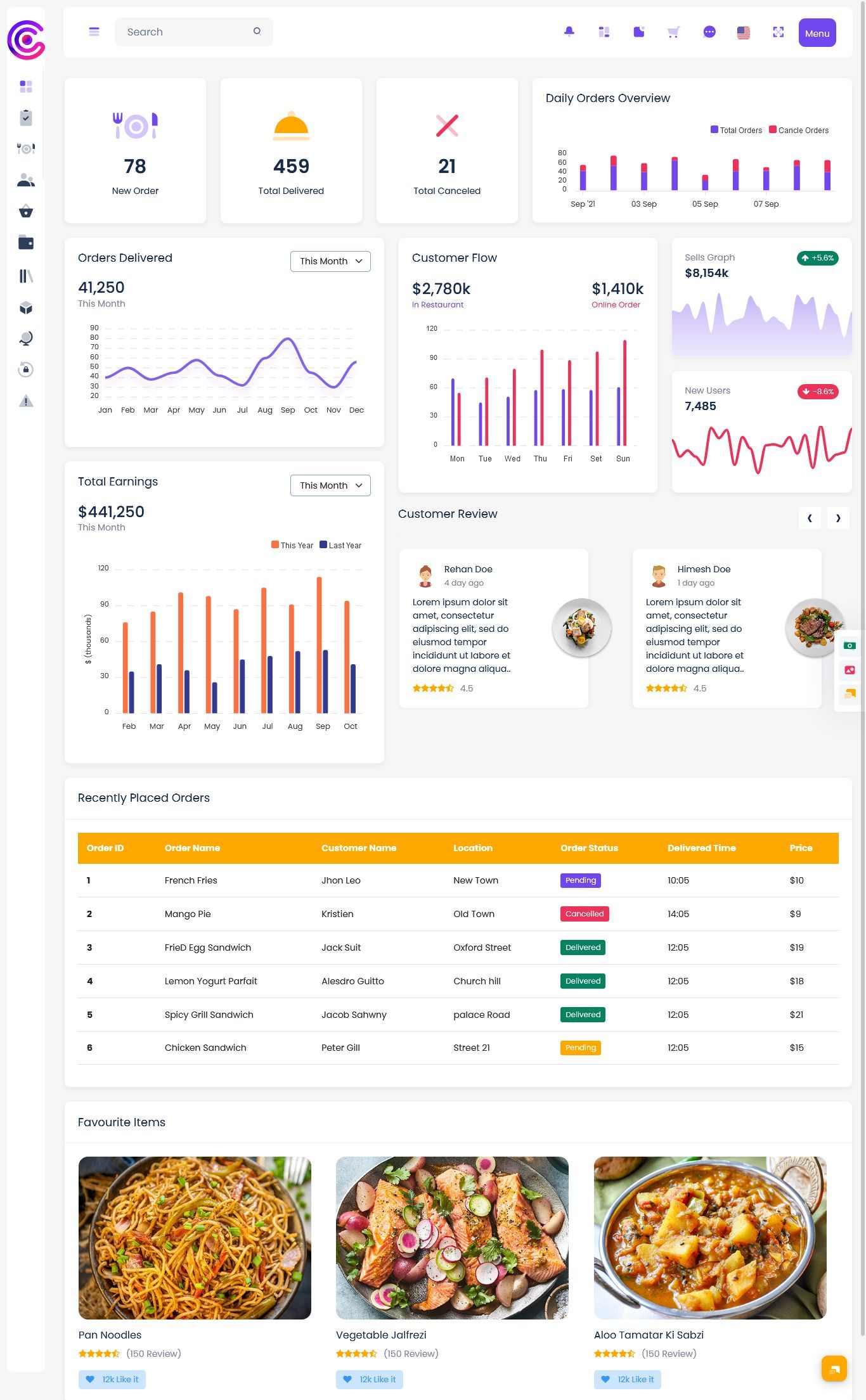 The Restaurants LTR Dashboard Template is Provides New Order, Total Delivered, Total Canceled, Daily Orders Overview, Orders Delivered, Customer Flow, Sells Graph, Total Earnings, Customer Review, Recently Placed Orders, Favourite Items.