In this post, we are going to show you best free and Premium bootstrap 4 Admin Templates for creating admin websites and it's easy to use for the control panel, admin dashboard of your web application. Those admin templates designed with professional layout and coding as HTML5, CSS3, jQuery plugin and also improve more user-friendly interface easy for using both user and developer.
Creating the perfect dashboards and admin areas for your app or another type of project is just as important as getting the appearance of your front-end pages right. However, designing and building all those pages and layouts for your back-end areas can be very time-consuming.
AdminLTE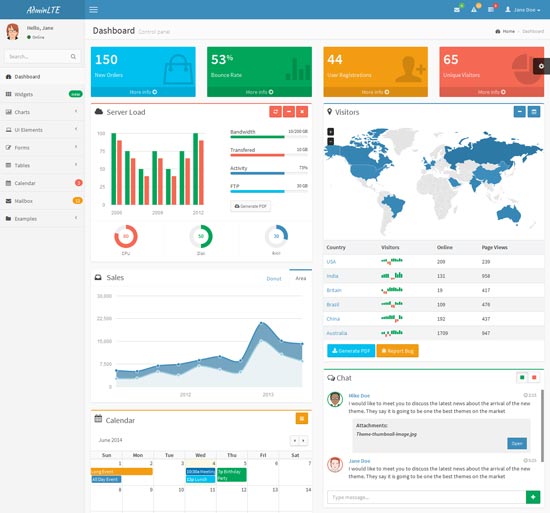 AdminLTE is the post popular open source and free admin dashboard theme. Built on top of Bootstrap 3 framework, AdminLTE provides a range of reusable, responsive, and commonly used components.
Minimal Pro-Admin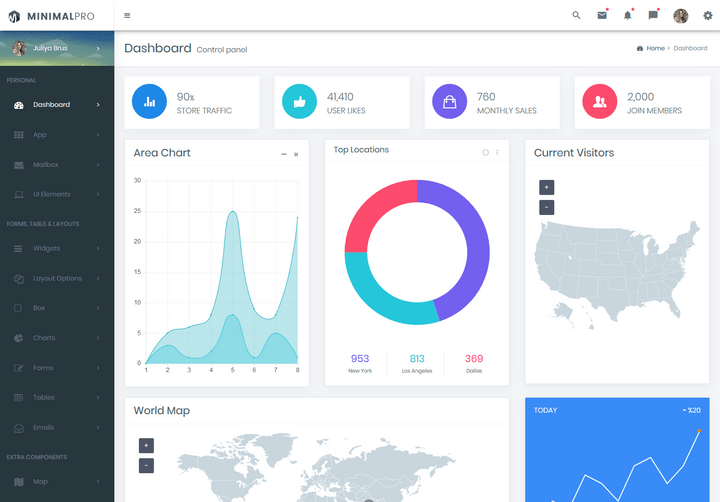 CoreUI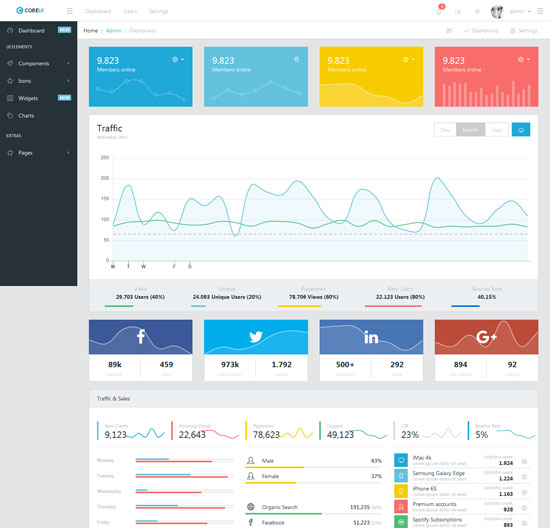 This CoreUI is a Open Source free bootstrap admin dashboard template. CoreUI is come with 3 powerful js framework version AngularJS, ReactJS and VueJS. It goes well beyond the template so far of manage through a transparent code and file structure. And if that is not enough, it's just add the CoreUI consists bunch of unique features and over 1000 high quality icons.
Alfa Admin
Light Bootstrap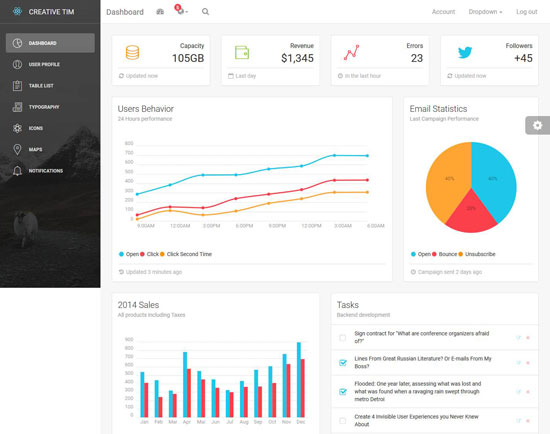 Light Bootstrap Dashboard React is designed to be beautiful and simple. It is built on Light Bootstrap Dashboard and React JS and is fully responsive. It comes with a large collection of items that will give you multiple possibilities to create the application that best fits your needs. It can be used to create admin panels, project management systems, backend Web applications, CMS or CRM.
SB Admin 2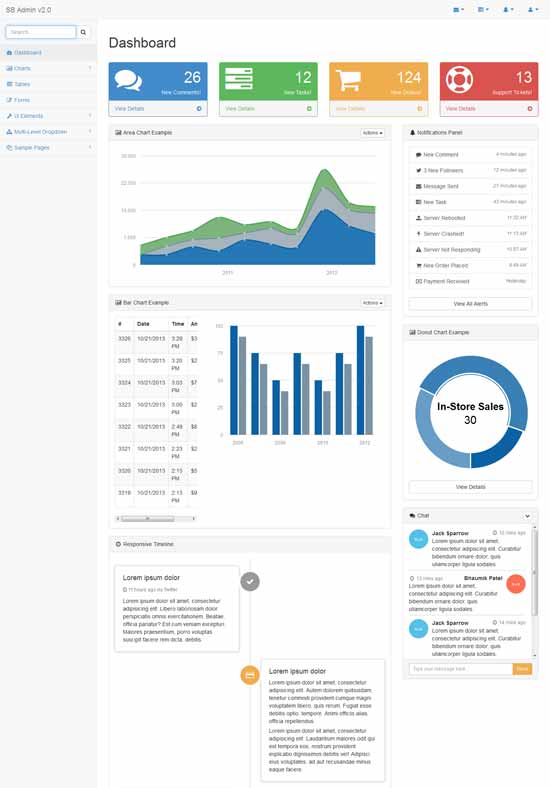 The SB Admin 2 is an admin theme, dashboard or free web application interface with powerful jQuery plug-ins for extended functionality. SB Admin 2 Bootstrap administration theme, dashboard template, or Webapp user interface. The theme includes a variety of custom jQuery plug-ins to add extended functionality beyond the built-in features of the Bootstrap UI.
Paper Angular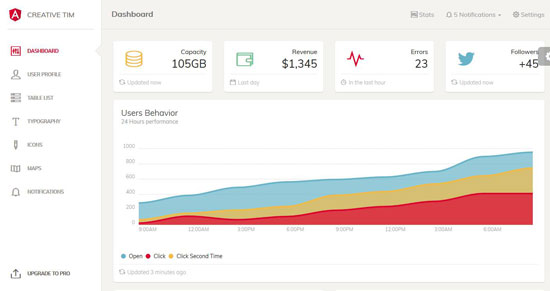 Paper Dashboard Angular is a Bootstrap admin template that combines soft colors with beautiful typography and spacious maps and graphics. It was built on Google's angular framework and the HTML version of Paper Dashboard. It's a powerful dashboard but lightweight and easy to use. It has enough features to allow you to do the job, but it is not crowded to the point where you can not find the files for a specific component.
Alfa eCommerce Dashboard
Matrix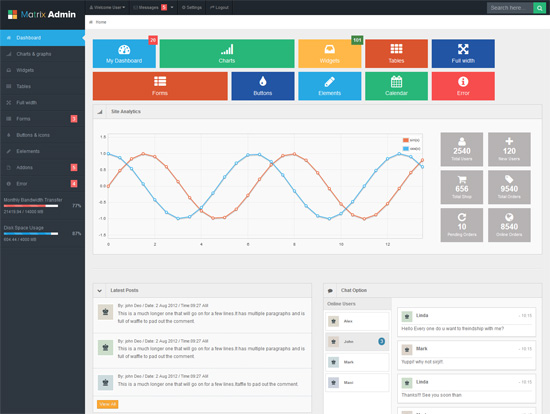 Matrix admin is a free responsive admin panel template with Clean, Minimal, Flat and Metro. You will find too many options with this theme. It's absolutely free to download and you can use it for a personal project or client.
Dark Sidebar Dashboard
Bluebox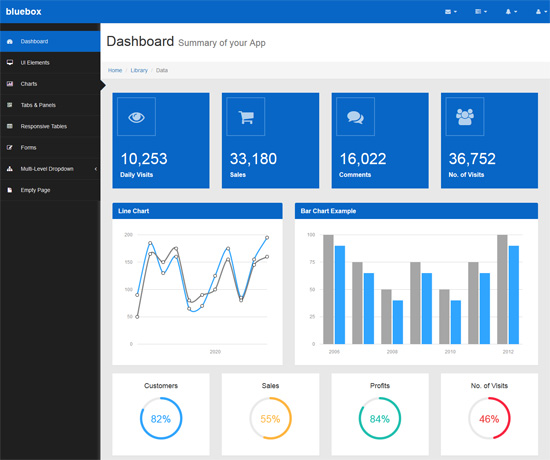 Bluebox is a free admin bootstrap template with flat metro design ready to use responsive admin dashboard template, based on Bootstrap v3.3.4, CSS3, HTML5 and powered by jQuery, with amazing bar, line charts and graphs.
Alfa Horizontal Dashboard
Admin – Multipurpose Bootstrap 3 Dashboard Template
Cross can be utilized by designer creating web applications like custom admin board, venture administration framework, administrator dashboard, application backend, CMS, Saas, CRM, business site, corporate, portfolio, blog and so forth.
More features and with widgets and plugins are included here to make your work easier.
Works on all major web browsers, Desktop, iPhone, iPad, Tablet and all other smartphone devices.
Mini Sidebar Dashboard
ReactJS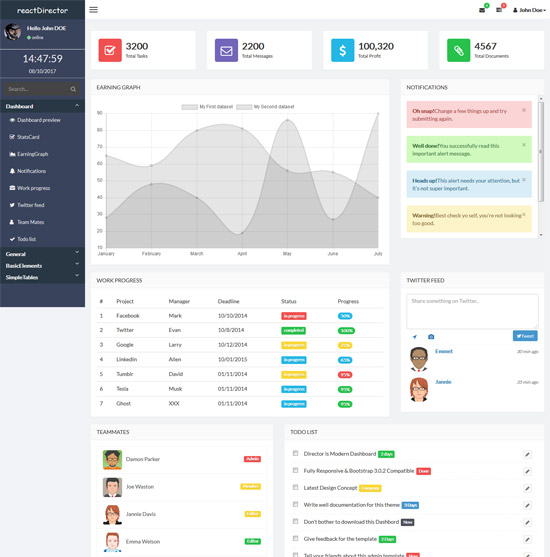 React Director is a free responsive web admin template powered by Facebook's ReactJS and Bootstrap. It has a huge collection of composable React UI components (most Bootstrap components have been ported to React).
Alfa Boxed Dashboard
Nice Admin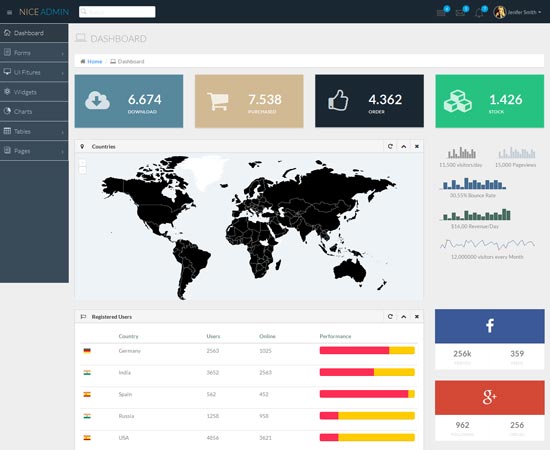 Nice Admin is a powerful admin panel template based on Bootstrap framework, it provides a clean and intuitive design that is focused on User Experience. The custom plugins include carefully customize to fit with the overall look of the theme, working seamlessly across all browsers, tablets and phones. It includes advanced examples of charts, form validation and map.
MinimalPro Boxed Dashboard
Material
Alfa Horizontal Dashboard
Miminium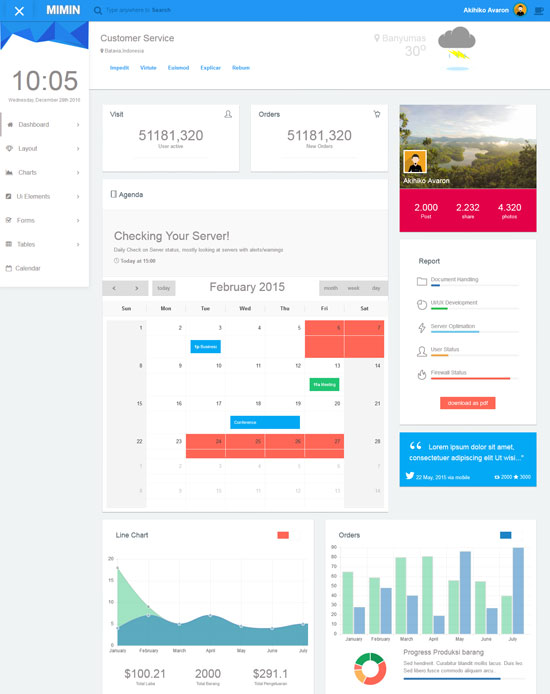 This Miminium is a fully responsive admin template. Based on Bootstrap 3 framework. modern design and full animation.
MinimalPro RTL Dashboard
Paper Dashboard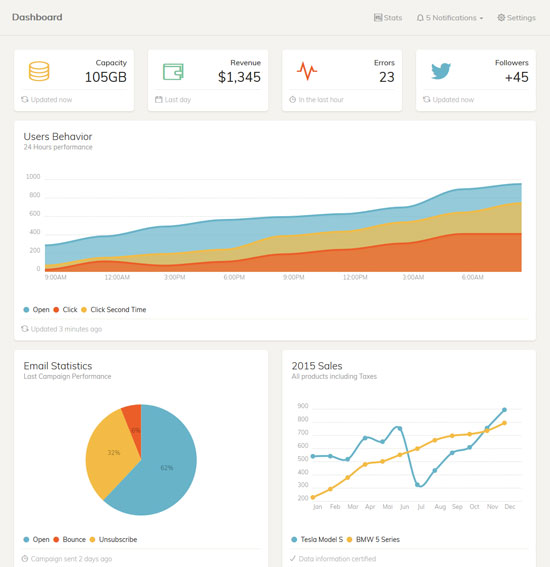 A Paper Dashboard is a Bootstrap Admin Panel template that combines soft colors with beautiful typography and spacious maps and graphics. It is a powerful tool, but it is lightweight and easy to use. It has enough functionality to allow you to do the job but it is not crowded to the point where you can not find the files for a specific plugin.
Alfa Dark Dashboard
Light Bootstrap
Dark Dashboard
Colored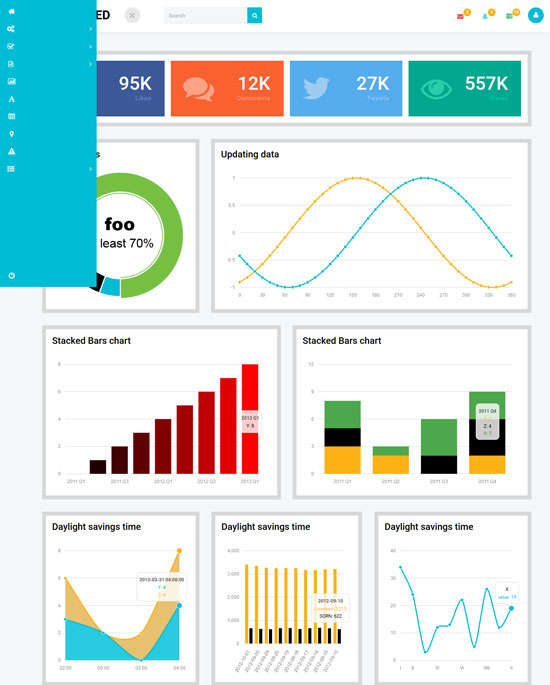 A Color is the name of an admin panel template built with fascinating looks and robust functionality using the Bootstrap framework to meet your business needs.
Alfa Dark Dashboard
Shoppy

SHOPPY is a Web based free admin panel template built on HTML5, CSS3 and Bootstrap. This dynamic and versatile admin template surely makes the top-of-list in its category with cleverly coded and visually stunning nature, and it has a plethora of elements embedded evenly and in fact a stand-out choice.
Alfa Mini Sidebar Dashboard
Alfa Mini Sidebar Bootstrap Admin Template comes with awesome font icon like font awesome, Glyphocons, material icons, Themify icons.
Ultra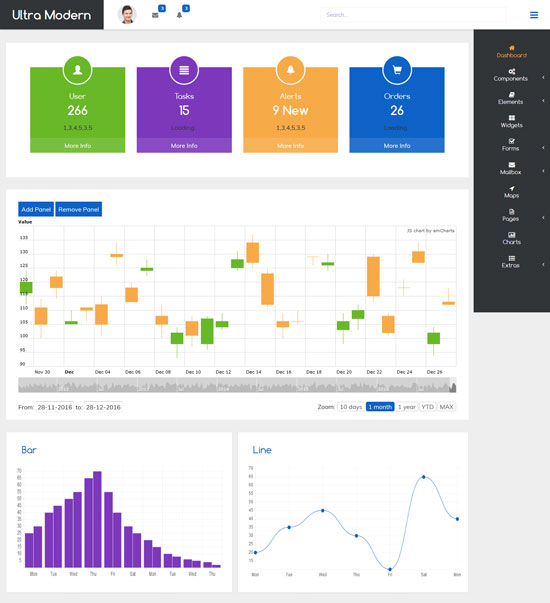 Ultra modern template is clean admin panel template comes with tons of well designed features and is a stylish board template, easy to use and integrate, cleanly encoded, beautifully styled, responsive design and fixed with unique widgets, properly coded.
Alfa RTL Dashboard
Alfa RTL Bootstrap Admin Template comes with Mail Box, Chat App, Userlist, Calendar, World Map, Error Pages and much more.
Pooled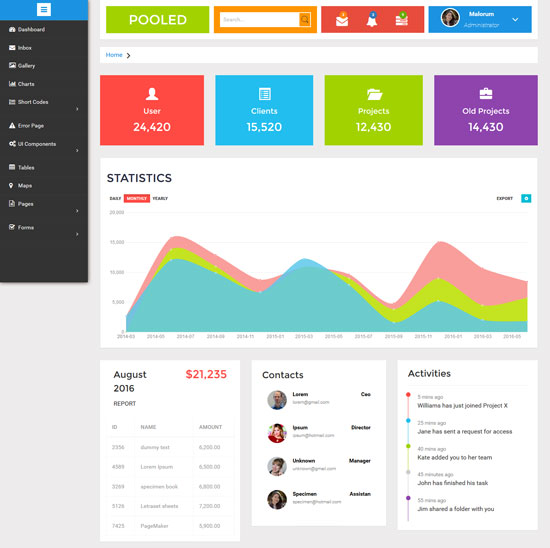 This POOLED is a clean, flat elegant design and free admin panel bootstrap template based on the Bootstrap system and powered by jQuery. It is a Cross-navigation supporting all new browsers compatible with desktop and mobile devices.
UltimatePro Admin – Bootstrap 4 Admin Dashboard Templates and WebApps Templates
Lumino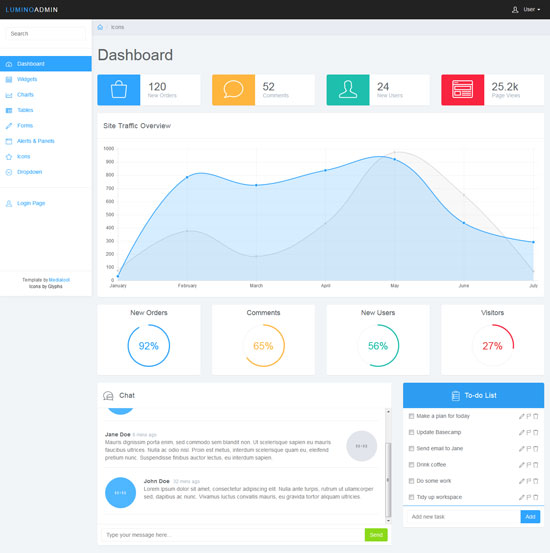 Lumino is a clean free admin bootstrap template build with bootstrap framework and available on Medialoot. This fully responsive HTML5 admin dashboard template includes everything you need for your backend admin panel.
Bonito Pro – Bootstrap 4 Admin Templates & Web Apps Dashboards
KAdmin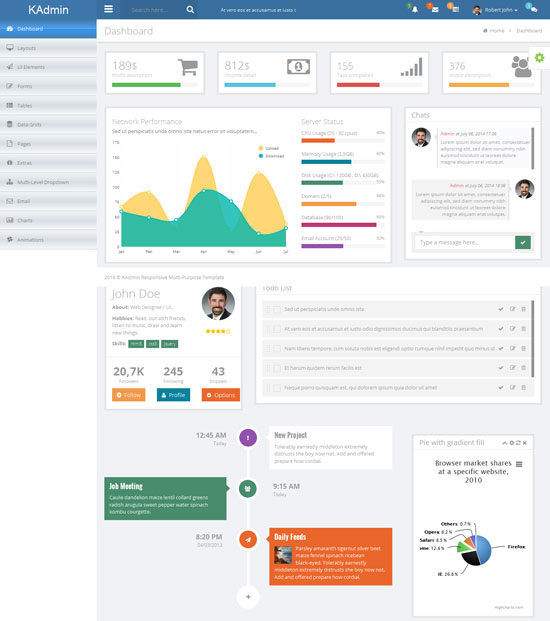 Kadmin is a lightweight responsive admin theme built with latest bootstrap 3.1 and contains many user interface components, light and dark theme skin.
Superieur Admin – Responsive Bootstrap 4 Admin Template Dashboard Web App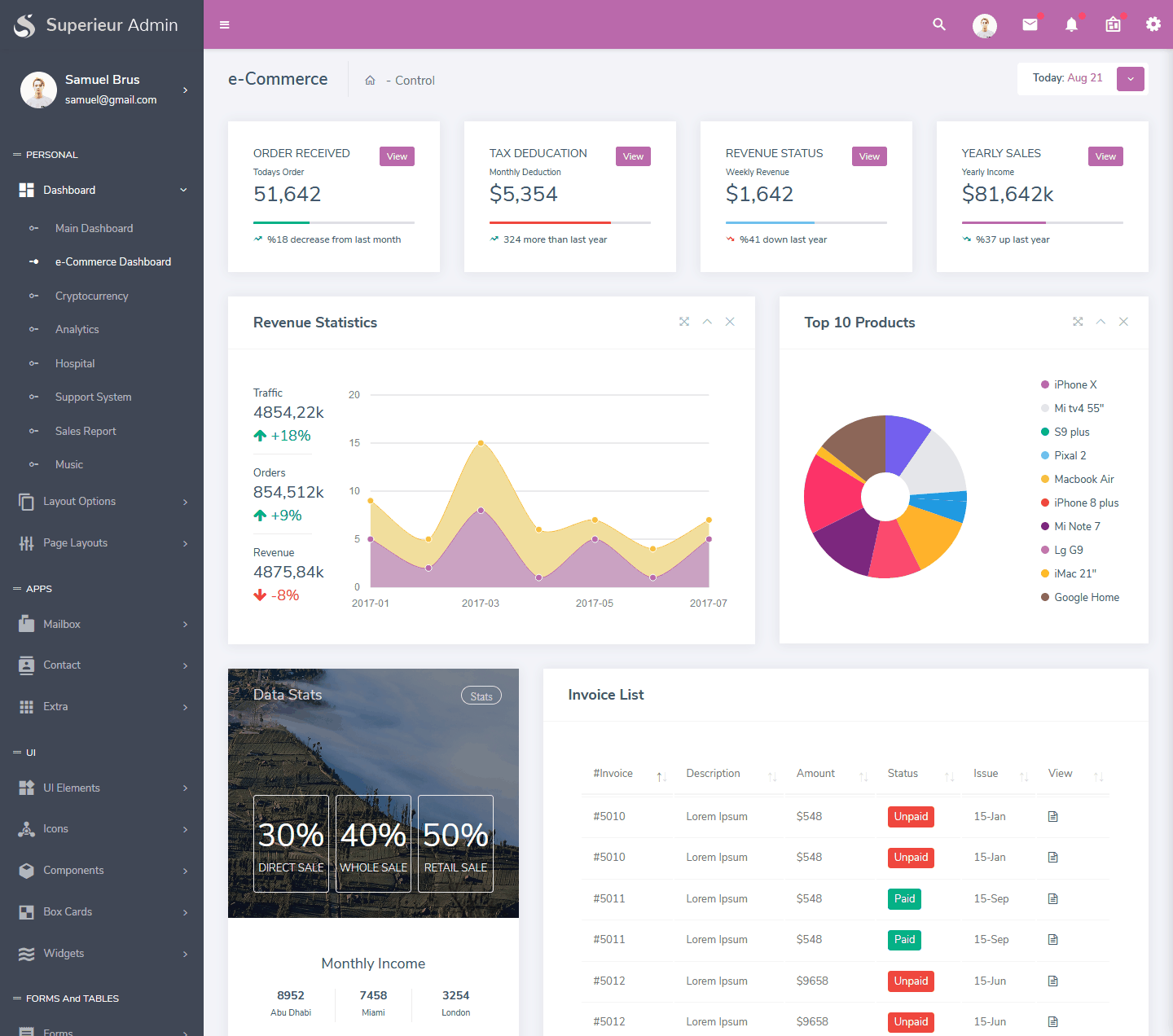 Metronic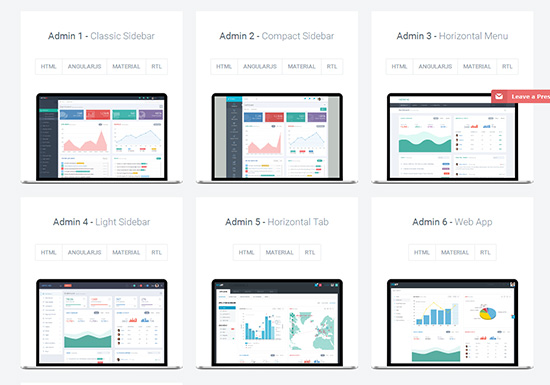 Soft Material – Bootstrap 4 Admin Templates Web Apps & UI Kit Dashboards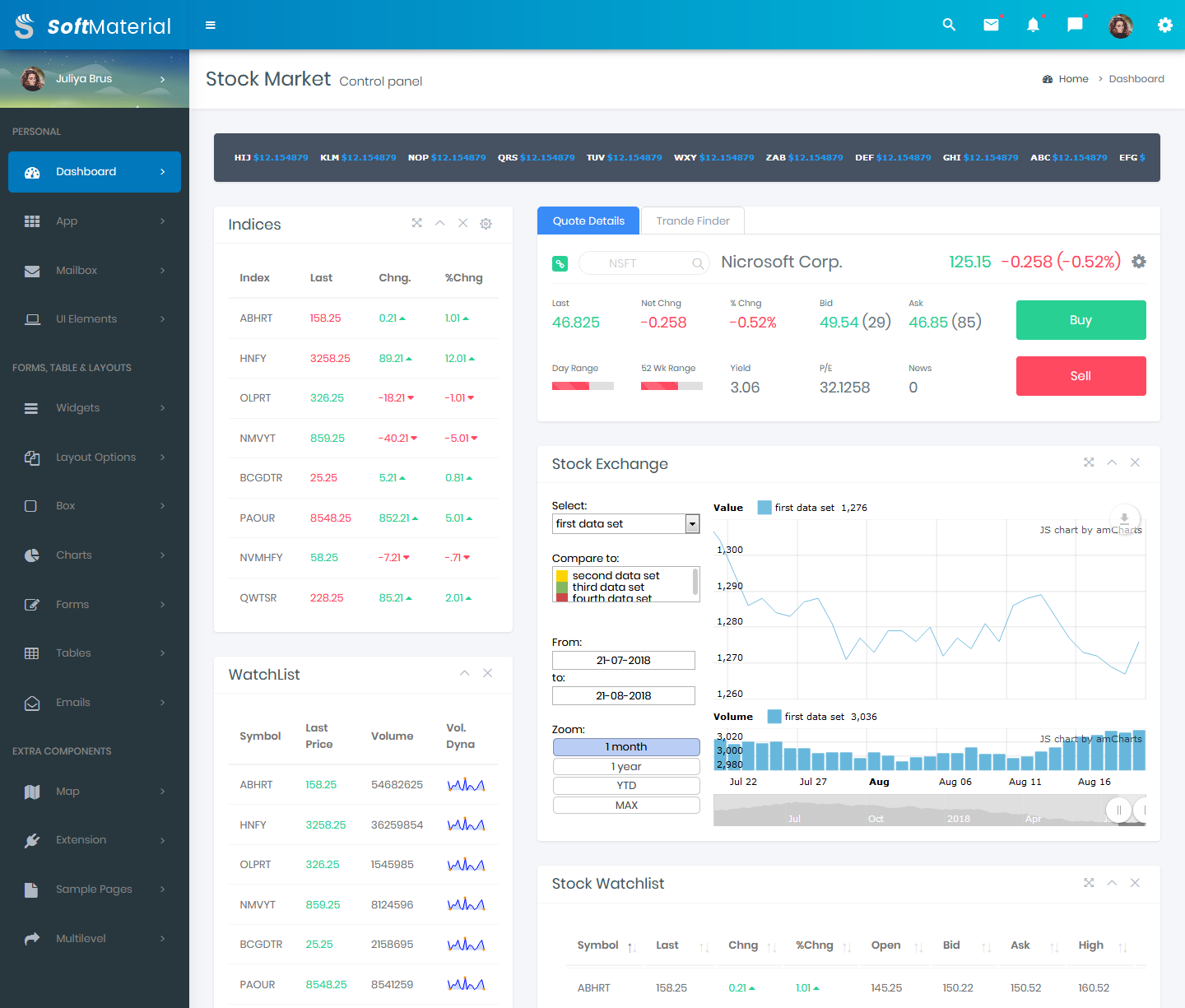 Ubold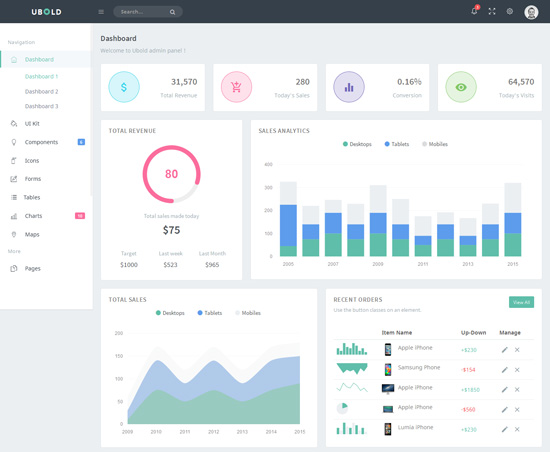 This Ubold is a fully featured premium admin dashboard template built on top of awesome Bootstrap 3.3.5, modern web technology HTML5, CSS3 and jQuery. It has many ready to use hand crafted components. The theme is fully responsive and easy to customize. The code is super easy to understand and gives power to any developer to turn this theme into real web application.
Fab Admin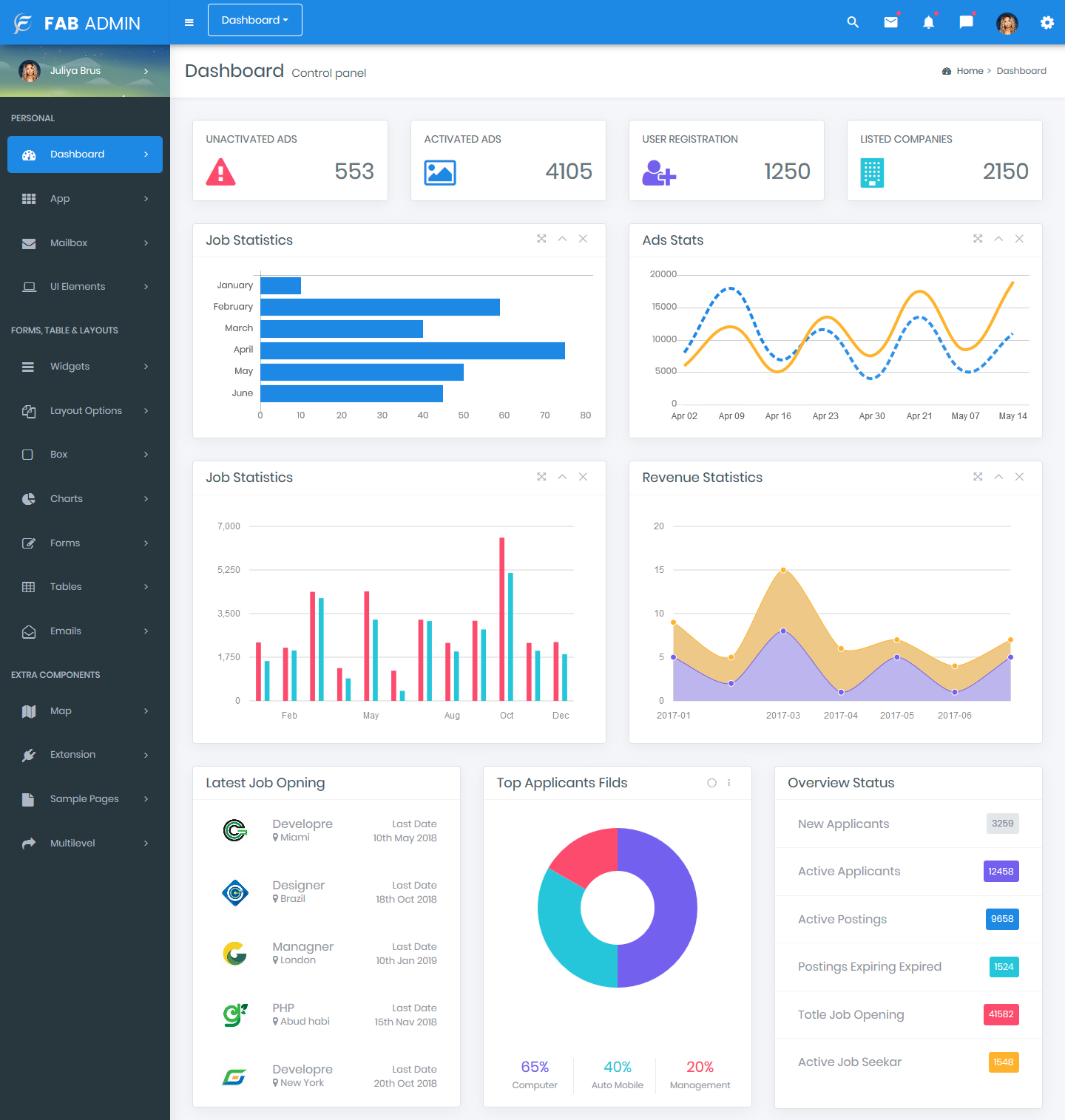 Limitless
Limitless is a new professional admin dashboard template, based on Bootstrap framework. Limitless is a powerful and super flexible tool, which suits best for any kind of web application. Includes 1 main and 3 alternative layouts, 1000+ commented HTML pages, 1000+ components with different features and options, 100+ plugins and extensions etc. Limitless includes Starter kit – a set of blank pages, that will make your developer's life much easier. Limitless template is fully responsive, which means that it looks perfect on mobiles and tablets.
Crypto Admin
Altair Material Design Premium Template
This Altair is a professional HTML5/CSS3 Material Design template based on UIkit Framework and jQuery Library. This template has been built with Bower (package manager), Gulp (streaming build tool) and Handlebars.js (templating system).
Cross Admin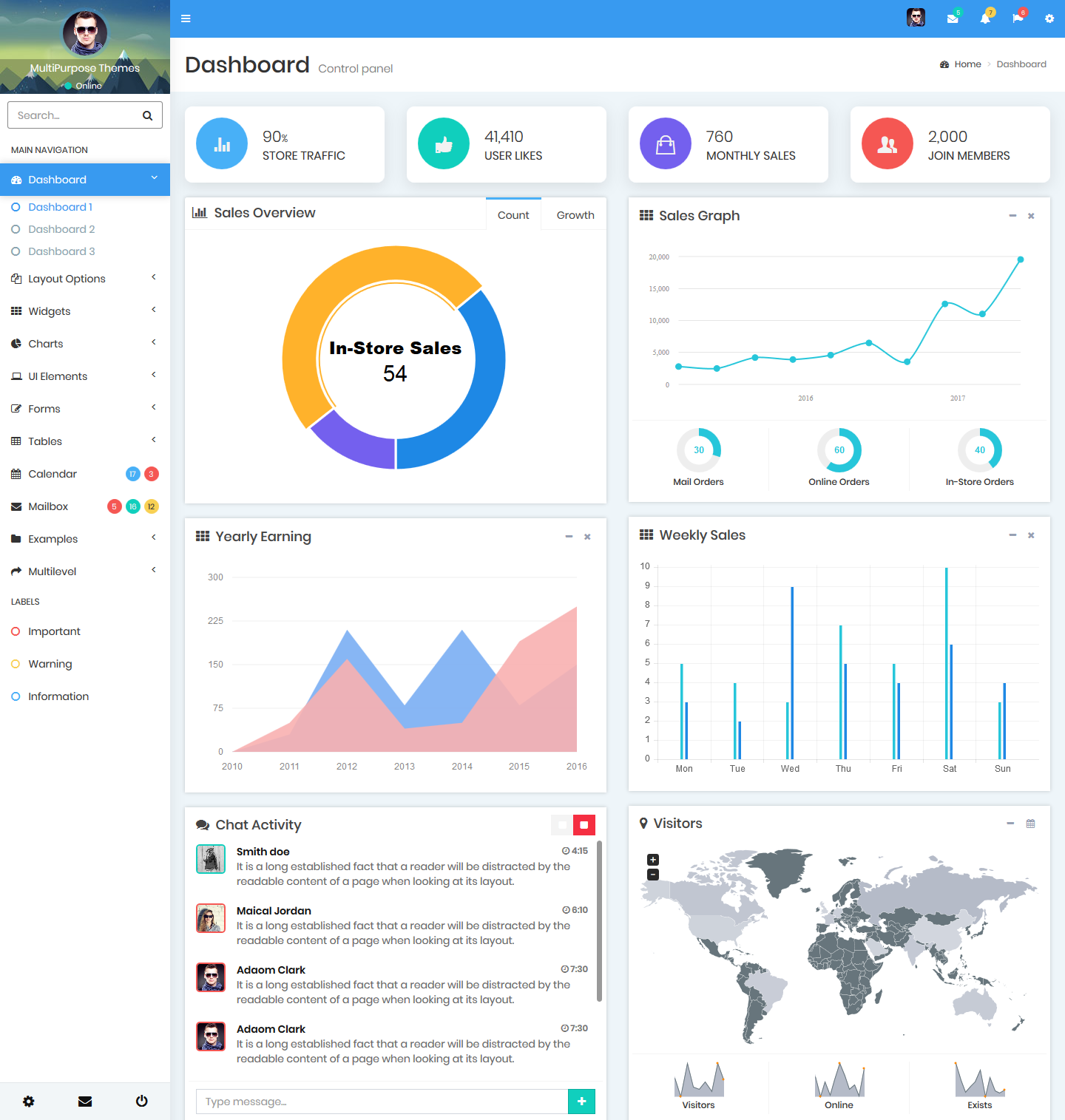 Angulr
angulr Admin web application template with Bootstrap admin web app 3 and AngularJS. Using grunt and bower with bootstrap and angular, features nested views & routing and lazy load for large project.
Unique Admin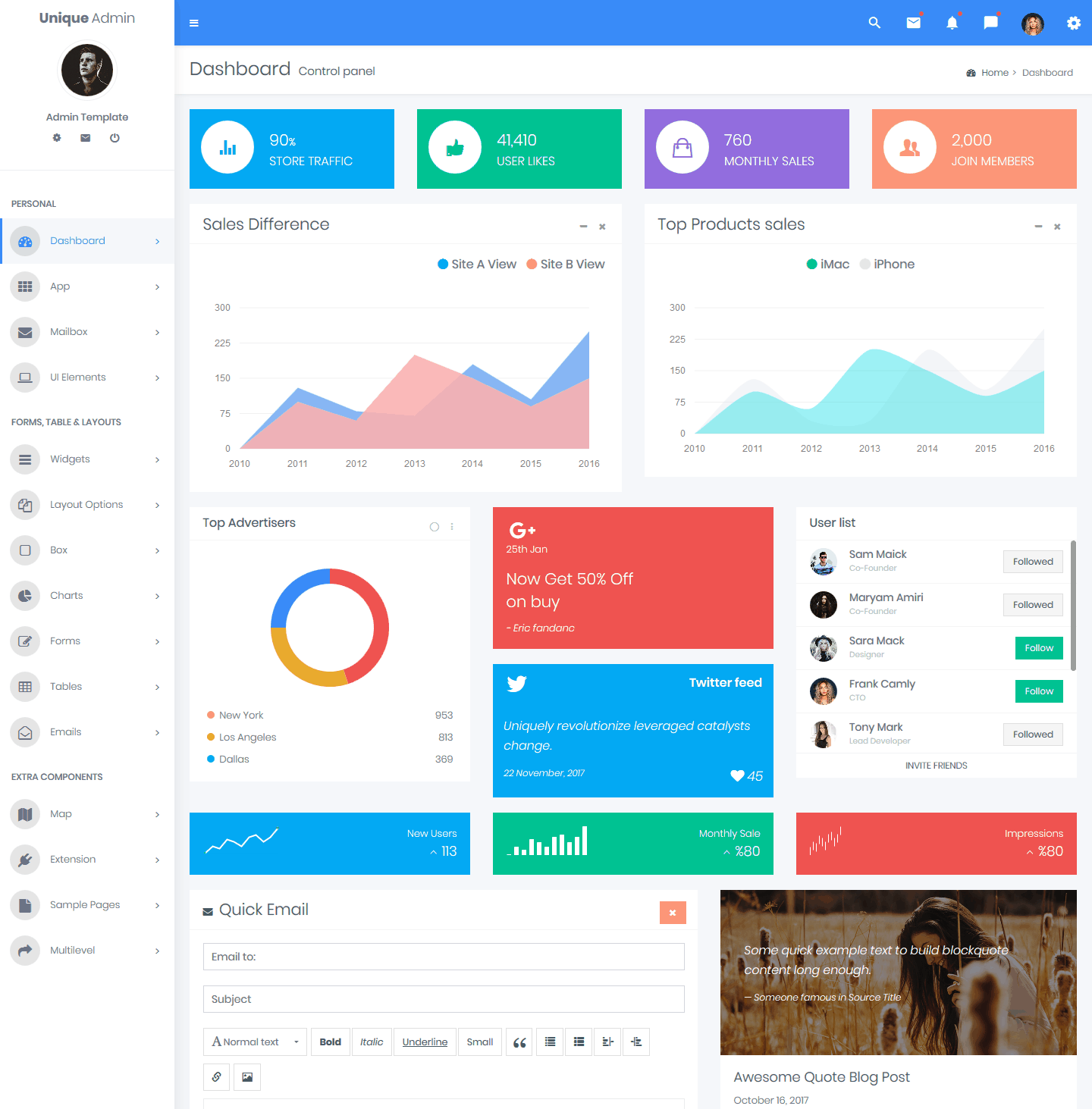 Remark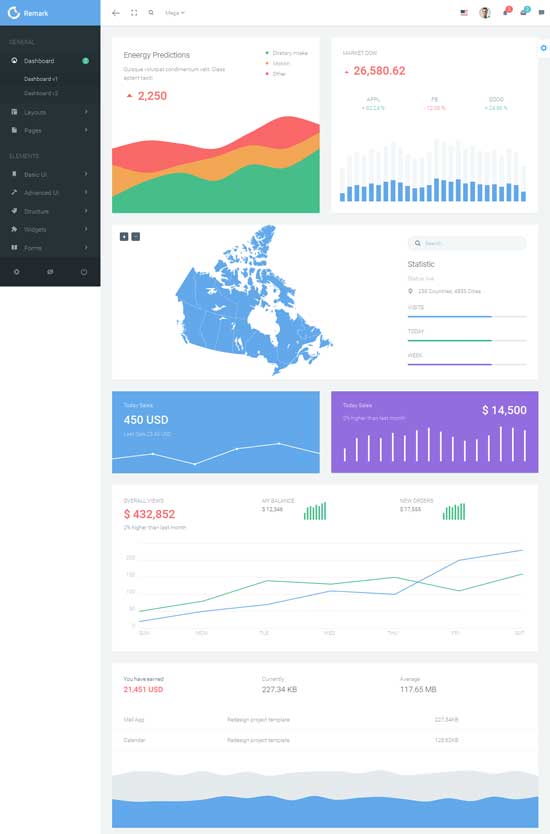 Remark is a premium admin dashboard template based on Bootstrap. There are a huge of powerful components build with Less css which makes it easy to modify.
Minimal Lite Admin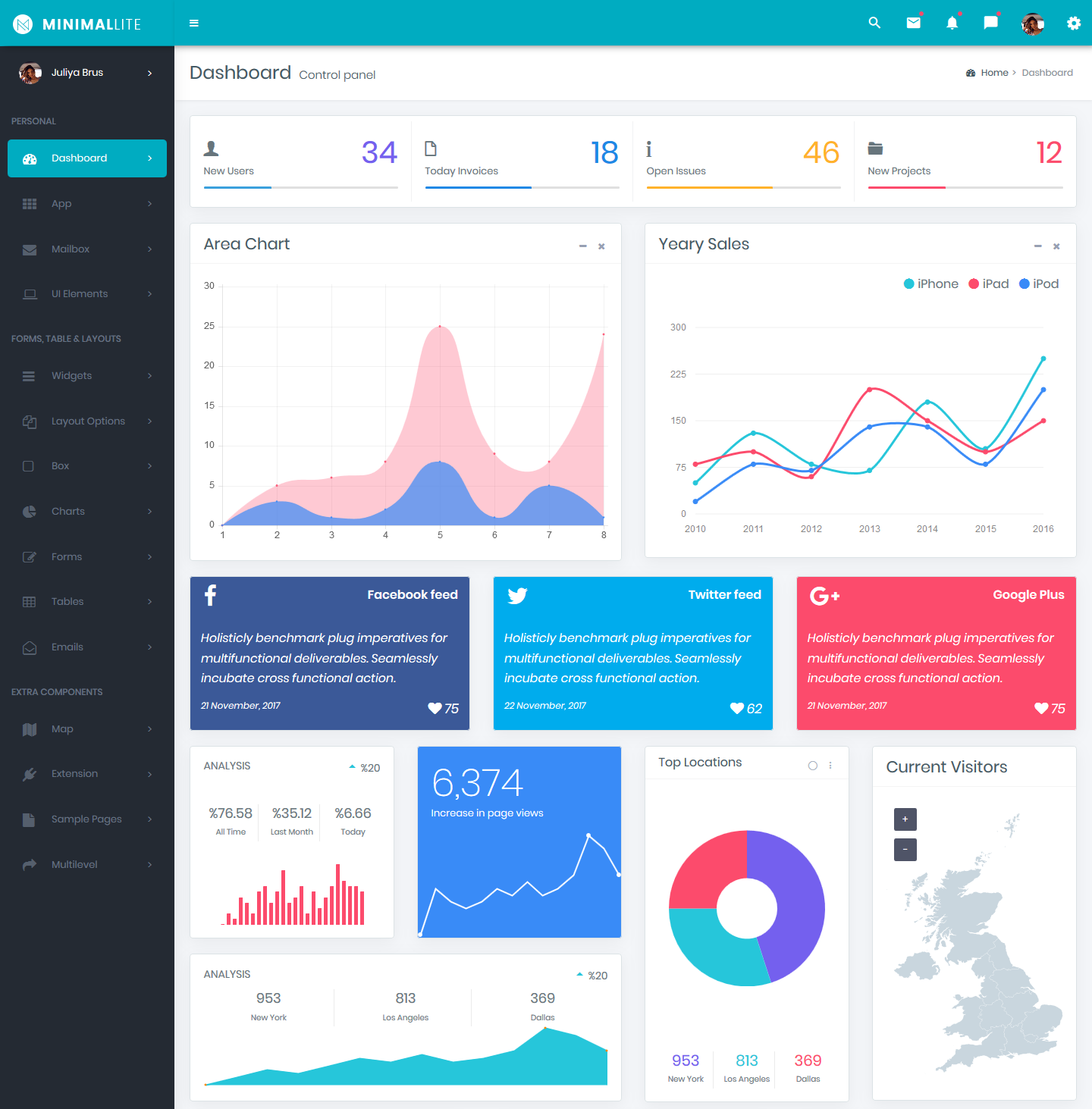 OneUI
OneUI is a super flexible UI framework admin dashboard template based on Bootstrap that will enable you to build your backend and frontend pages using the same fast and powerful layout. It is created to save you time and be as lightweight as possible. Completely modular with many unique features, it will help you build your next awesome product.
Fab e-Commerce Admin
Materialize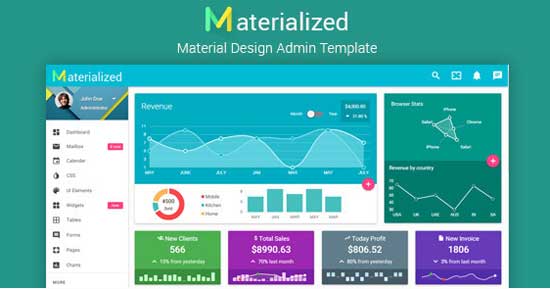 A Materialize is a Material Design Admin bootstrap template is the excellent responsive google material design inspired multipurpose admin template.
Dark Crypto Admin
Clip-Two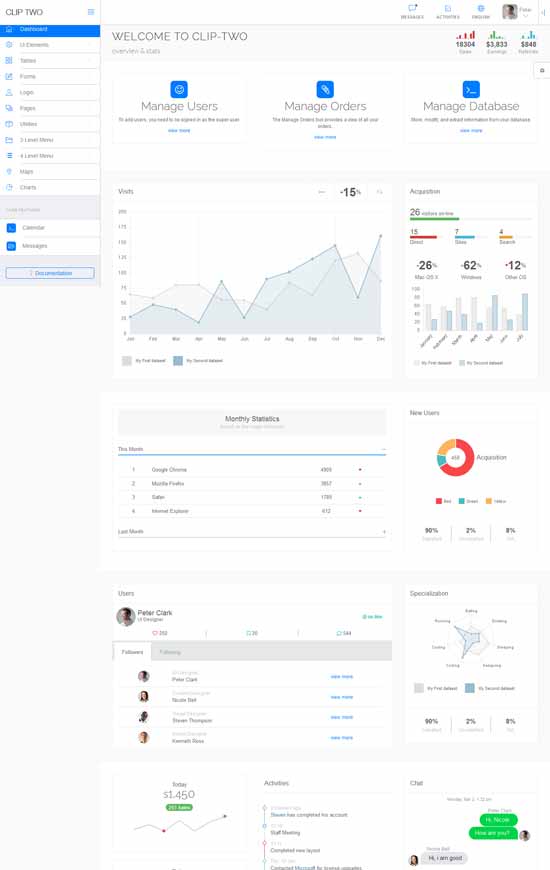 Clip-Two is an advanced, responsive dashboard admin template built with AngularJS, the Superheroic JavaScript MVW Framework. This template is mobile friendly and ready for you to customize it any way you want to use it. It comes with 2 complete themes: Clip-Two Admin and Clip-Two Admin RTL Version.
Cross Dashboard 2 Admin
Pages
This Meet Pages The easiest and fastest way to create a web-based user interface for your dashboard or application. Our beautifully designed user interface includes hundreds of customizable features. Each layout is just a starting point, you can adapt it in your own way.
Unique Support System Admin Dashboard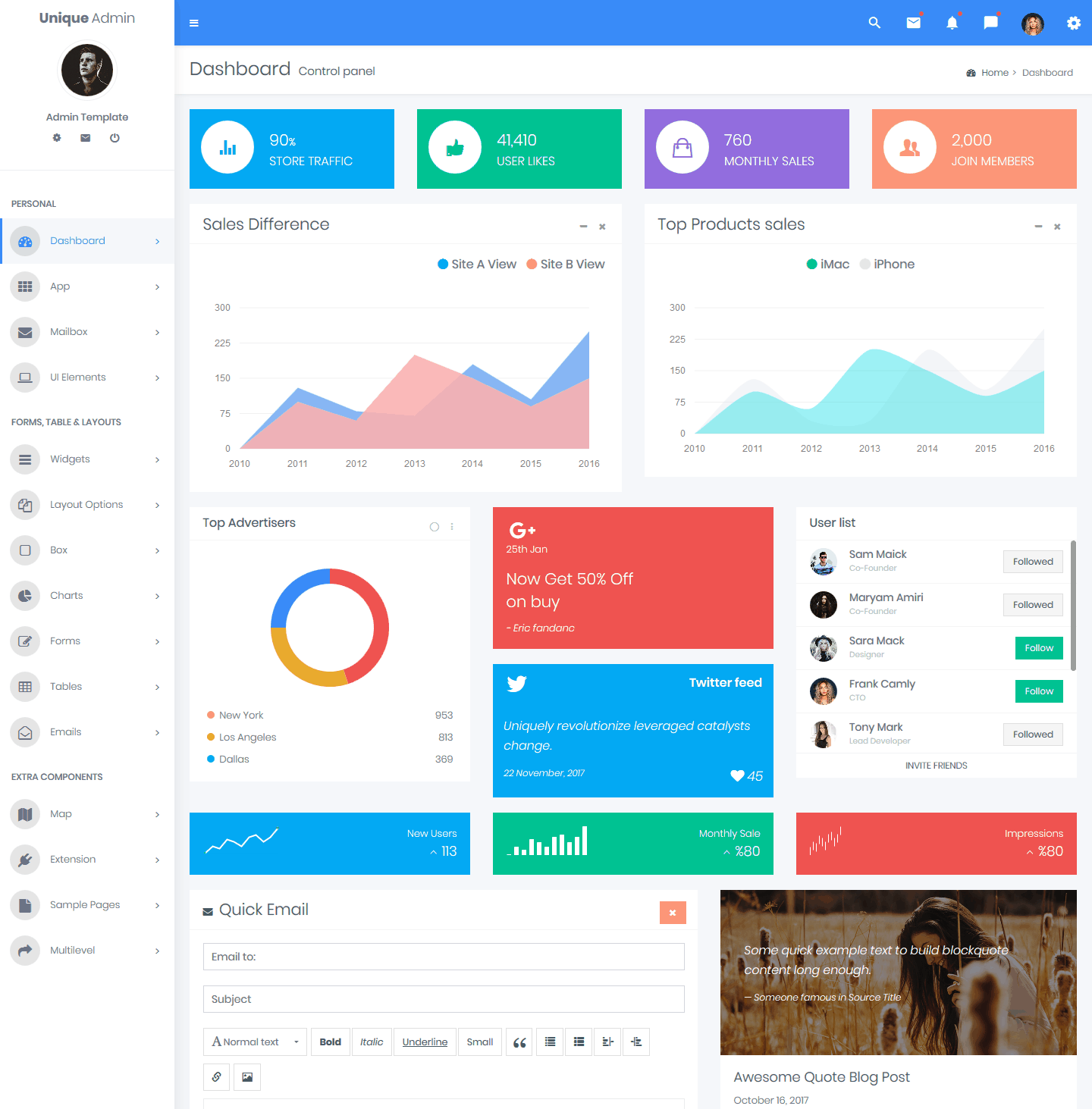 Atlant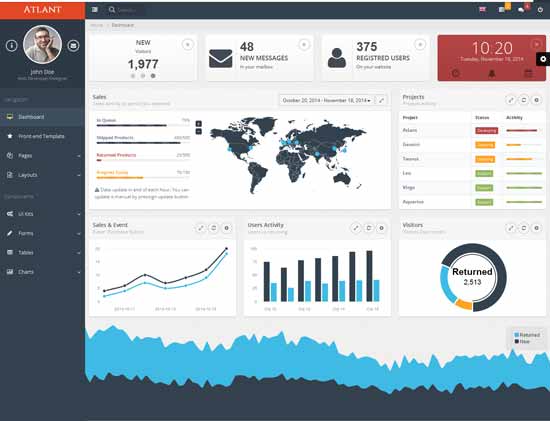 Atlant – is a powerful admin template based on Bootstrap 3.3.0. Template is fully responsive and retina ready which means it is compatible with mobile devices such as iPhone and iPad. In downloaded package you will find .less files, documentation, clean and commented source code. Atlant is easy to use and customize, also you will find lots of ready to use elements.
Minimal Lite Dark Admin
MaterialPro

MaterialPro is a brand new bootstrap admin template that's already proving popular at the ThemeForest marketplace.
MORE INFO / BUY NOW Demo
Minimo Pro-Admin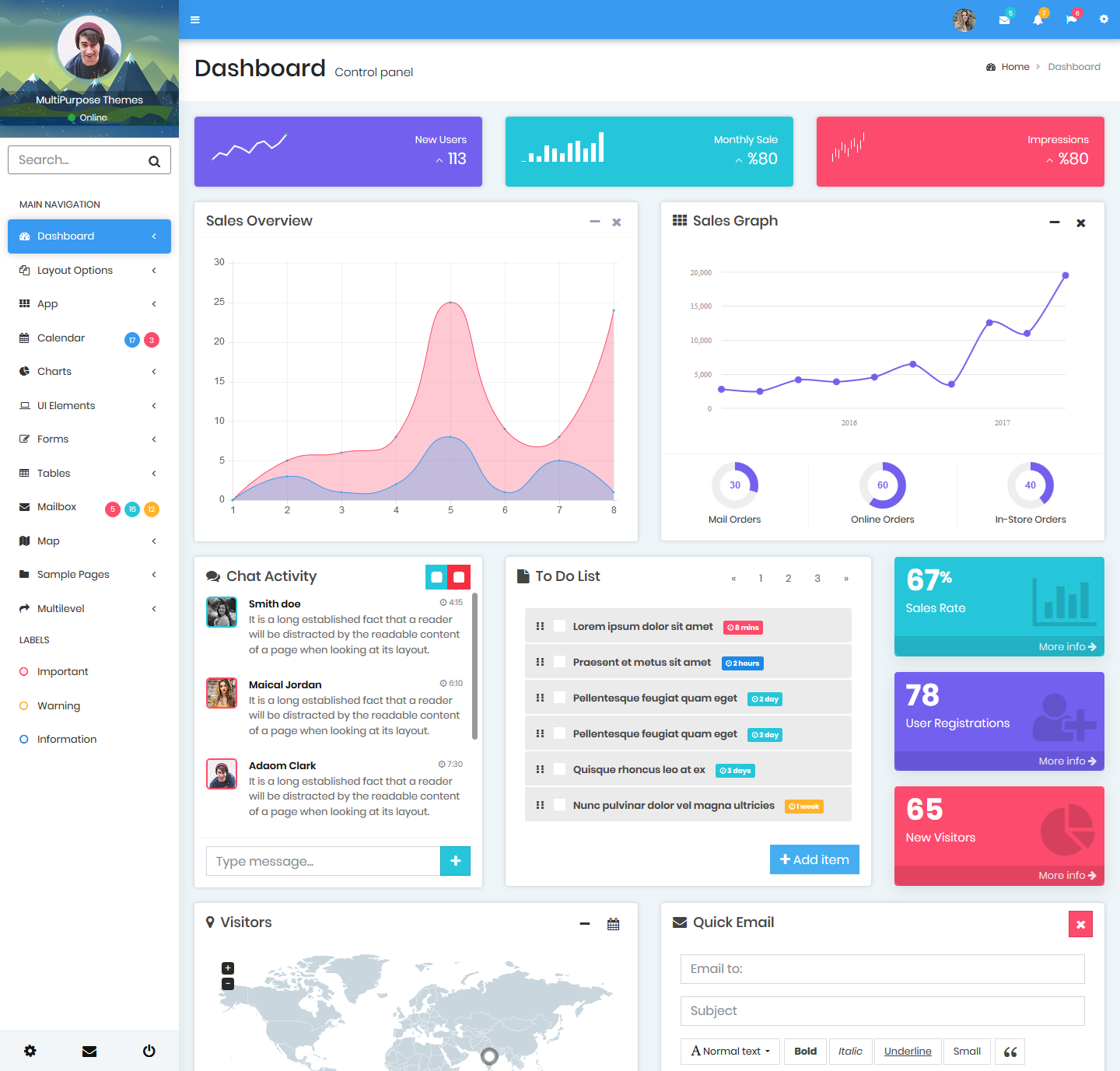 Codebase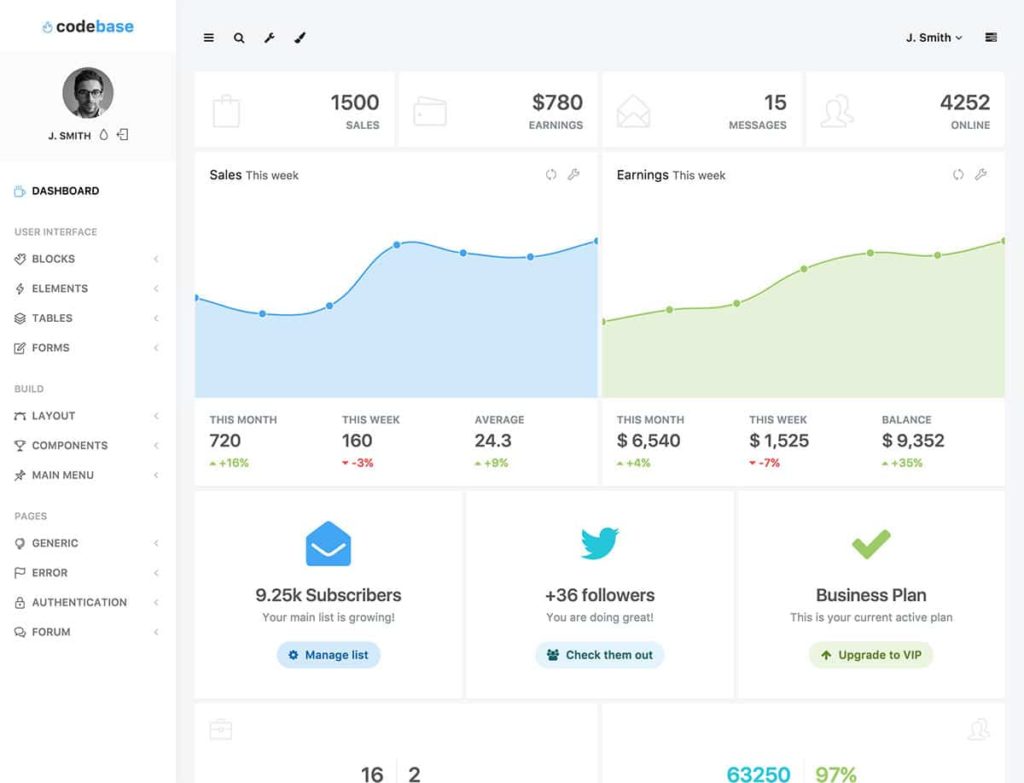 Codebase is a flexible framework designed to help you create the custom dashboard your project demands.
MORE INFO / BUY NOW Demo
Lion Admin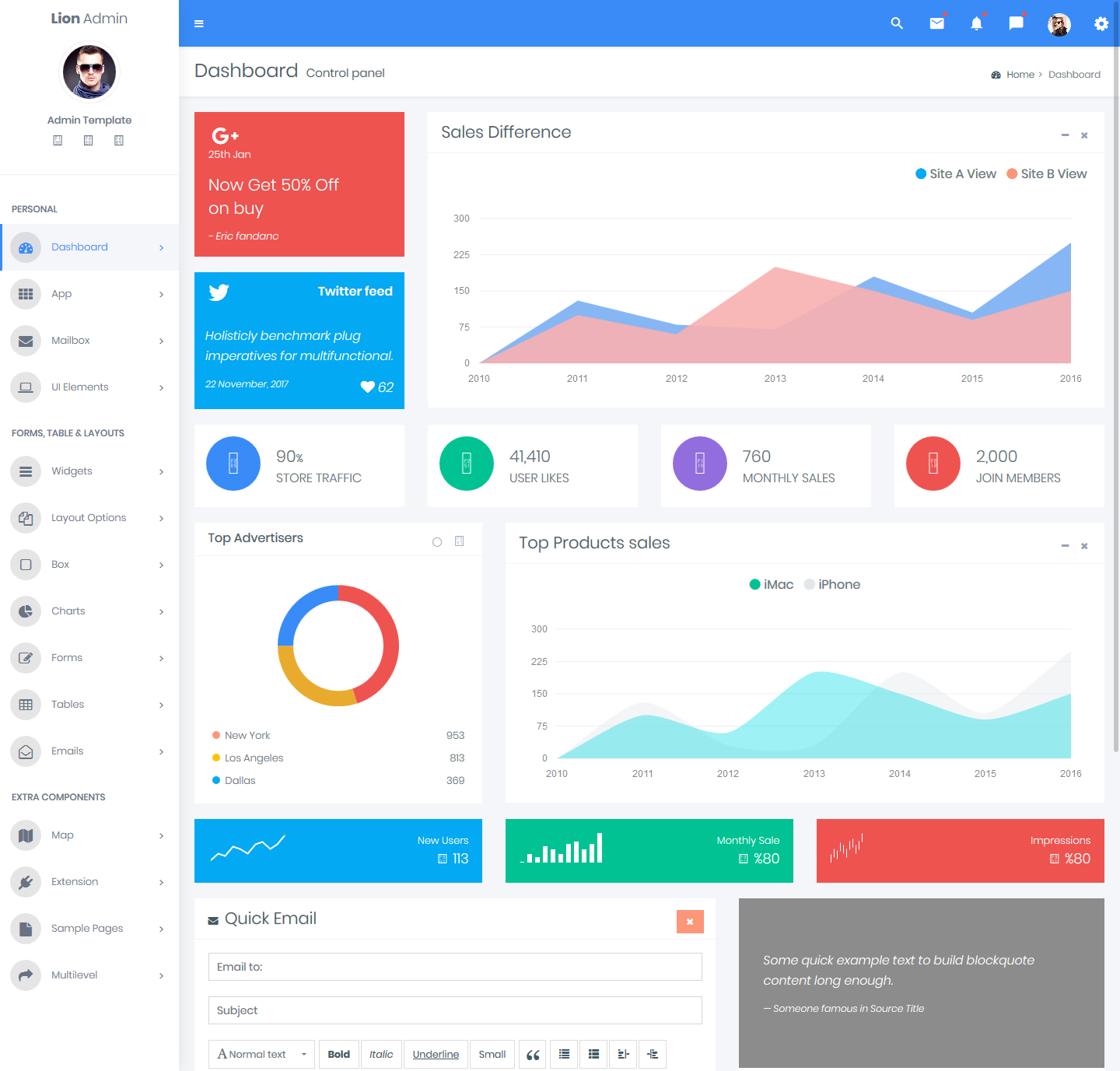 Metronic
Metronic is a well-established and popular admin theme that's been kept fully up to date since its initial release.
Minimo Pro horizontal Nav Admin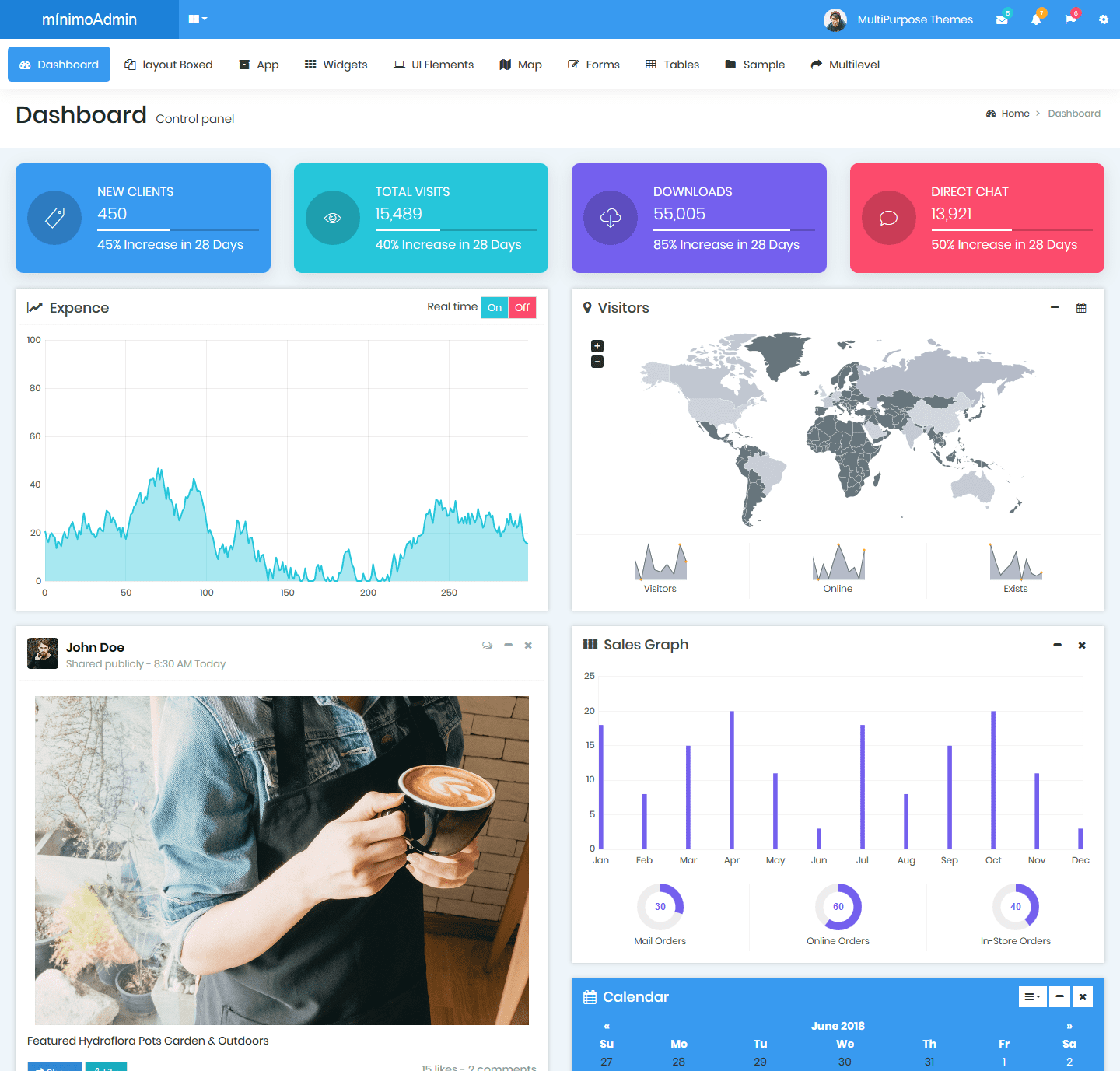 Pages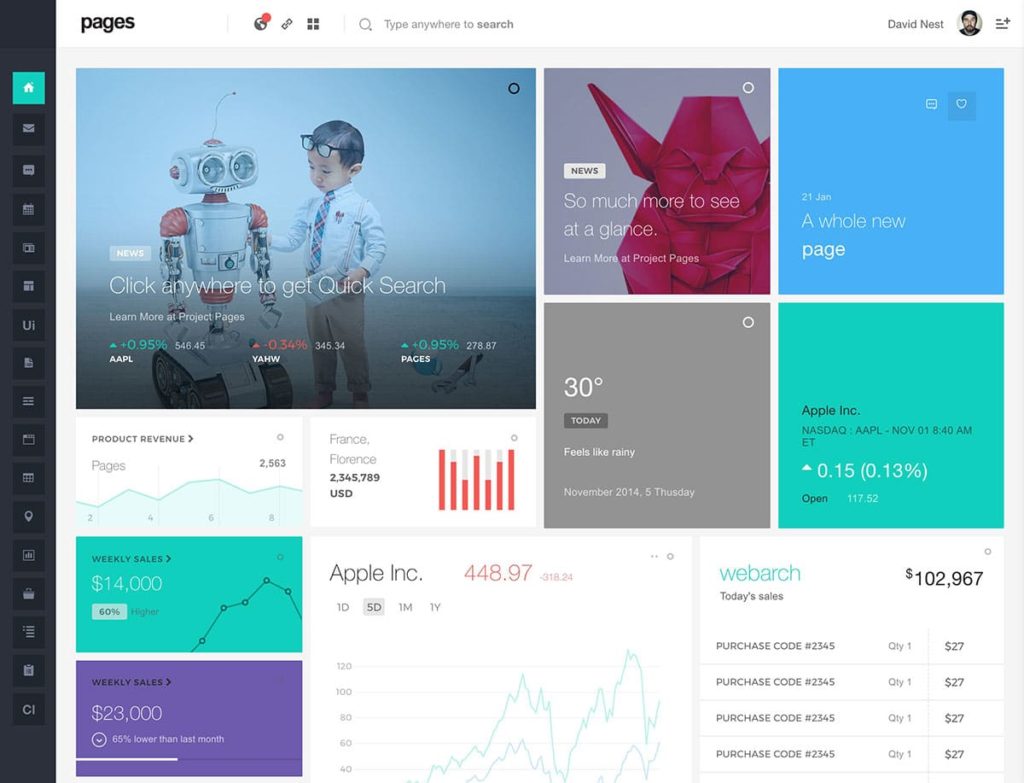 Built with the aim of being the fastest and most simple way to design a dashboard user interface for your website or app, Pages is packed with useful features. For starters, the Pages framework is highly customizable. Each layout that's included in the package can be used as the starting point for your own unique designs. Through the settings, you can easily choose from a range of color skins, menu types, and module layouts.
MORE INFO / BUY NOW Demo
Stack
New Simply download Stack, choose one of the pre-built designs, and start customizing it to quickly build your own bespoke dashboard UI. For those who want more control over the appearance of their dashboard, Stack also makes it possible to customize almost every aspect of your interface. Modifying the headers and footers is straightforward, as is creating custom color schemes and building bespoke forms.
MORE INFO / BUY NOW Demo
Monster Admin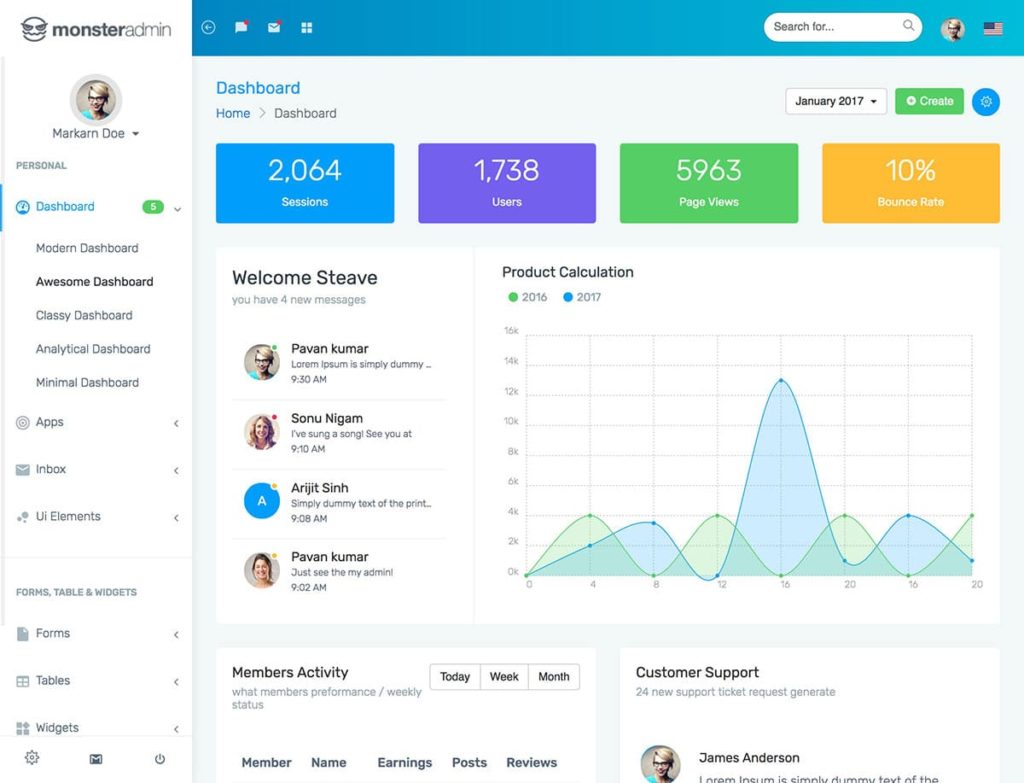 Depending on the type of app you're working on and the data you want to display, you should be able to use one of the Monster Admin demos as the foundation for your user interface. Once you've chosen a demo, you can then set about customizing it using the six color schemes or creating your own custom palettes. You can also switch from light to dark sidebars or vice versa and choose from the 3,000+ font icons.
Analytical Admin Dashboard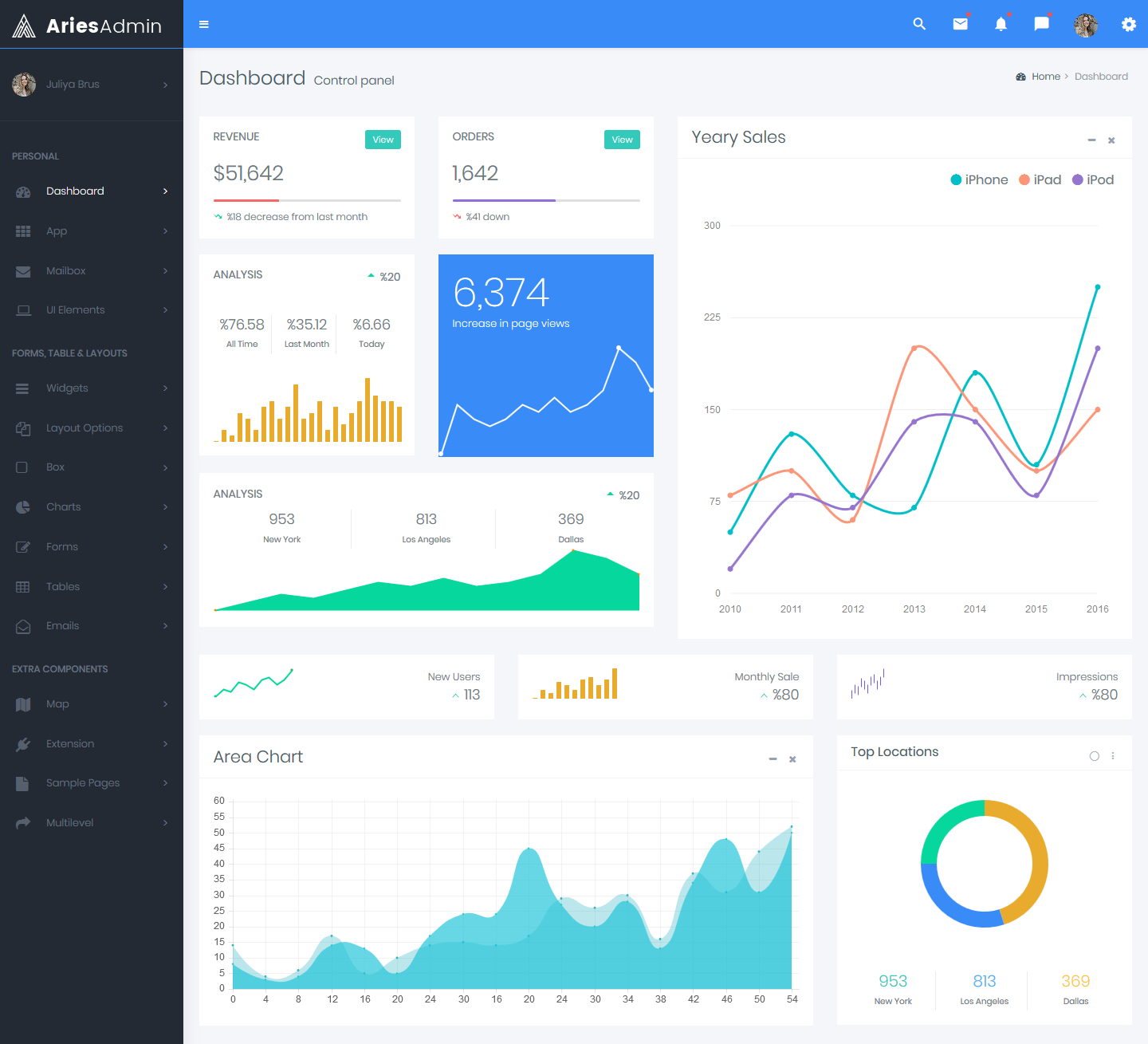 Limitless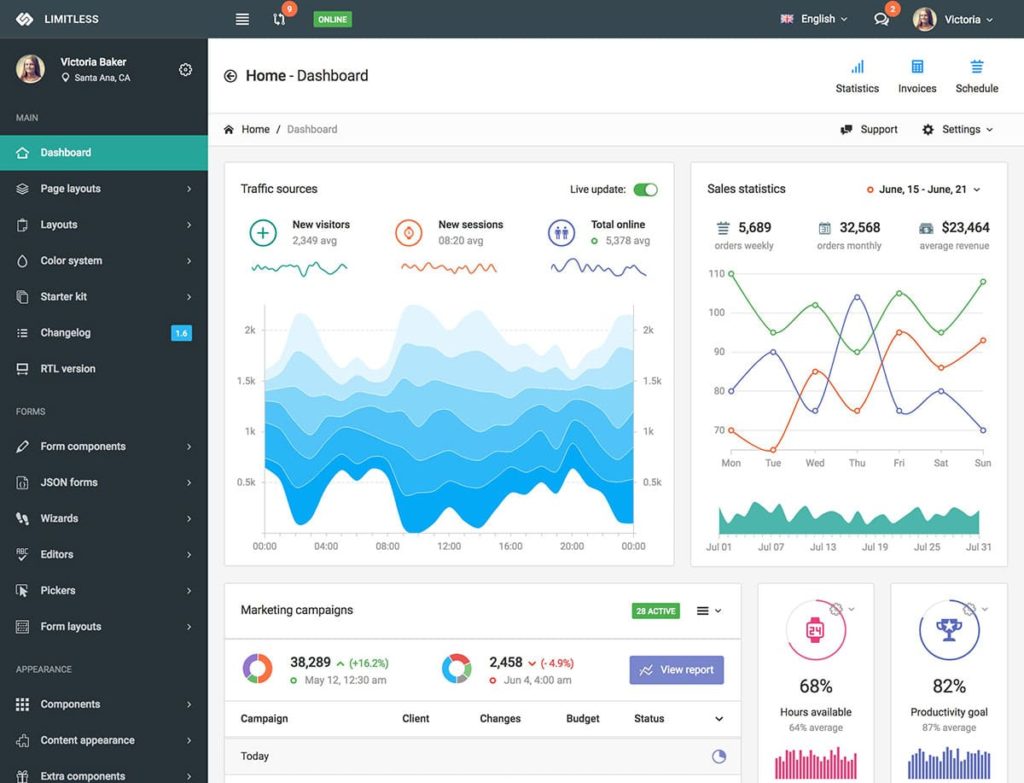 Limitless has been updated to now include even more tools to help you build a custom admin panel based on Bootstrap.
Porto Admin
Since the first version of Porto Admin was released back in 2014, the library of dashboards in this package has grown and now includes many high-quality options. All of the designs have been refreshed over the years and they are now fully modern and up to date.
MORE INFO / BUY NOW Demo
Elephant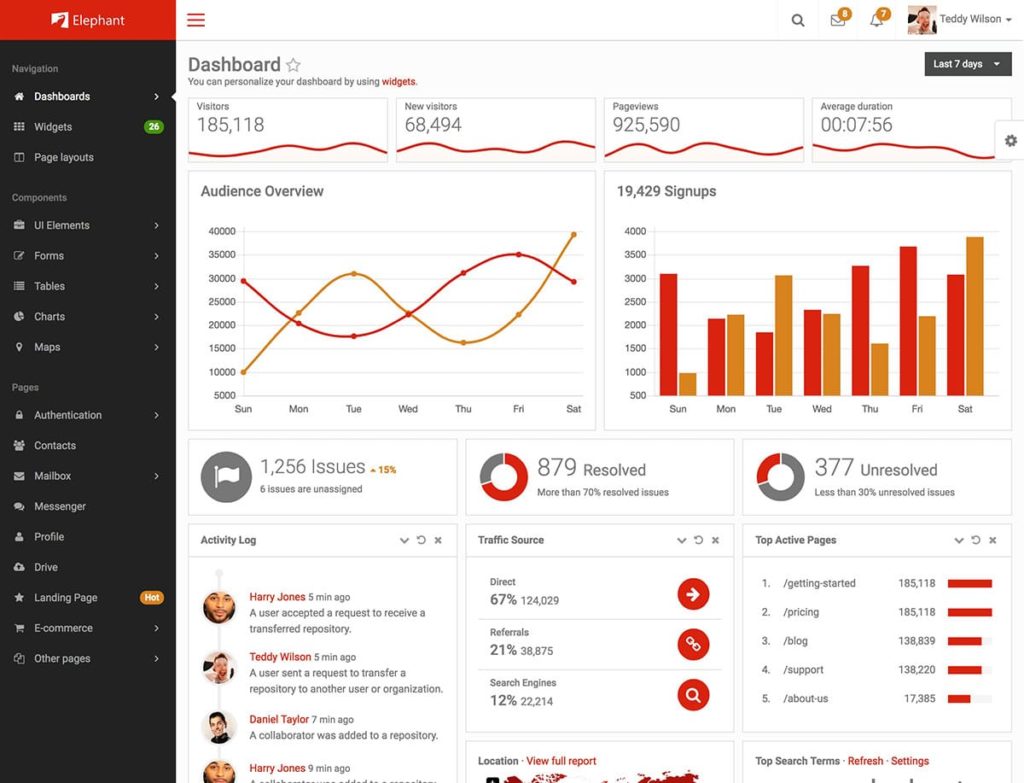 There as six variations of the main Elephant demo, which mainly use different color palettes to each other. This gives you a quick way to choose the option that best matches the color scheme of your project. Once you've chosen a theme, you can then select one of the other design variations, including options that feature square elements, rounded elements, right to left (RTL) text formatting, and a flat AngularJS mode.
Minimal Light Demo Admin Dashboard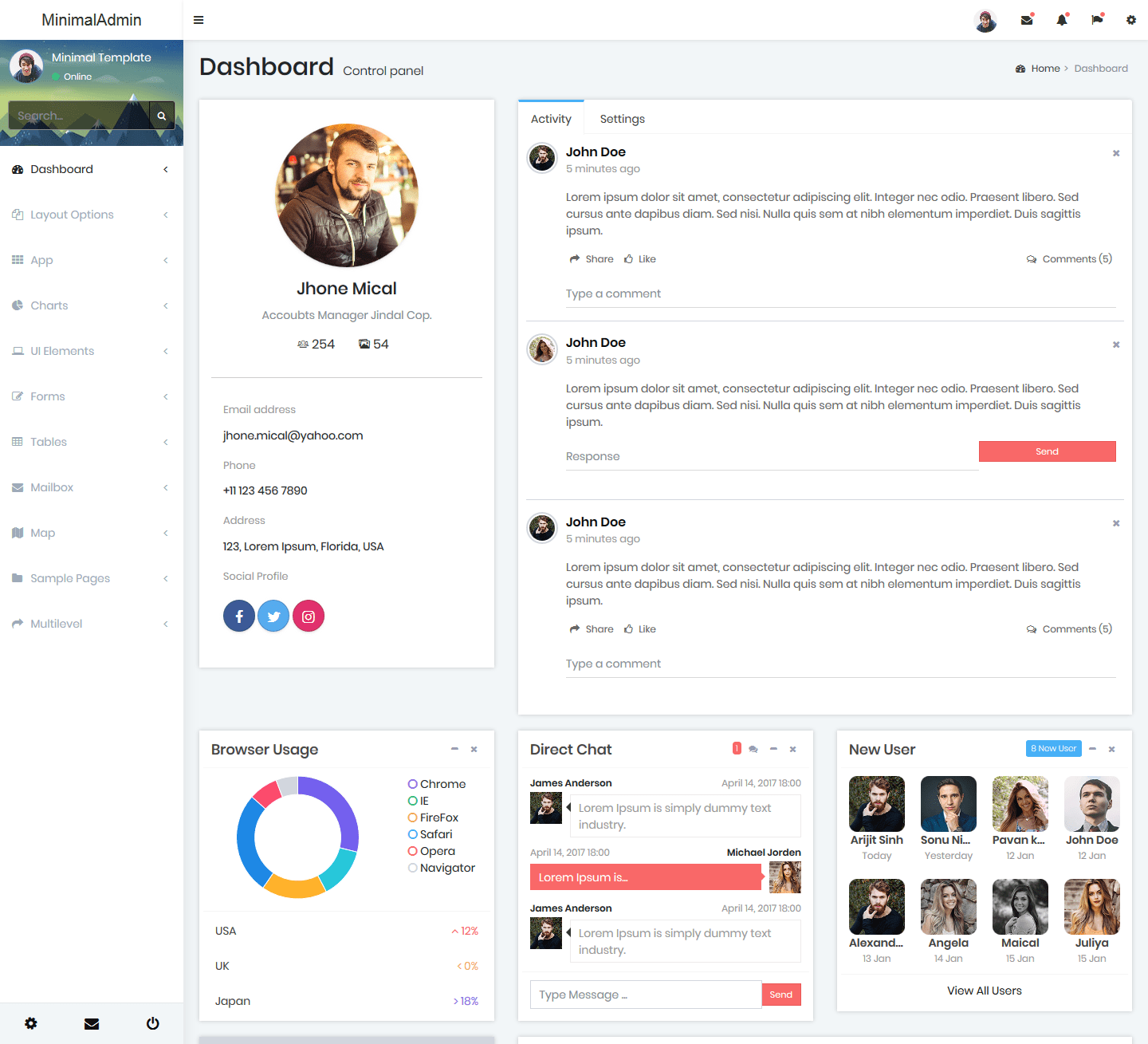 Light Admin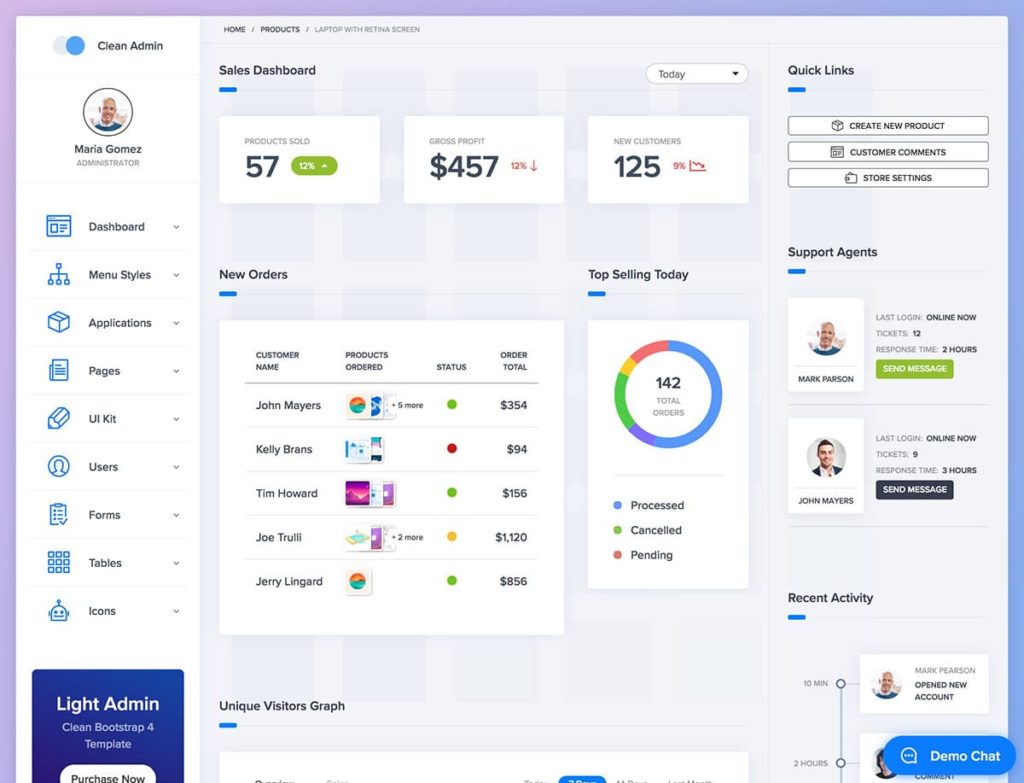 Light Admin has a very clean and minimal design that should appeal to anyone seeking a sleek and modern admin template.
MixPro Admin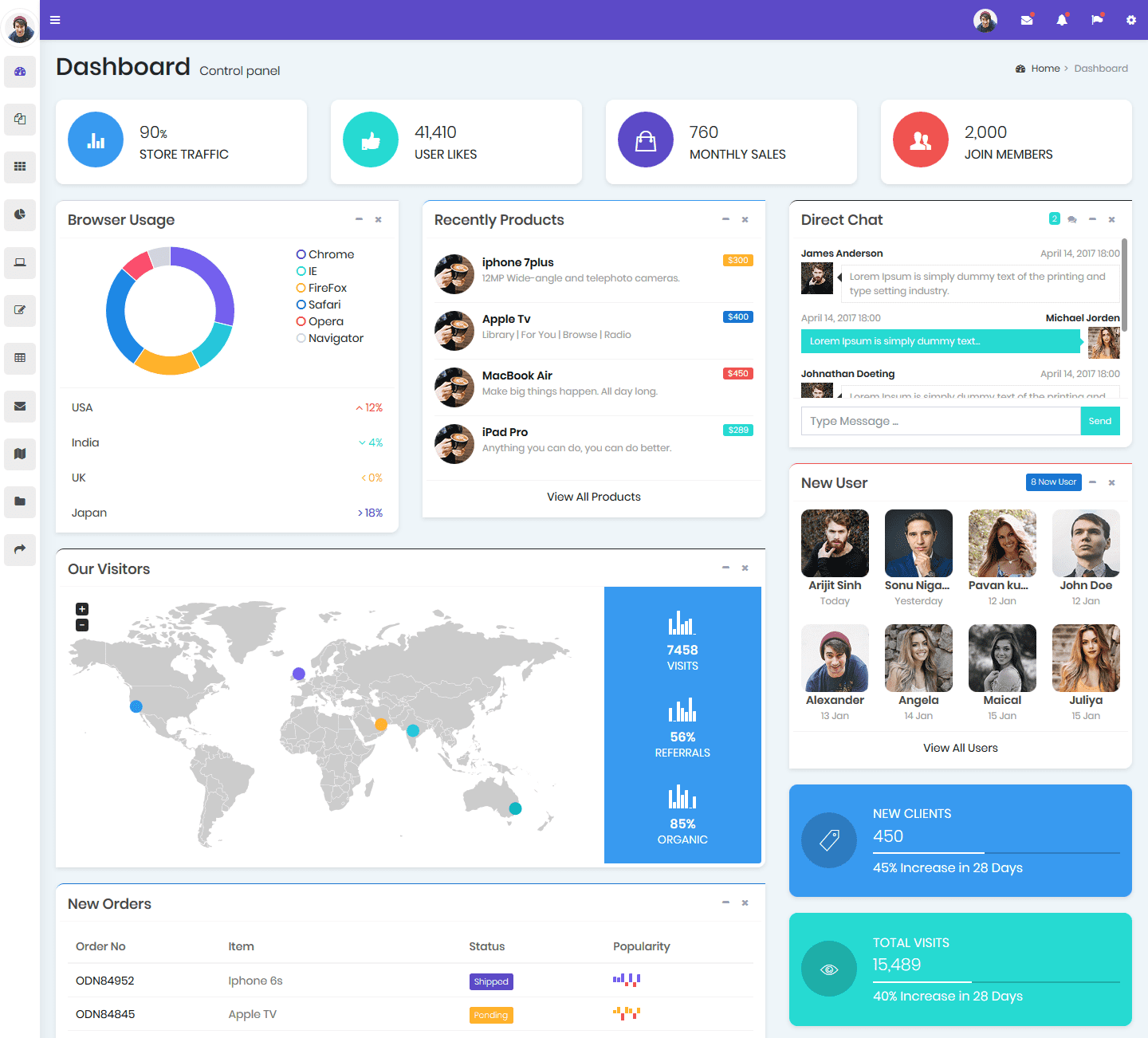 QuantumPro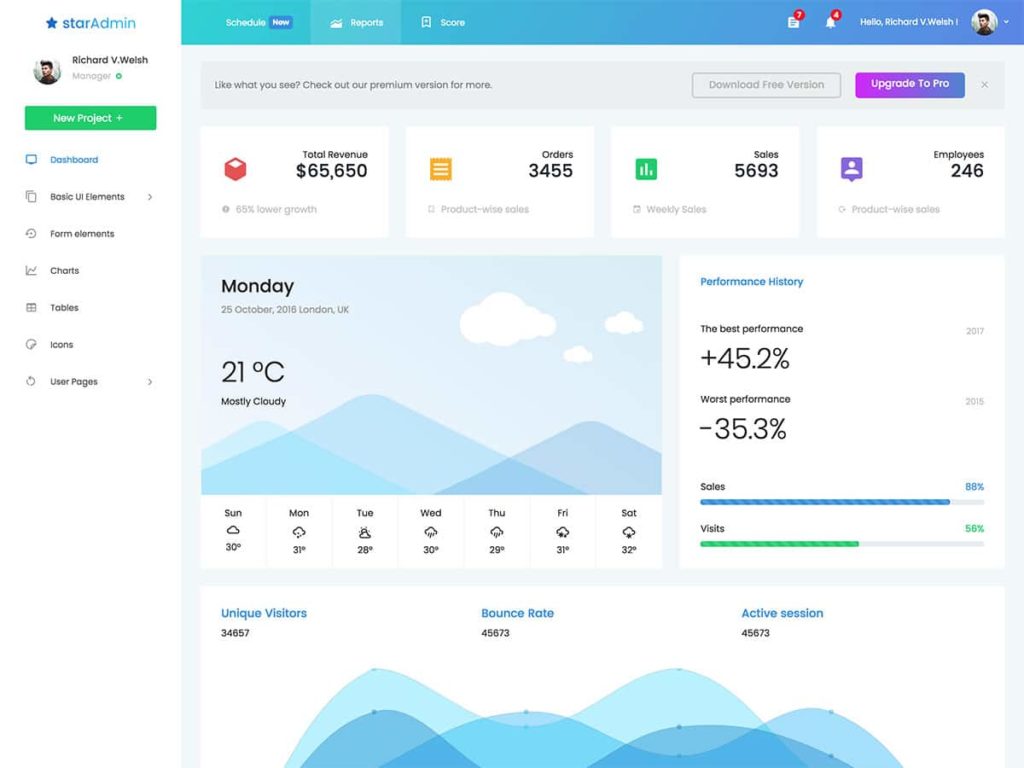 QuantumPro is a flexible Bootstrap admin template with a good library of impressive pre-built designs.
Hospital Admin Dashboard
TemplateVamp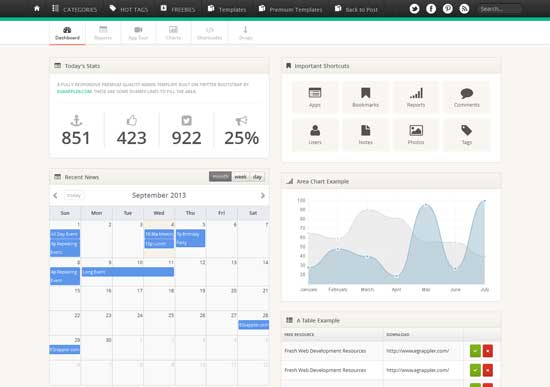 TemplateVamp is a fully functional and customization free admin panel template that leverages the power and flexibility of HTML5 & CSS3. It can be used as a front-end toolkit for rapidly developing web applications that are lightweight, faster, and mobile-friendly; a great starting point.
Hospital Admin Dashboard
DashGum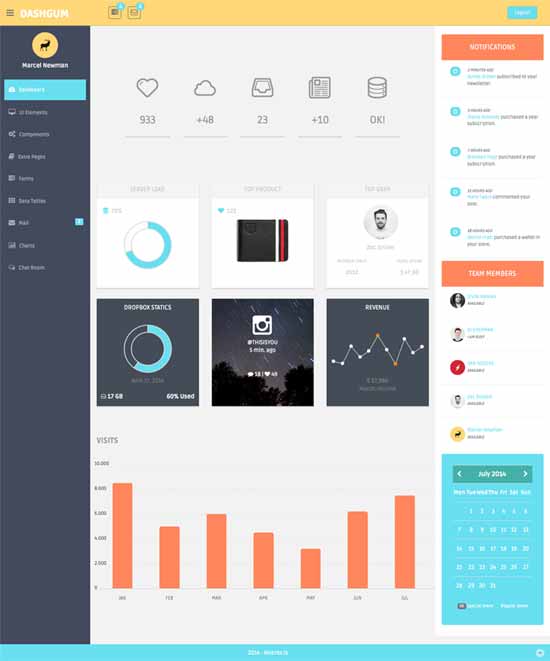 DashGum is a simple & elegant admin panel. It comes with 15 pages to start your panel as soon as possible. With DashGum you have charts, tables, a lot of panels, calendars, notifications, to do lists and more. Grab our free theme and enjoy it.
Stock Admin Dashboard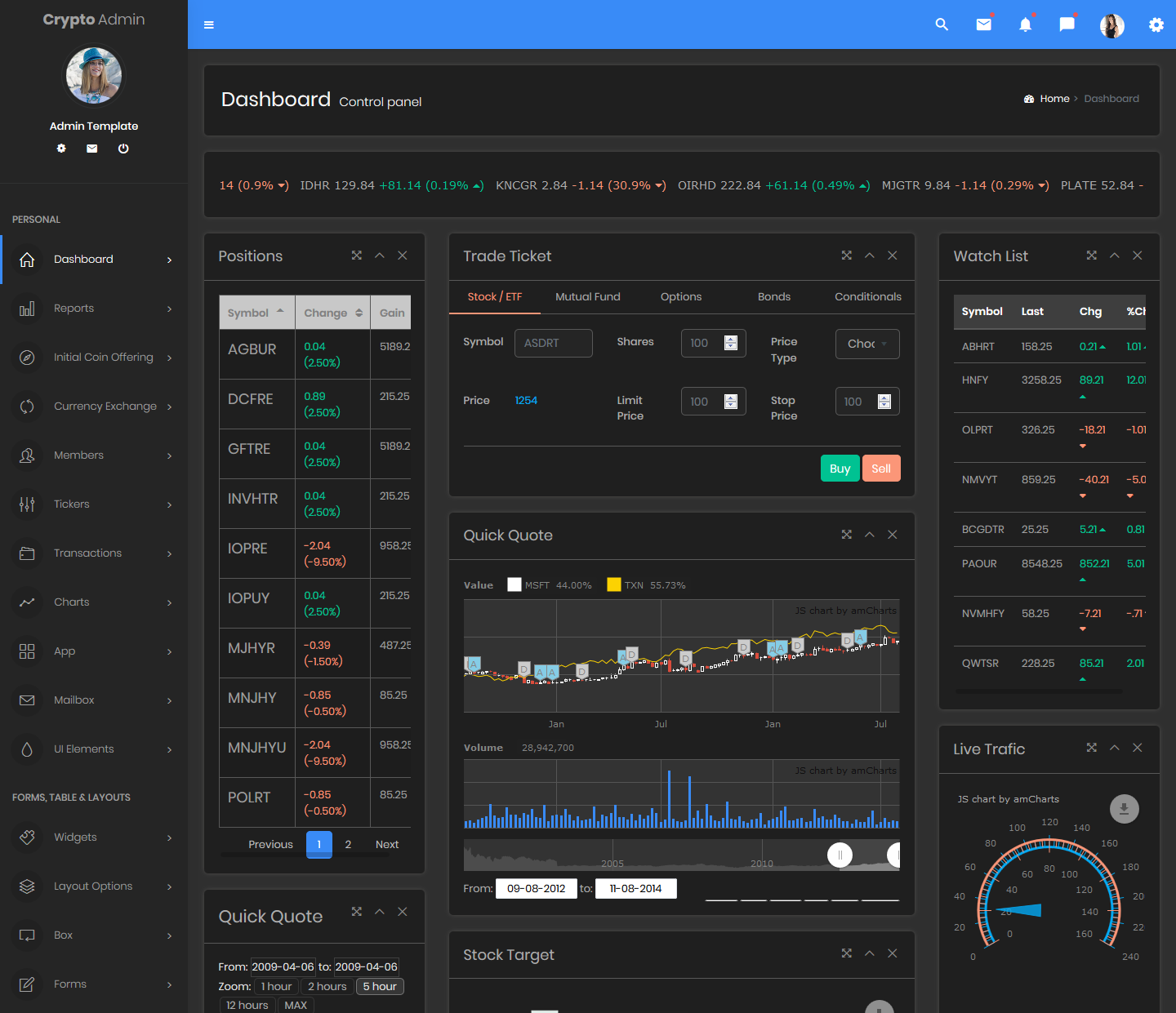 Dream Admin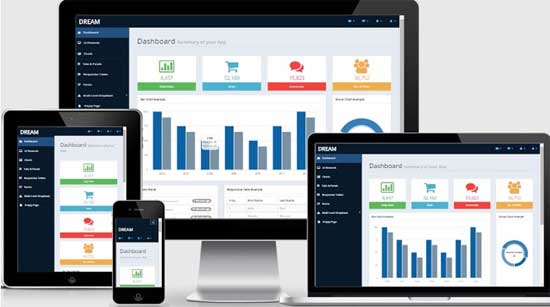 Dream Admin is a admin bootstrap template free download. It build on Bootstrap 3 framework along with HTML5 CSS3 and very useful jQuery plugins to create a amazing modern admin panels, web apps dashboards multipurpose theme.
Cross Dashboard 3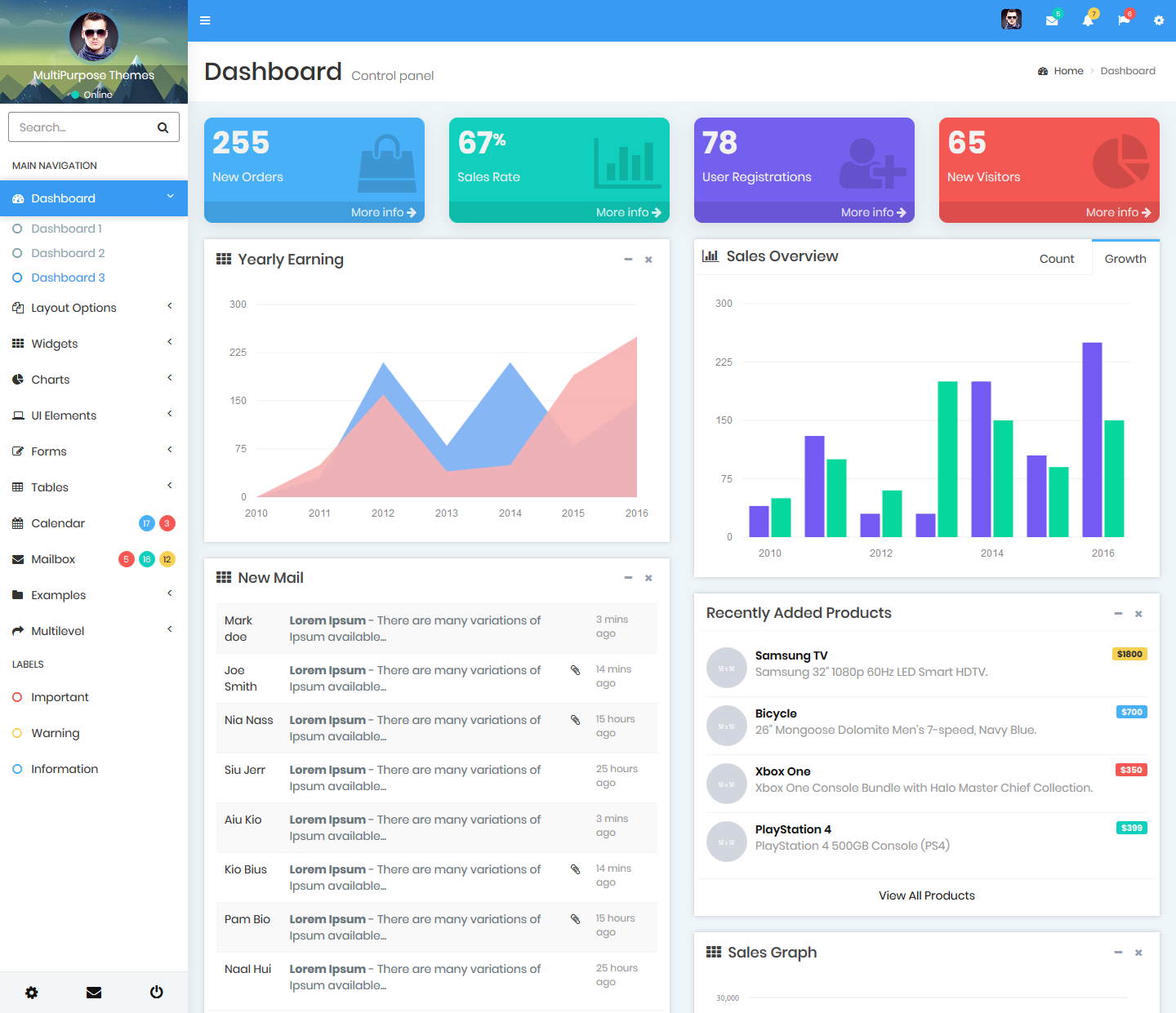 Edmin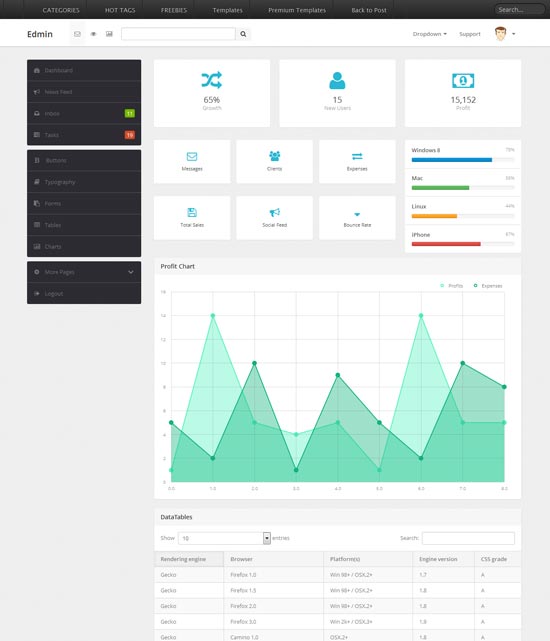 Edmin is yet another free Admin Bootstrap Templates with jQuery plugins that is perfect for your projects. It provides an easy to use modern and flat user interface design and a fully responsive layout that is compatible with handheld devices such as phones and tablets.
Music Dashboard
Binary Admin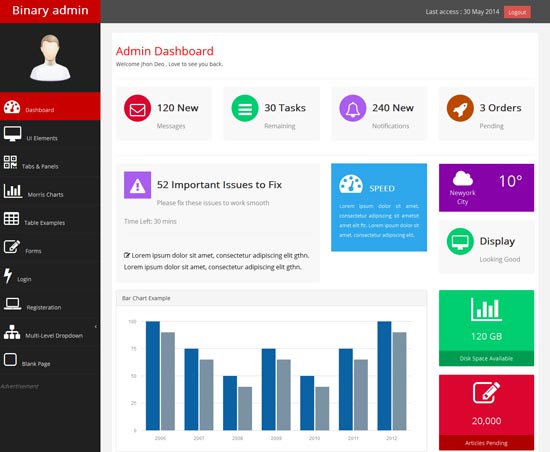 Minimal Lite RTL Dashboard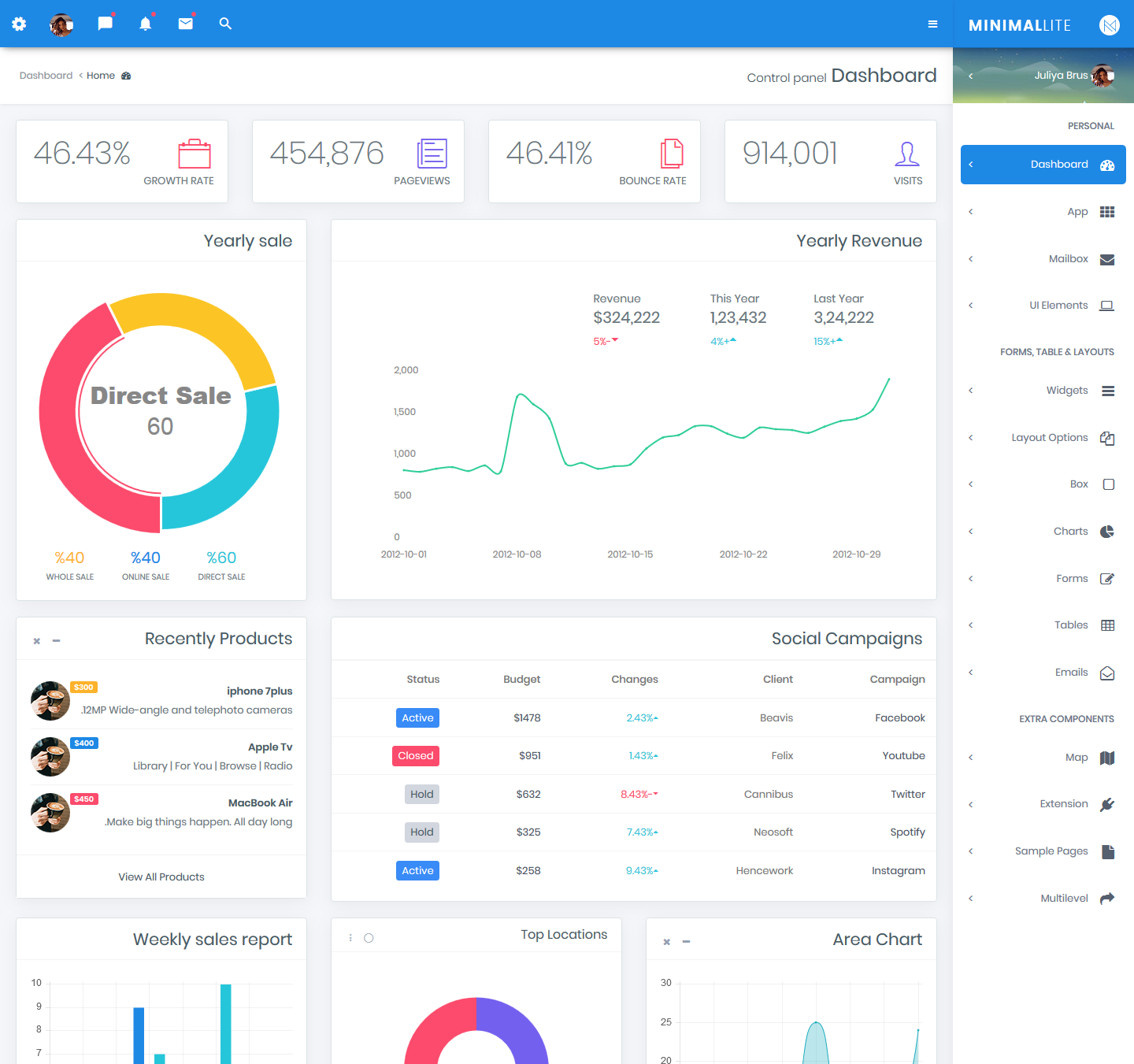 SIMINTA