Thankfully, this collection of the best Bootstrap Admin Templates can simplify this process for you. Not only do these packages contain stylish pre-built templates and demos for your dashboards and admin areas, but they have all been built to be readily customizable.
Creating the perfect dashboards and admin areas for your app or another type of project is just as important as getting the appearance of your front-end pages right. However, designing and building all those pages and layouts for your back end areas can be very time-consuming.
Ample Admin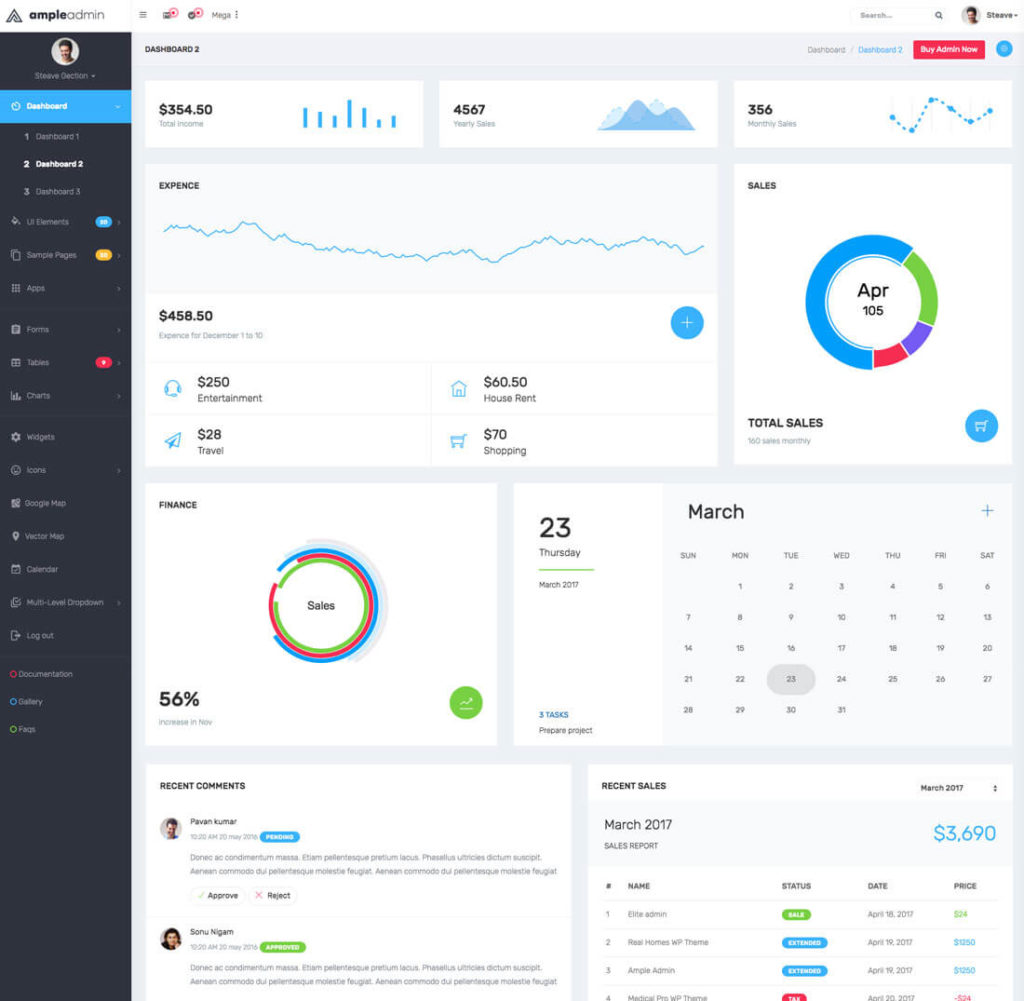 Ample Admin is one of the most popular admin templates on WrapPixel. The template is built with Bootstrap 3 and it comes with 3 dashboard designs in 6 color skins and over 600 pages.
Minimal Pro-Admin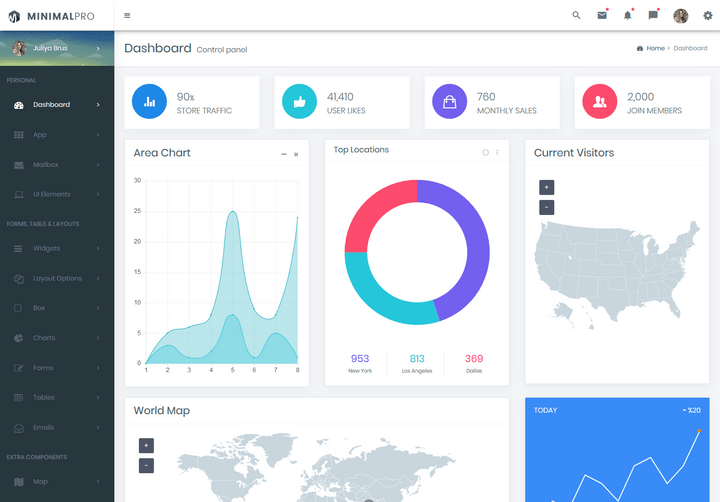 Ample Admin Lite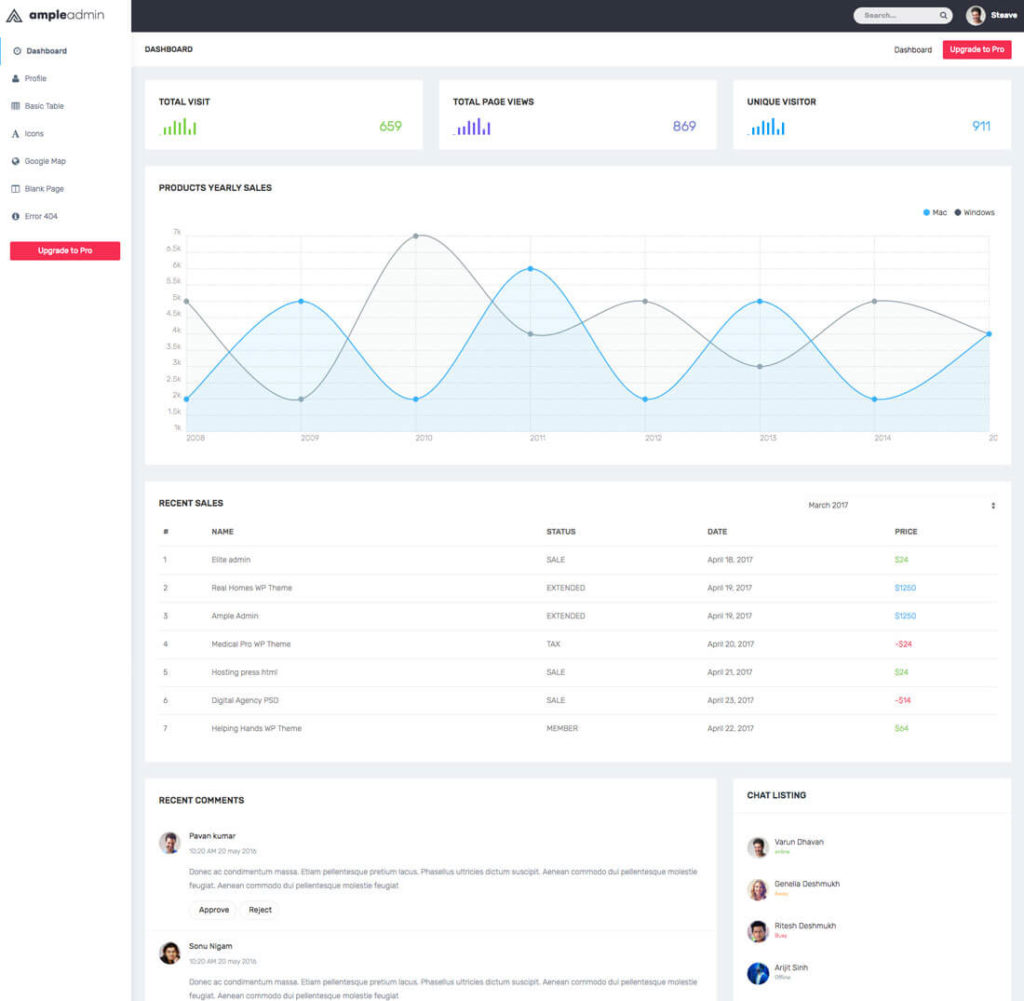 This is the light version of the Ample Admin template. It only features one dashboard design with limited features but provides you with enough options to test the template before buying the Pro version.
Alfa Admin
Pixel Admin
Pixel Admin is a unique admin template that comes in both light and dark themes. It also lets you choose from 3 dashboard styles, 6 color schemes, over 500 pages with over 500 UI components.
Pixel Admin Lite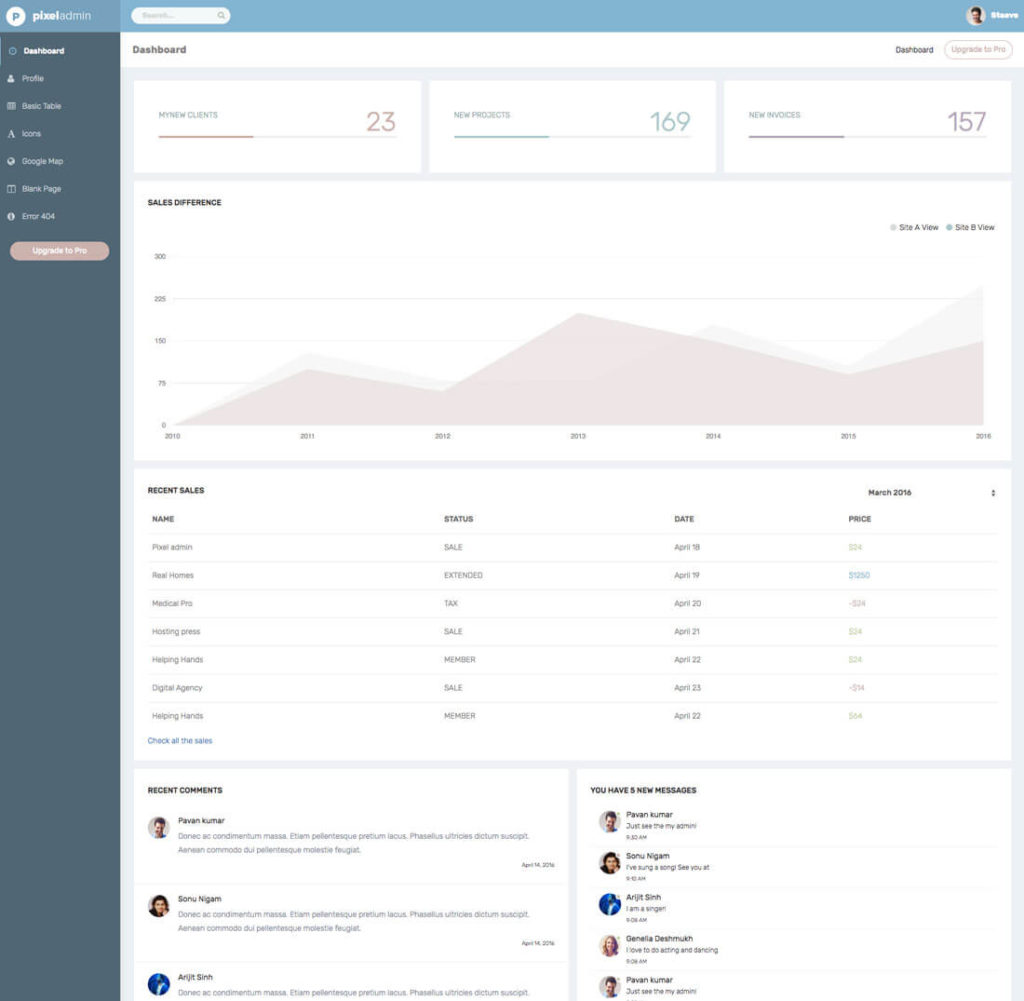 The light version of the Pixel Admin template doesn't offer all the great features of its Pro version, but it includes plenty of great elements you need to get a personal project up and running.
Starlight Responsive Bootstrap 4 Admin Dashboard Template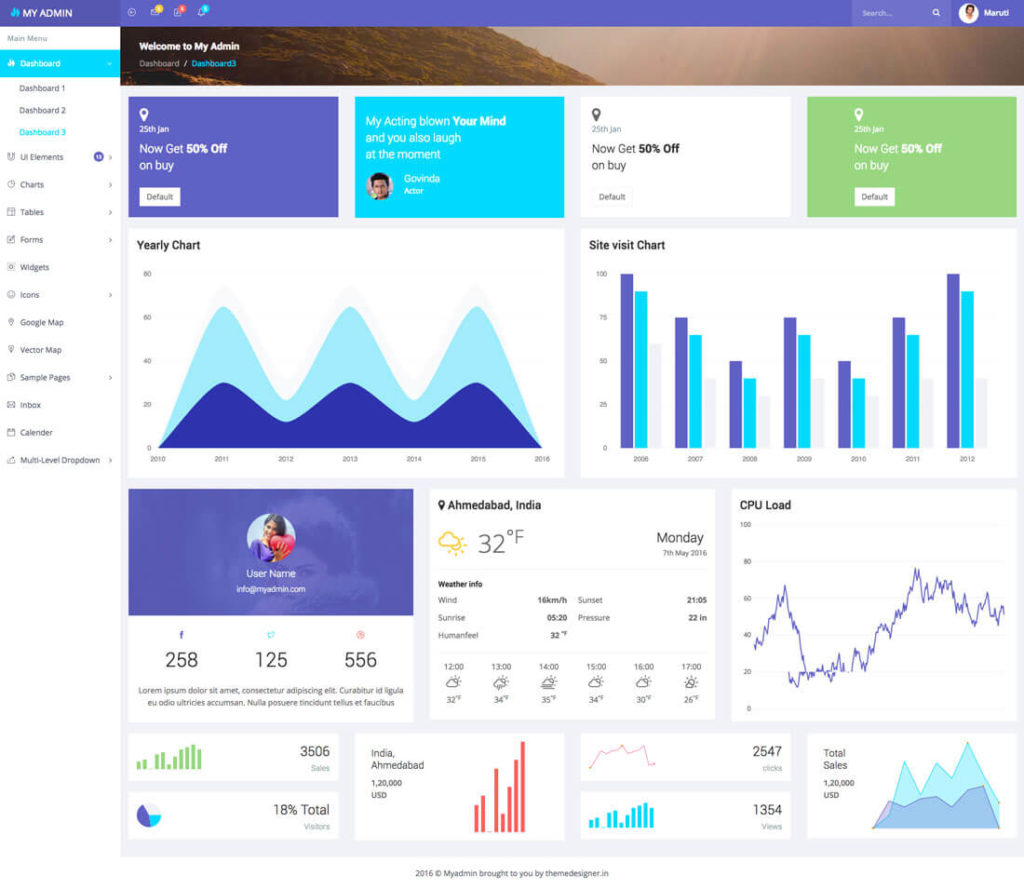 My Admin is more than just an admin template, it's an entire dashboard kit that comes with all the necessary widgets and options for creating any type of a web app, including admin panels, app backends, CMS, CRM, and more.
Alfa eCommerce Dashboard
Maple Admin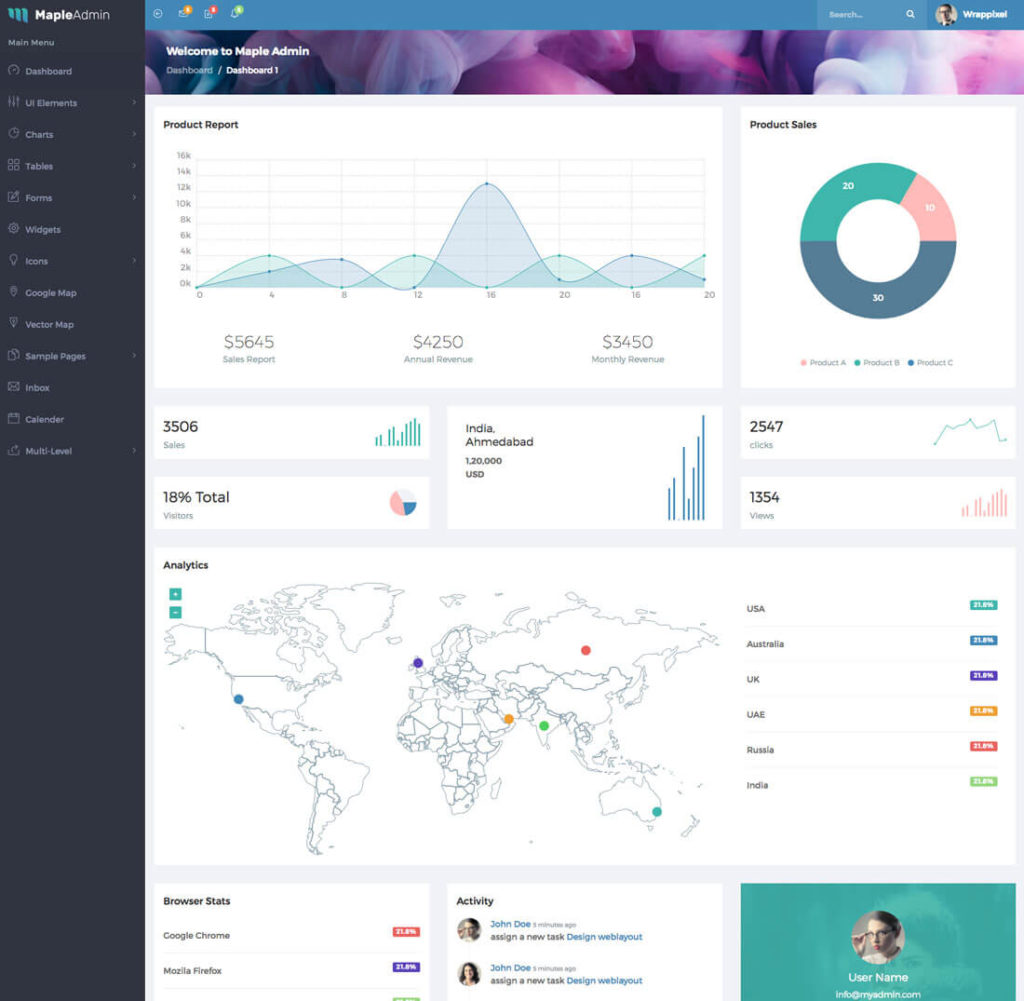 Maple Admin has a modular design, which allows it to be easily customised for use in any backend project quickly. Documentation walks you through installing the template and exploring the various components that are bundled with the template.
Dark Sidebar Dashboard
Kode – Responsive Admin Dashboard Template
Kode is a mobile-first admin dashboard designed with tablets and smartphones in mind. The dashboard features a professionally crafted user interface that's most suitable for eCommerce related apps and back-ends.
Alfa Horizontal Dashboard
Admin – Multipurpose Bootstrap 3 Dashboard Template
Cross can be utilized by designer creating web applications like custom admin board, venture administration framework, administrator dashboard, application backend, CMS, Saas, CRM, business site, corporate, portfolio, blog and so forth.
More features and with widgets and plugins are included here to make your work easier.
Works on all major web browsers, Desktop, iPhone, iPad, Tablet and all other smartphone devices.
Mini Sidebar Dashboard
Flatkit – Dashboard UI KIT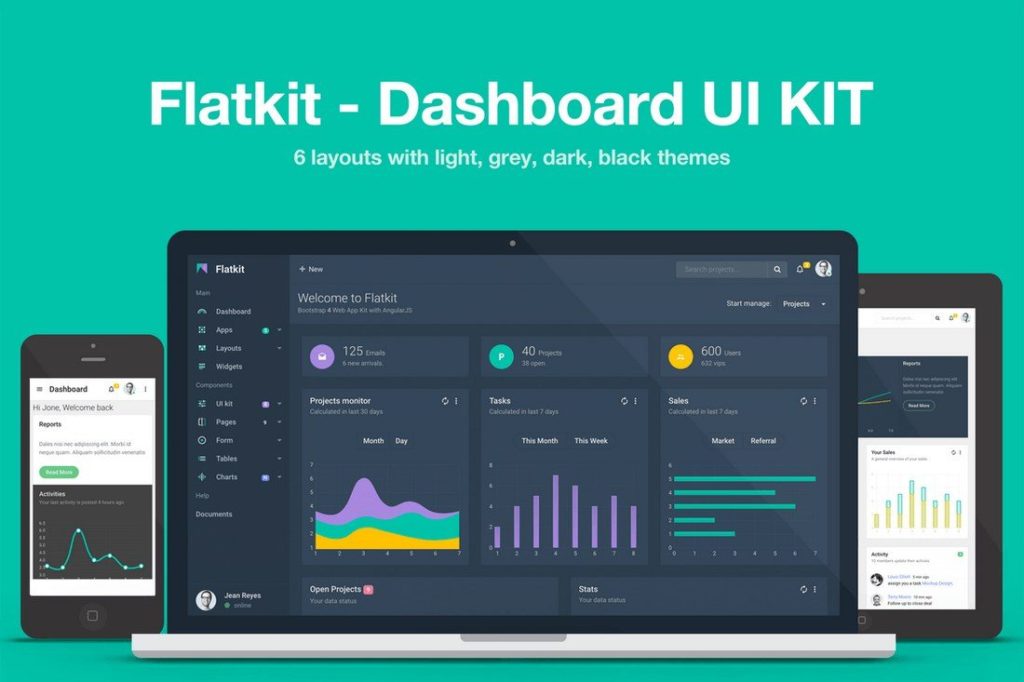 Flatkit is an all-in-one user interface kit that comes with multiple dashboard layouts you can use to build different types of admin pages. The template features a flat design inspired feel that also looks great on all devices.
Alfa Boxed Dashboard
Infinity – Responsive Web App Kit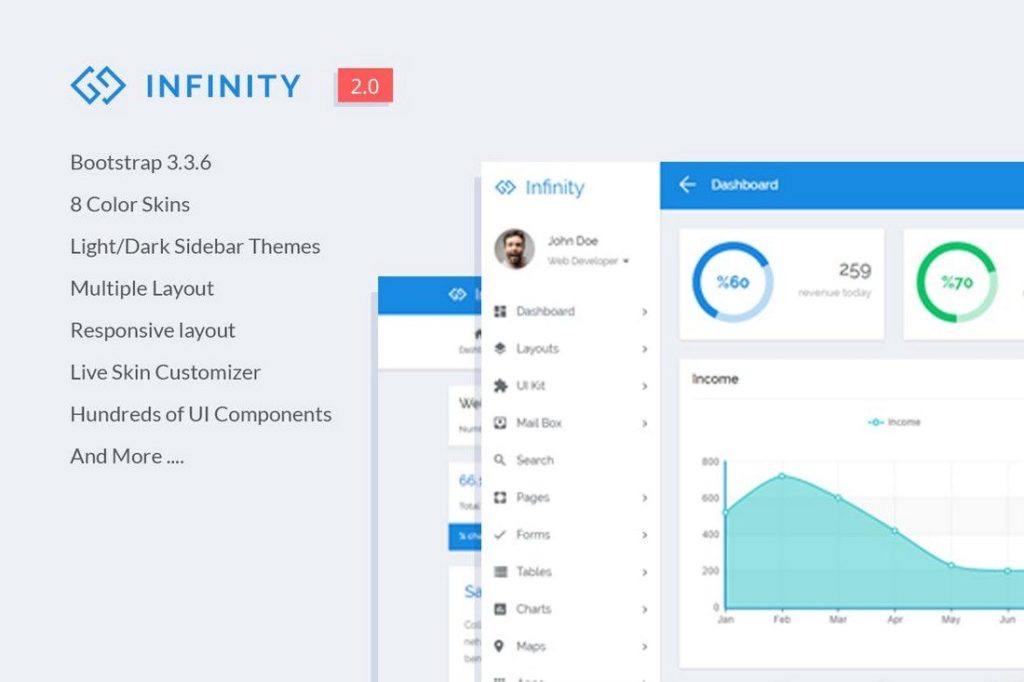 A unique Bootstrap admin template featuring a live skin customizer that allows you to easily customize the template to make it your own. This template also features 8 pre-built templates in both light and dark color themes.
MinimalPro Boxed Dashboard
Kenny – Admin Dashboard Responsive Template
Alfa Horizontal Dashboard
Material Design Admin with AngularJS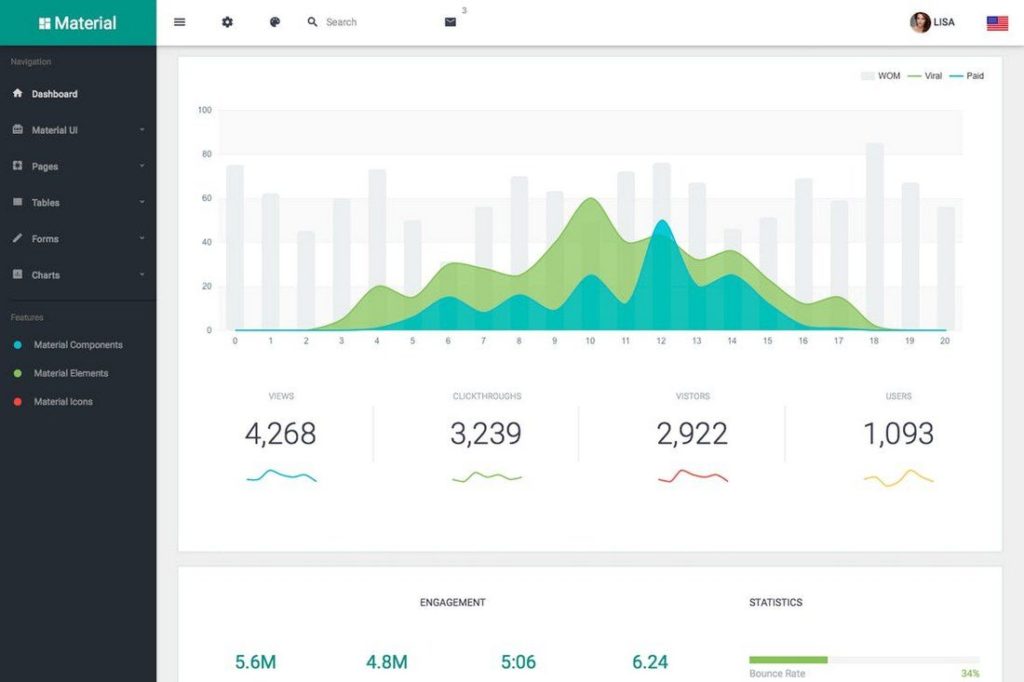 This material design inspired dashboard is made using both Bootstrap and AngularJS, making it ideal for building web apps. As a bonus, you'll also get a landing page template to setup a page for your web app.
MinimalPro RTL Dashboard
One – Admin Dashboard UI Kit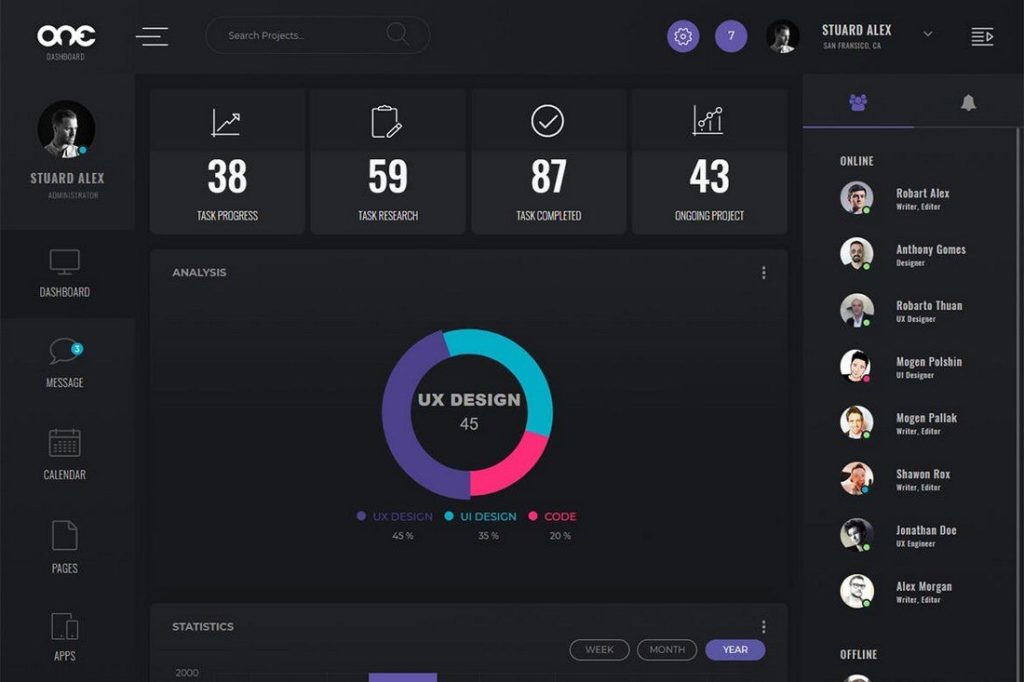 A stunningly designed admin dashboard featuring a dark theme for building responsive user interfaces for mobile and web apps. One admin template comes with plenty of widgets, pages, and layouts that are also fully customizable.
Alfa Dark Dashboard
AppUI – Bootstrap Admin Template
Dark Dashboard
Chain – Responsive Bootstrap Admin Template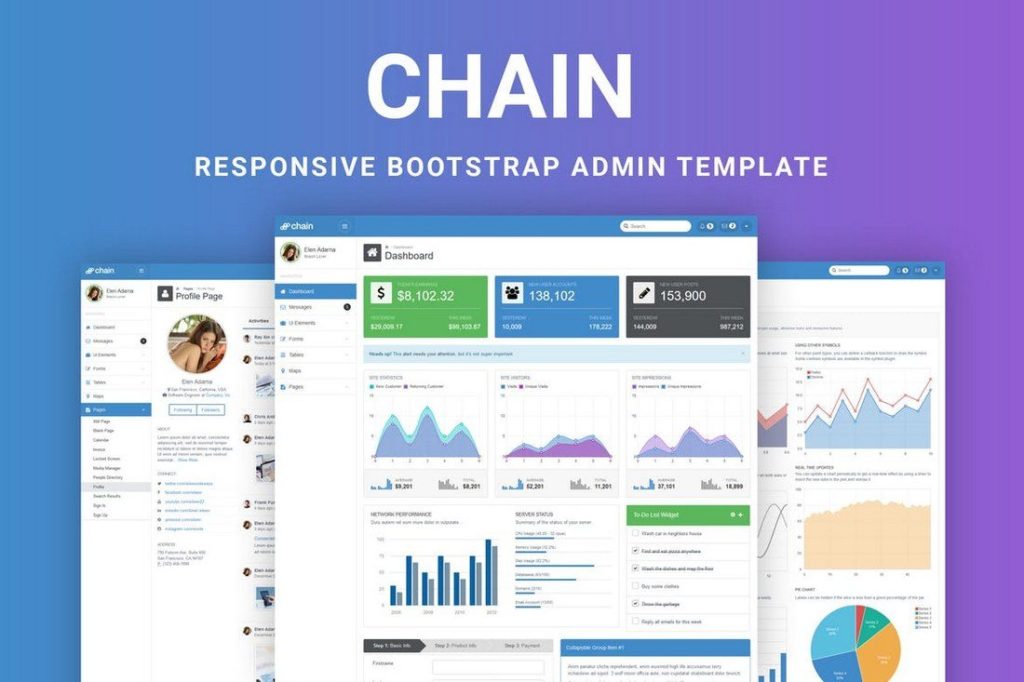 A clean Bootstrap admin template built with HTML5 and CSS3. It comes with several unique page designs, including dashboards, user profile pages, and many other widgets as well.
Alfa Dark Dashboard
Bracket – Responsive Bootstrap Admin Template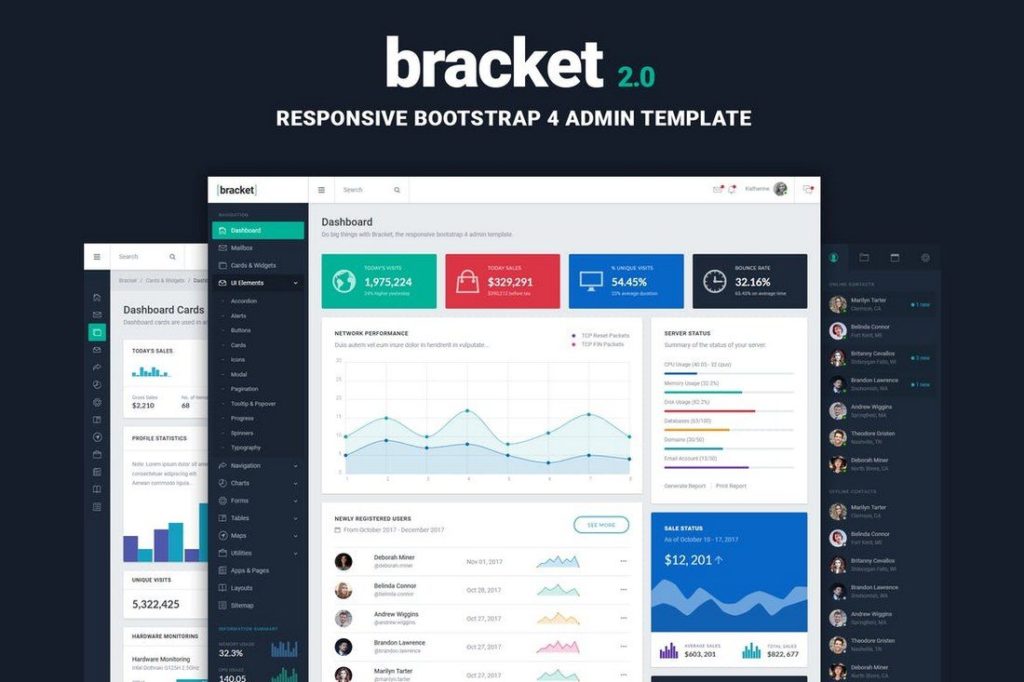 Built with the latest Bootstrap 4, Bracket is a fully responsive admin template that's ideal for building a backend to SaaS websites, CMS, web apps, and more.
Alfa Mini Sidebar Dashboard
Alfa Mini Sidebar Bootstrap Admin Template comes with awesome font icon like font awesome, Glyphocons, material icons, Themify icons.
Starlight – Responsive Bootstrap 4 Admin Template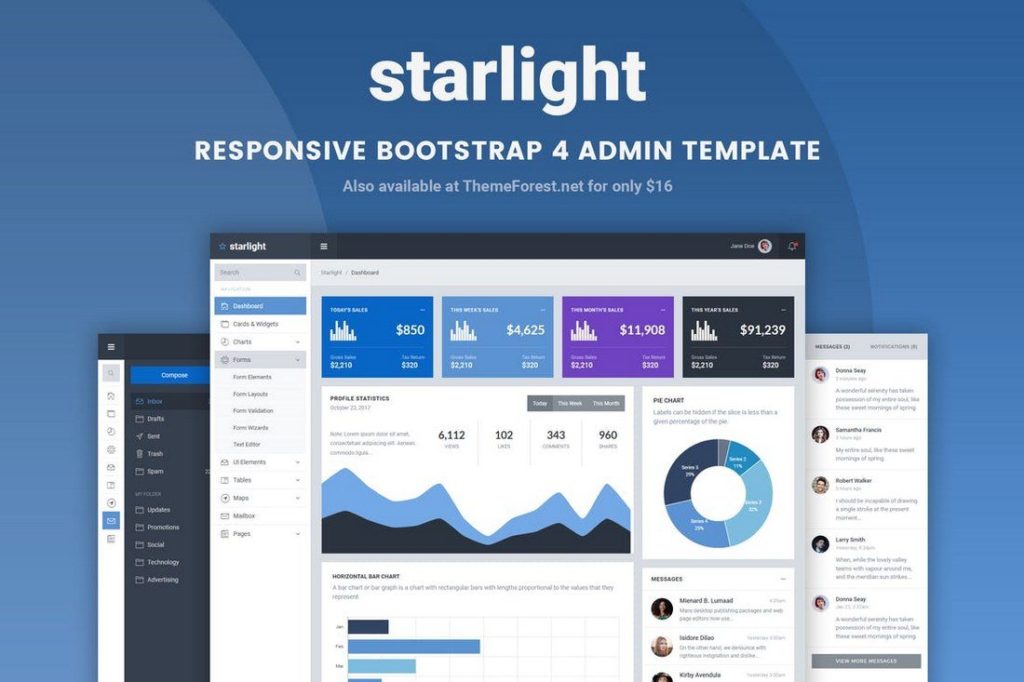 Starlight is a professionally designed modern admin template that uses a minimalist design inspired by material design. The responsive design of the template makes the admin dashboard work well with all devices.
Alfa RTL Dashboard
Alfa RTL Bootstrap Admin Template comes with Mail Box, Chat App, Userlist, Calendar, World Map, Error Pages and much more.
StartUI – Bootstrap 4 Admin Dashboard Template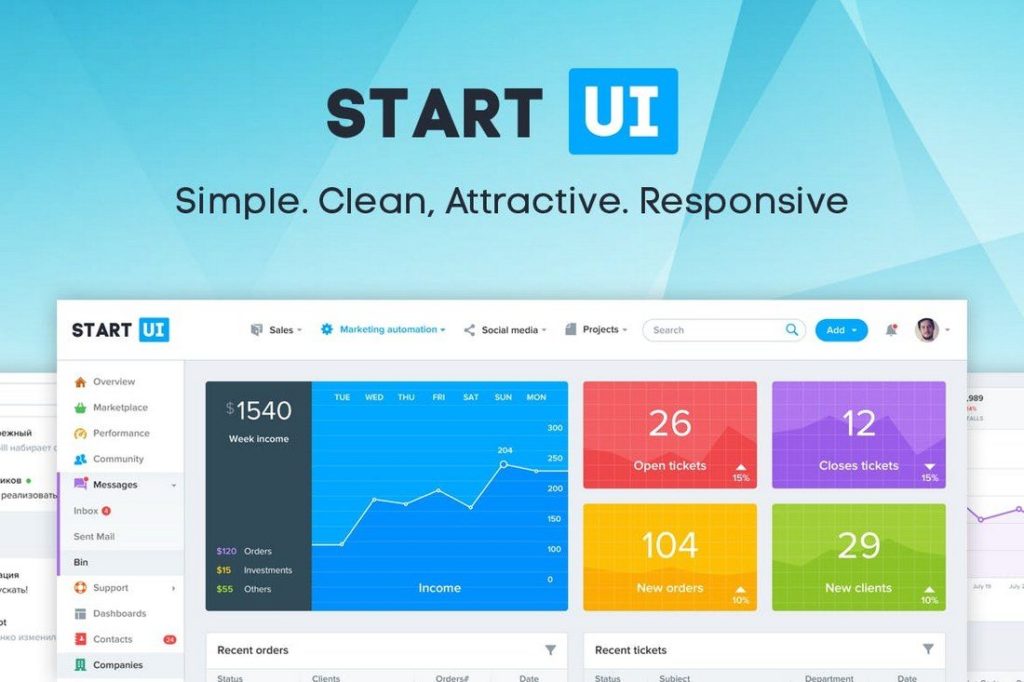 This clean and colorful UI dashboard template is the perfect choice for building a backend to a CRM or an eCommerce website. It comes with multiple page templates, customizable widgets, charts, and more featuring responsive designs.
UltimatePro Admin – Bootstrap 4 Admin Dashboard Templates and WebApps Templates
Adminto – Responsive Admin Dashboard
Adminto is a complete admin dashboard kit that comes with all the necessary page designs for building a feature-packed user interface.
Bonito Pro – Bootstrap 4 Admin Templates & Web Apps Dashboards
Abstack – Responsive Bootstrap 4 Web App Kit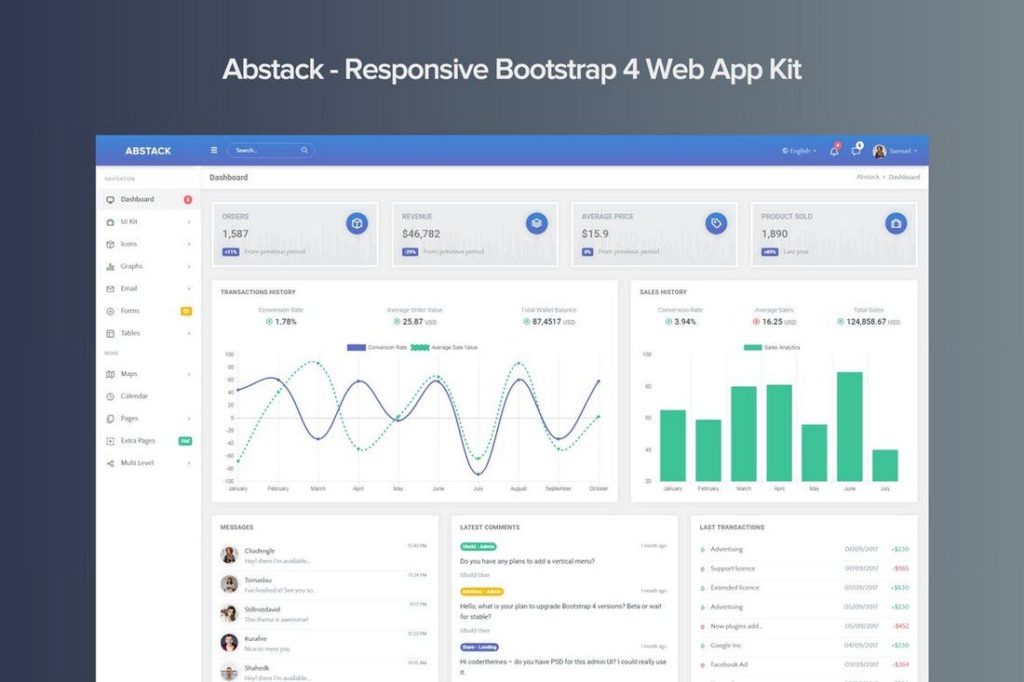 Adstack is yet another stunning template built with Bootstrap 4. The template features a clean design with customizable widgets, forms, wizards, over 2000 icons, and more.
Superieur Admin – Responsive Bootstrap 4 Admin Template Dashboard Web App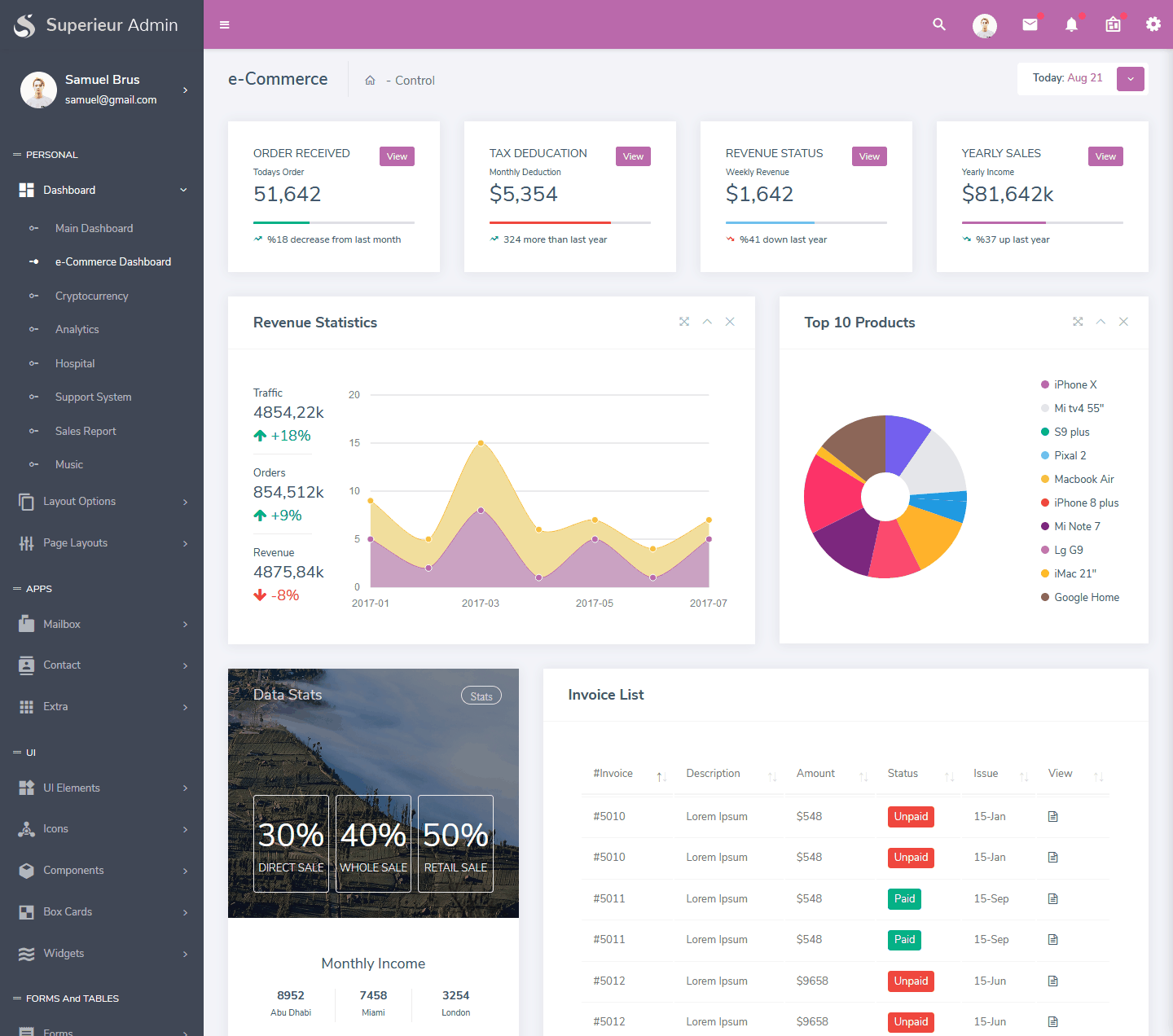 Milestone – Bootstrap 4 Admin Template
Soft Material – Bootstrap 4 Admin Templates Web Apps & UI Kit Dashboards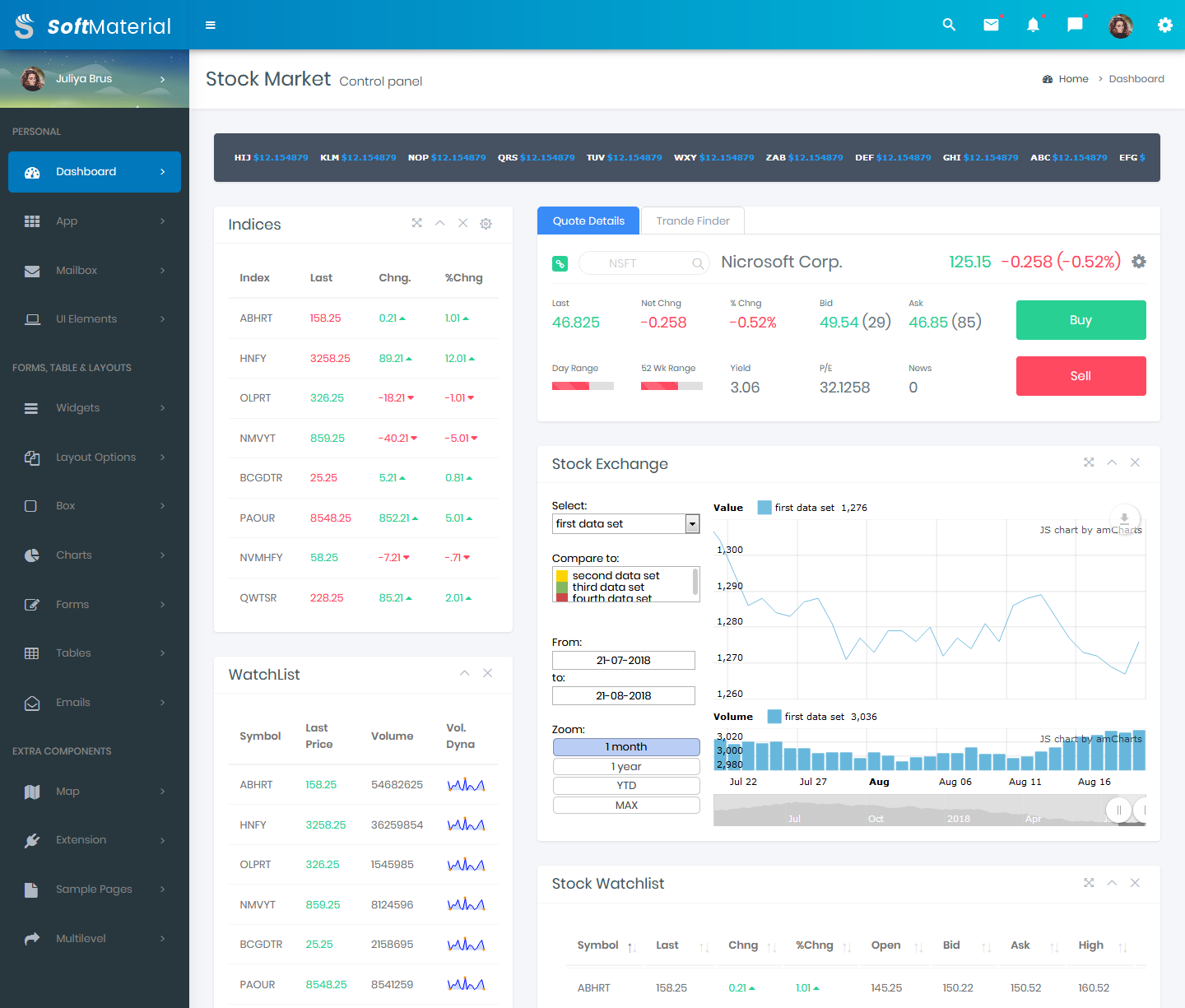 Maisonnette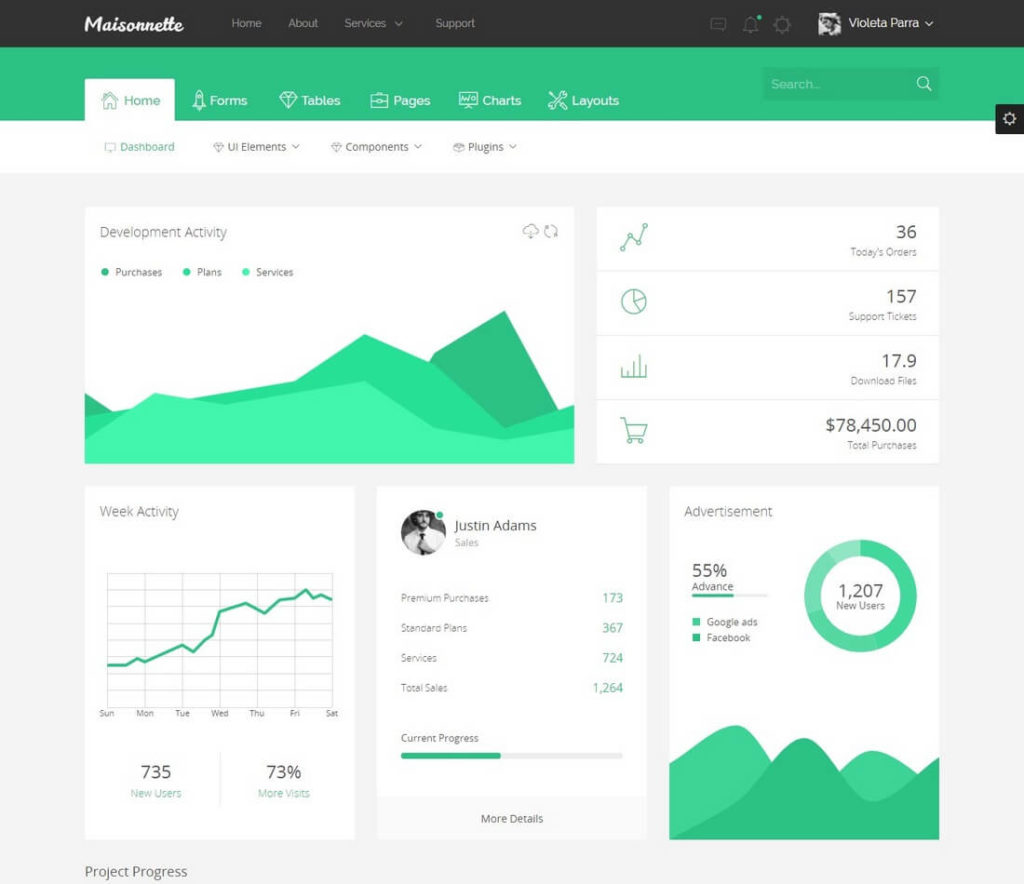 This beautifully minimalist admin template built with Bootstrap 3 is crafted specifically for building corporate backends with multiple functions.
Fab Admin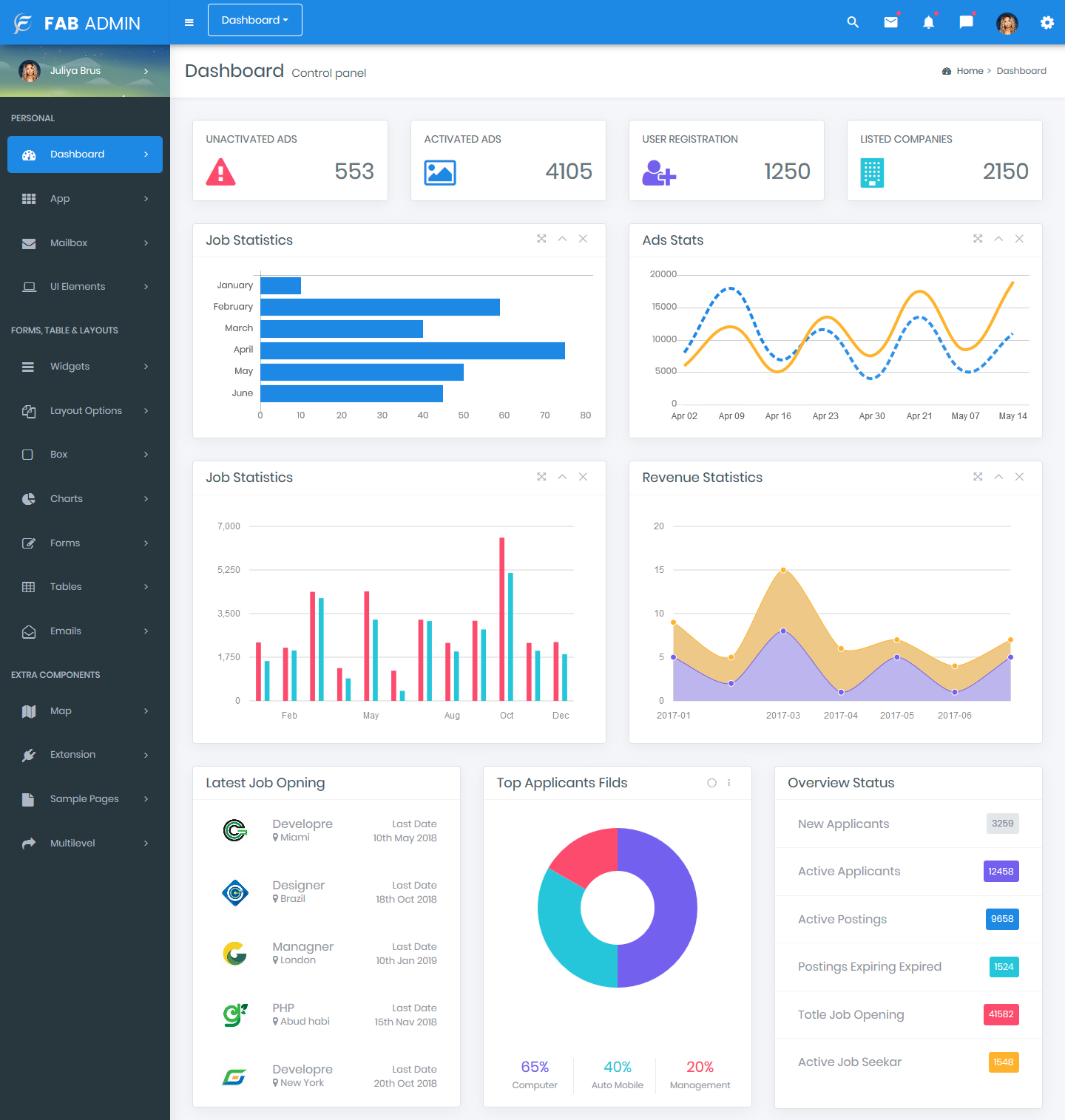 Neon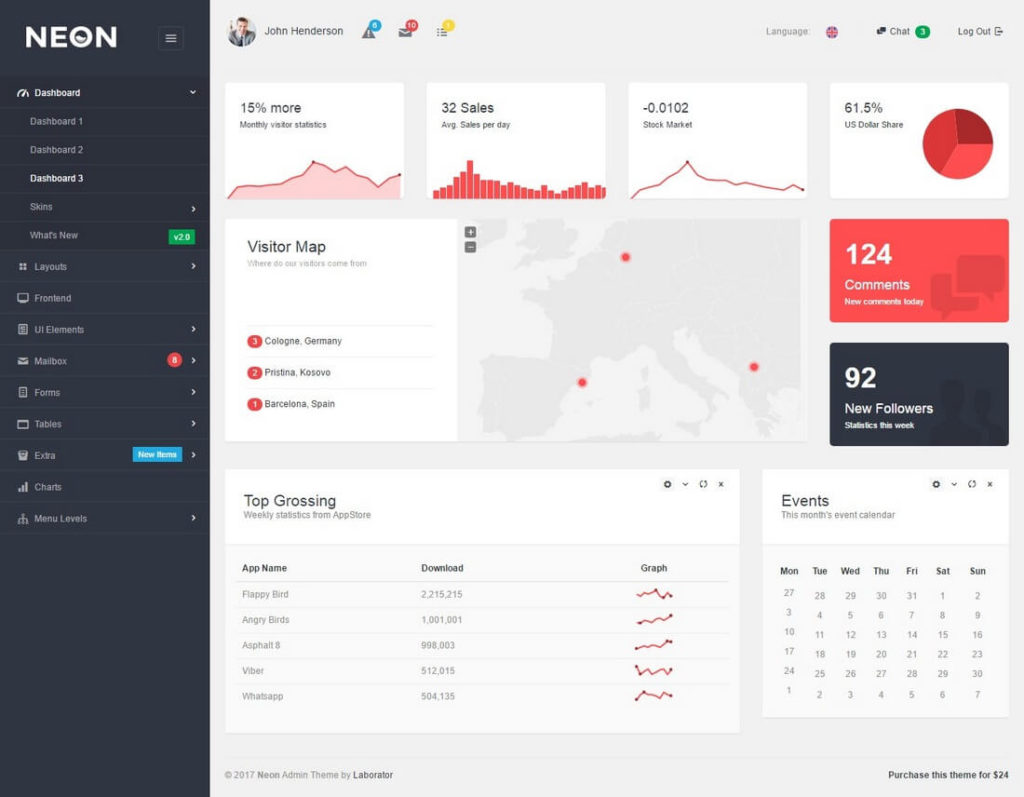 Neon is yet another Bootstrap powered admin template that features a flat design. It comes with over 110 files with various layouts, templates, and resources for crafting a feature-packed admin dashboard.
Crypto Admin
Backend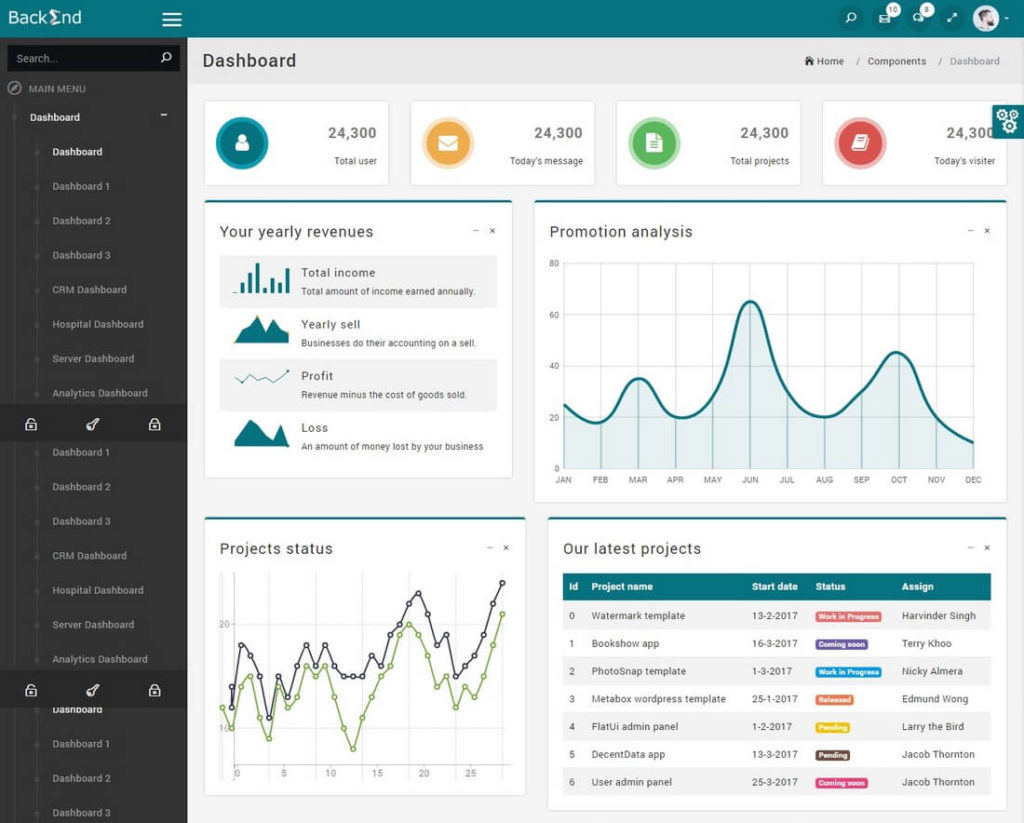 This is not an ordinary admin template. Backend is a multipurpose template that comes with 4 unique admin templates that can be easily customized to build almost any kind of a backend you want.
Cross Admin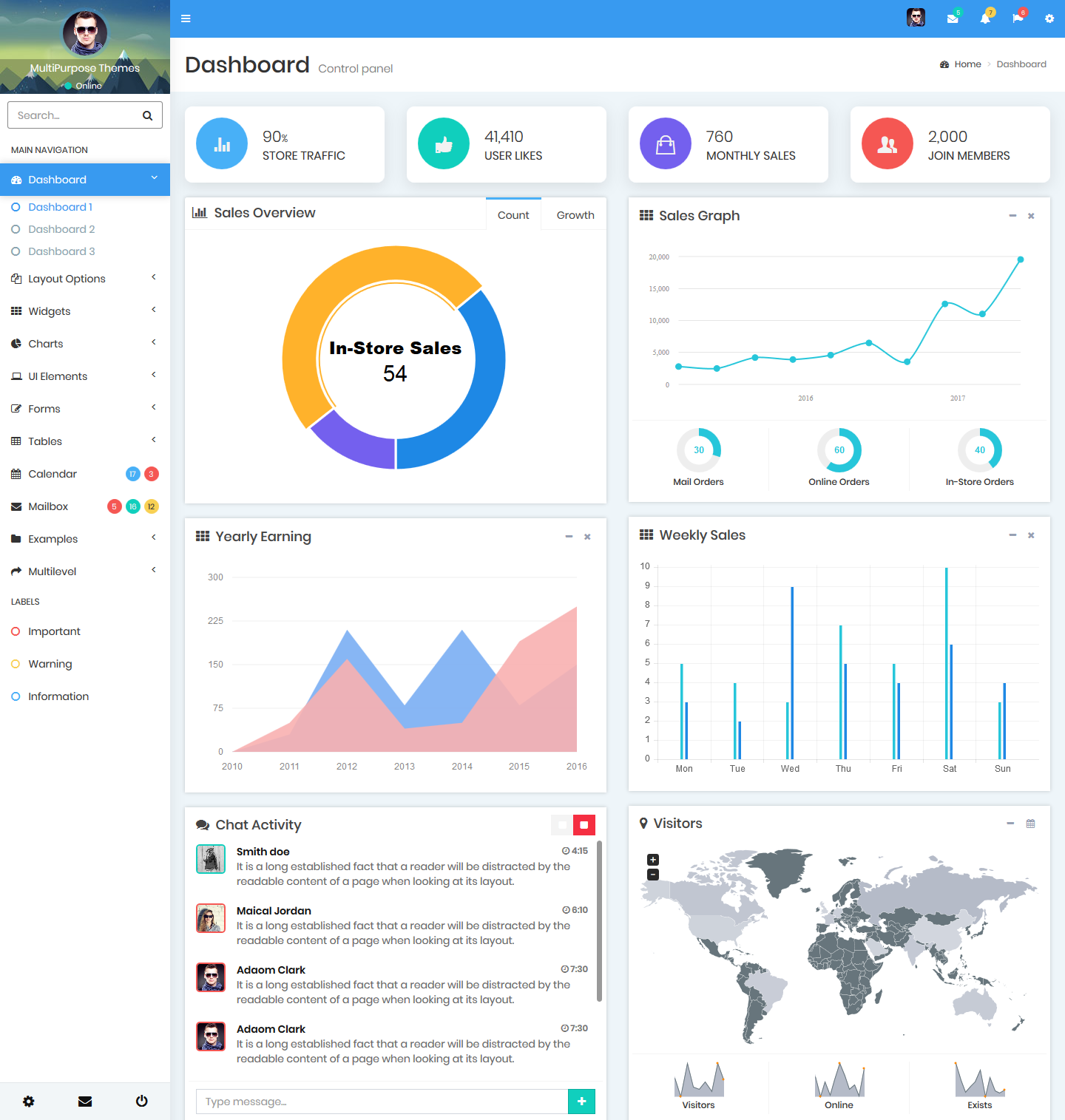 Quirk
Quirk is a beautiful Bootstrap admin template that features an eye-catching design. It's built to fit well with most types of web apps backends and services.
Unique Admin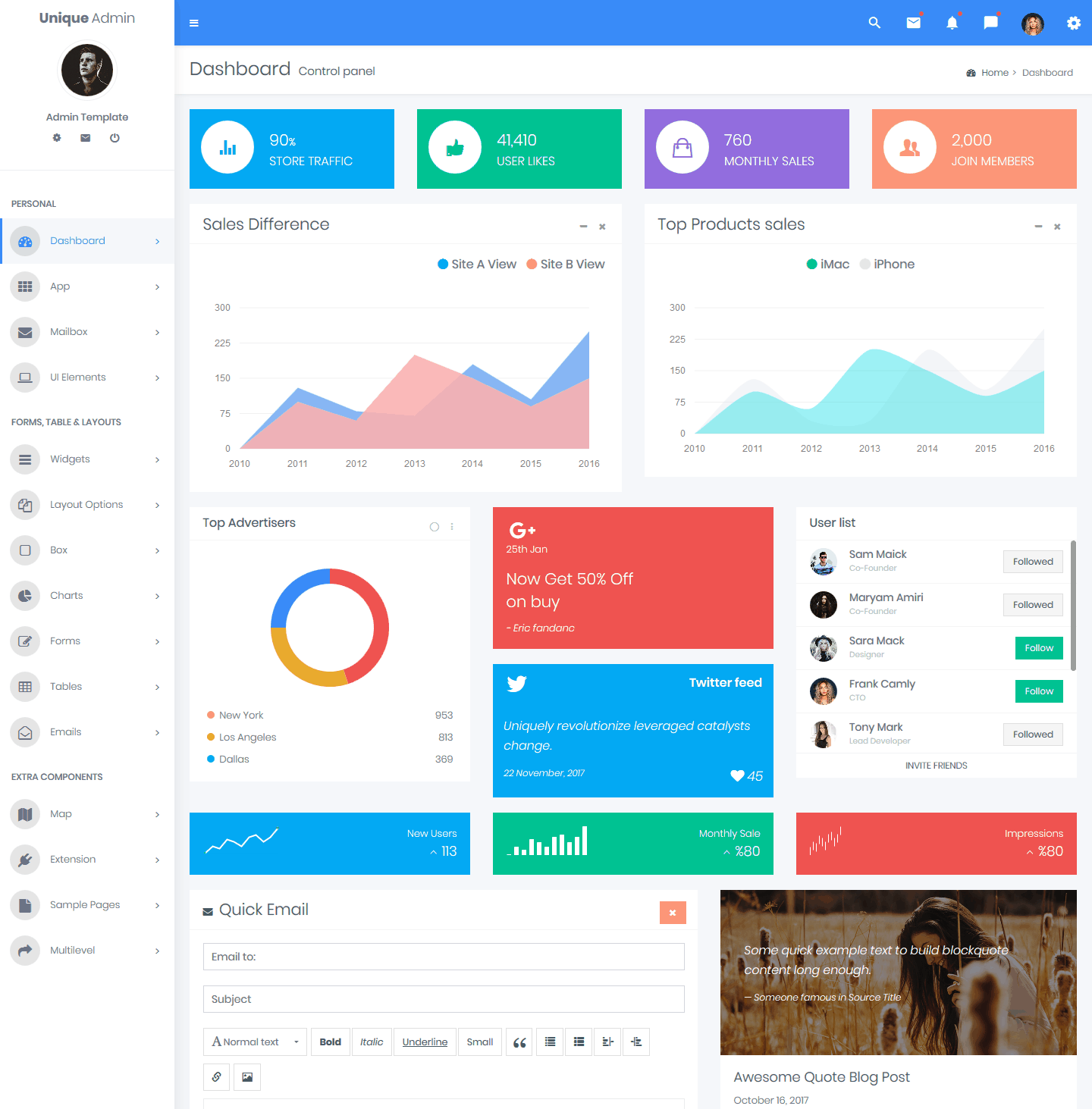 Xenon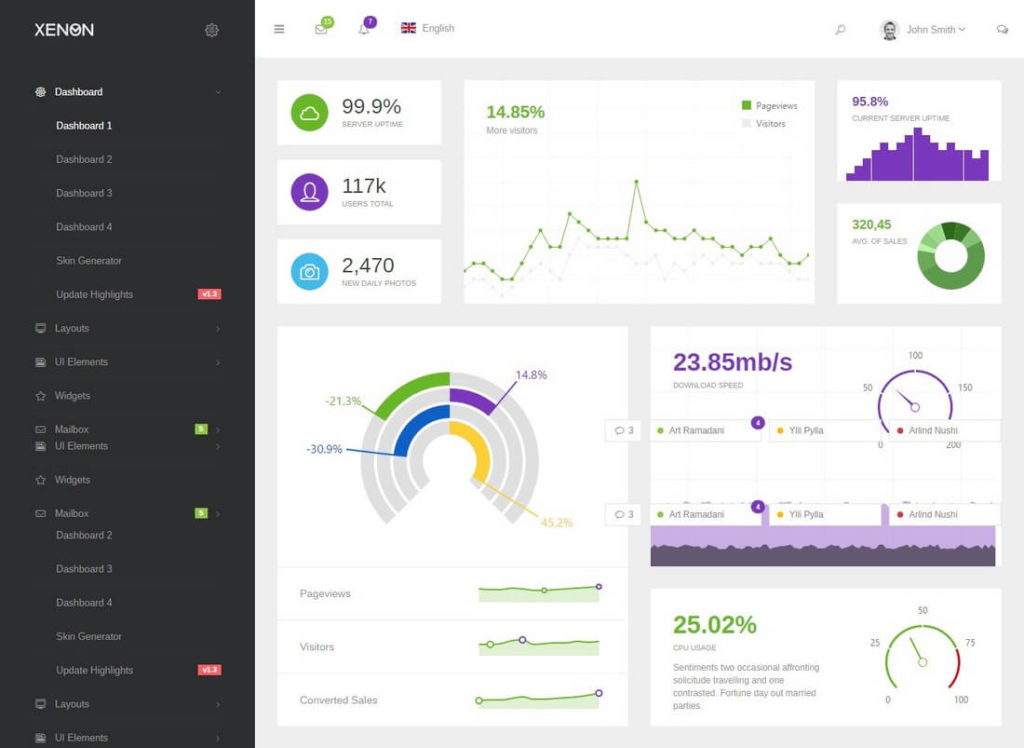 Xenon may not be the ideal admin template for creating a complex dashboard, but its lightweight design makes it perfect for building a super-fast web app that works well on mobile devices.
Minimal Lite Admin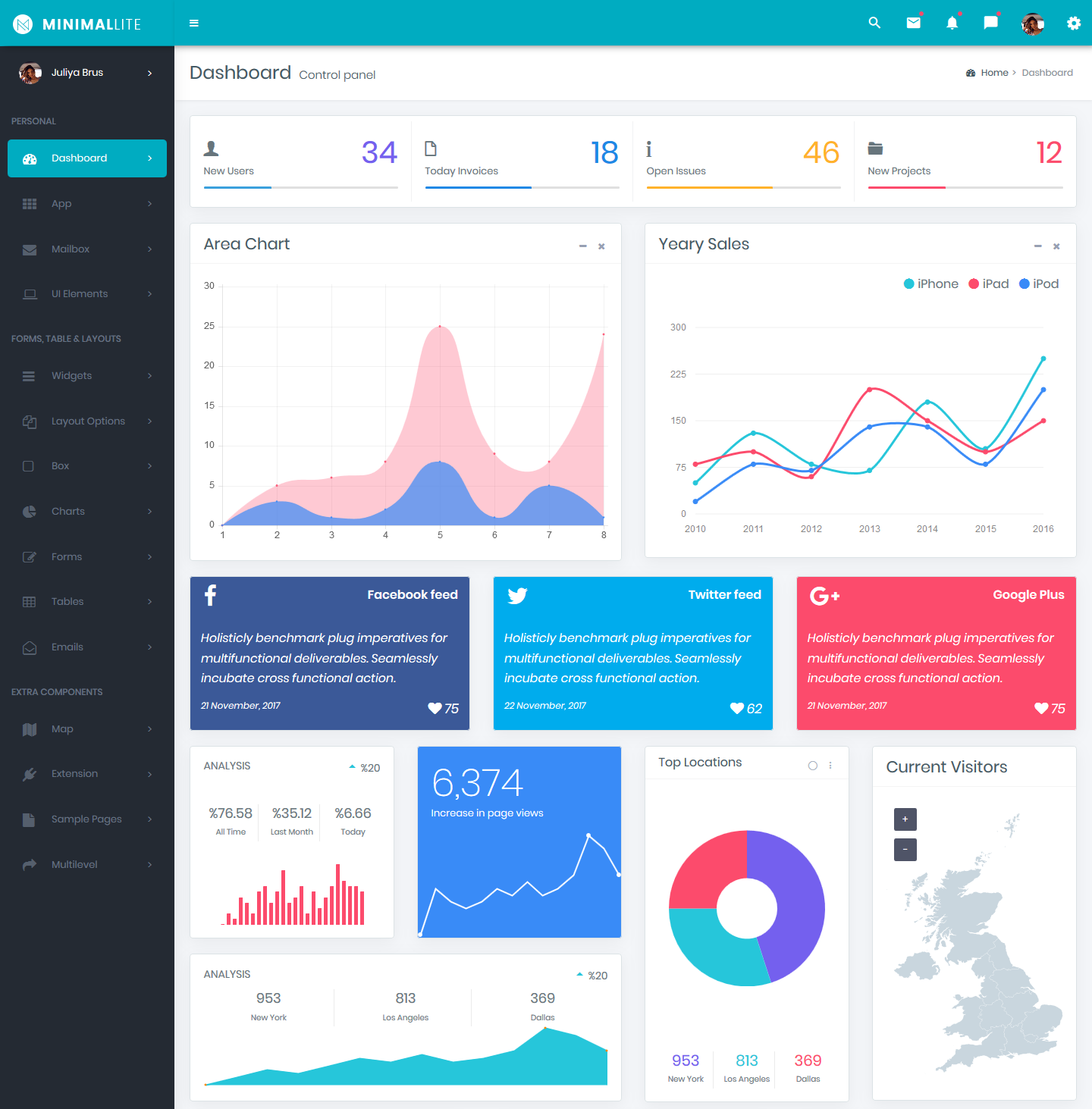 ProUI
ProUI admin template is also built with Bootstrap, but it uses its own modern design that overwrites the default design of the Bootstrap elements. ProUI also comes with both admin and front-end templates, making it a great choice for creating web apps, custom admin panels, admin dashboards, CRMs, CMS, and membership areas.
Fab e-Commerce Admin
Remark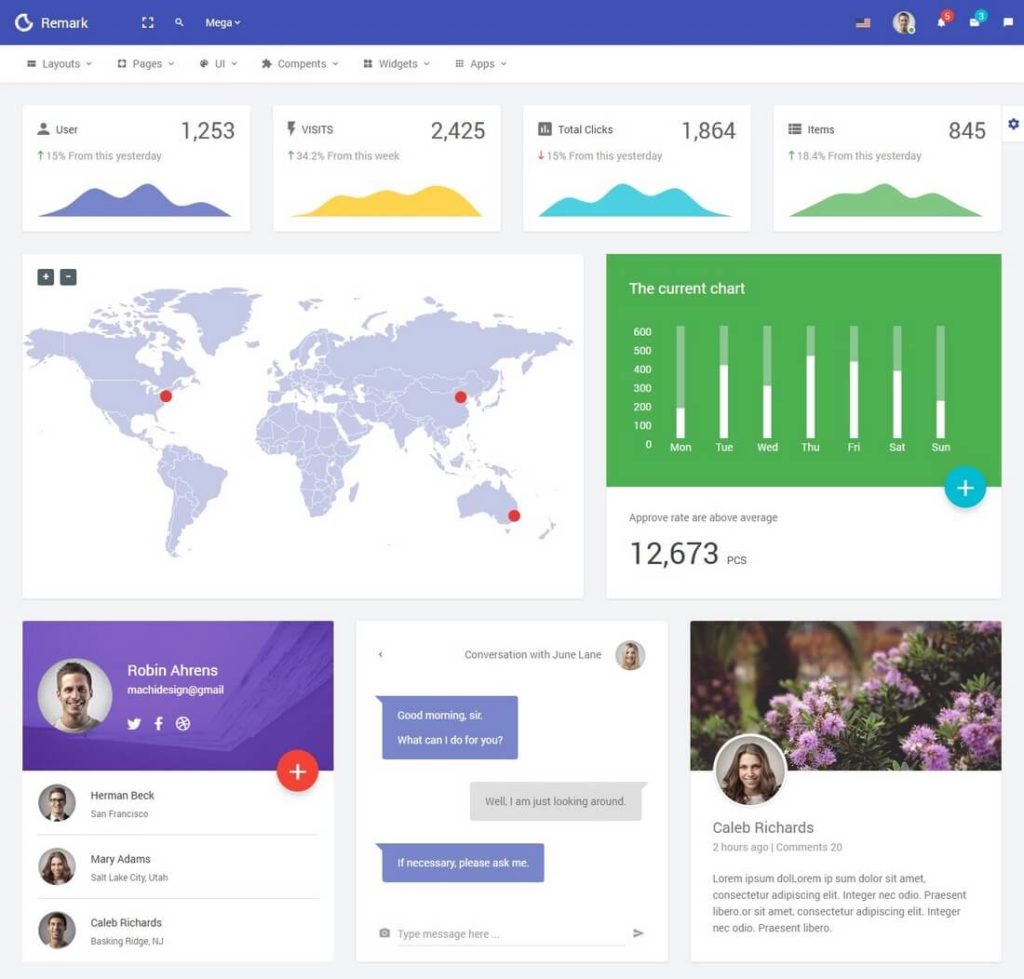 A Remark is a responsive Bootstrap admin template that features a material design inspired layout. The template is built with Bootstrap 4, the latest and the upcoming version of the framework. But, it's also fully compatible with Bootstrap 3.
Dark Crypto Admin
Materialism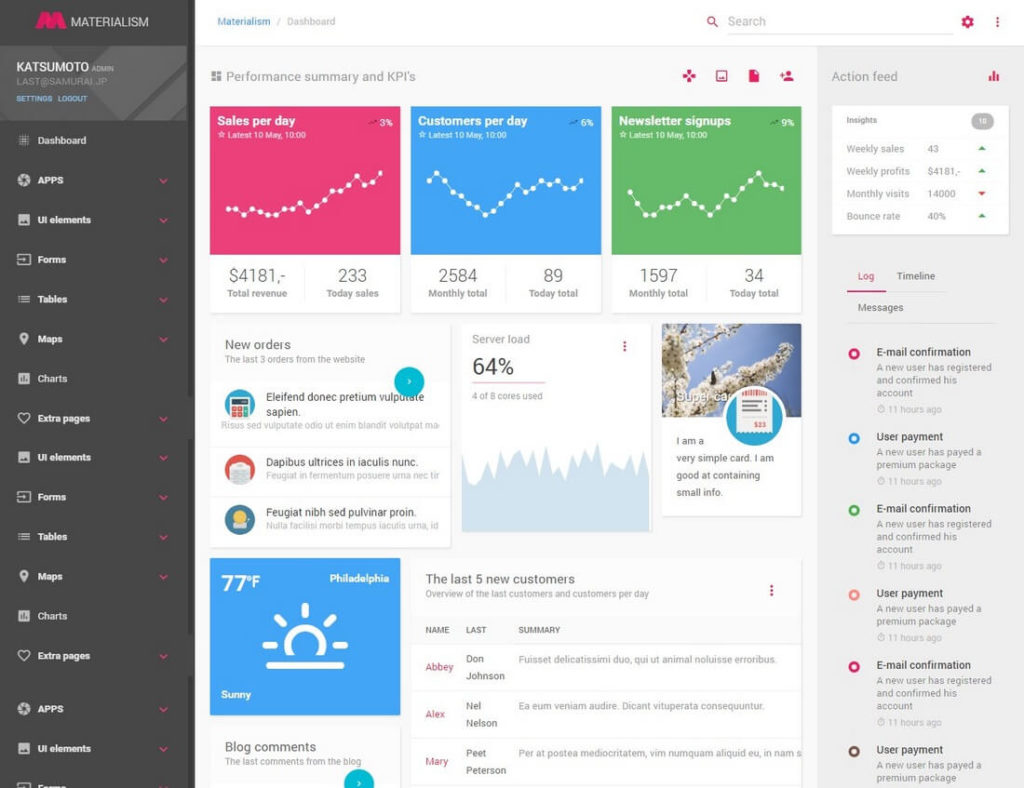 Just as its name suggests, Materialism is yet another admin template that features a dashboard inspired by material design.
Cross Dashboard 2 Admin
Angulr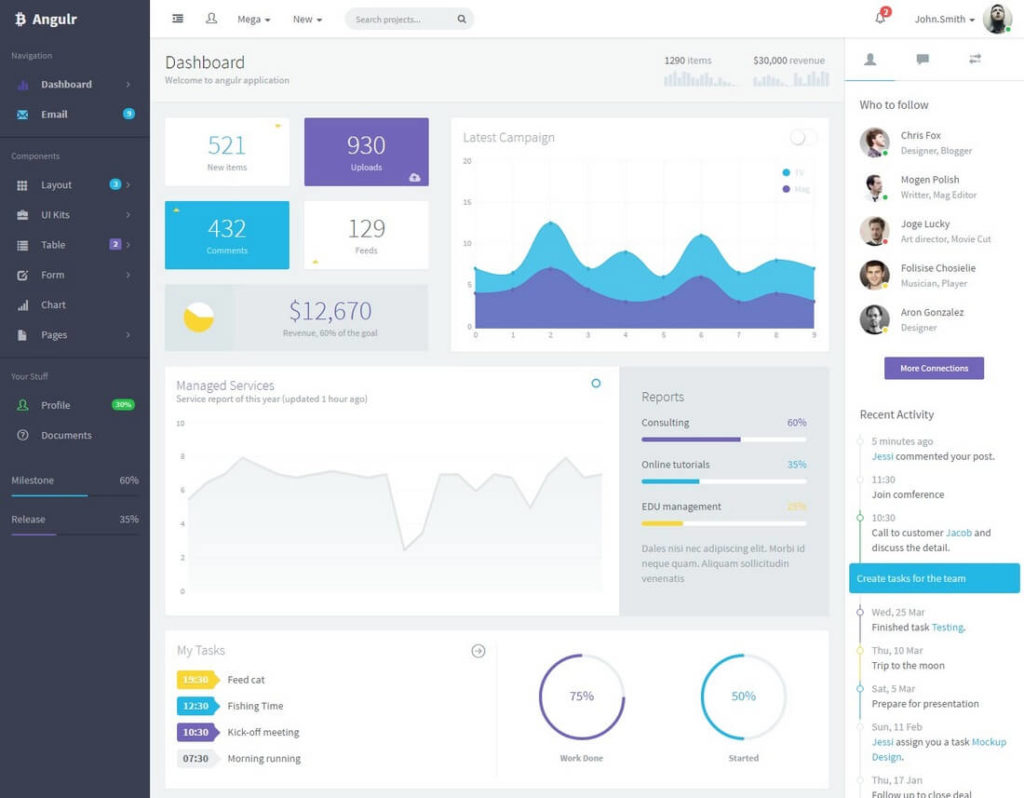 This template also comes with AngularJS and HTML versions. It features a material design layout and several plugins, including video players and audio players.
Unique Support System Admin Dashboard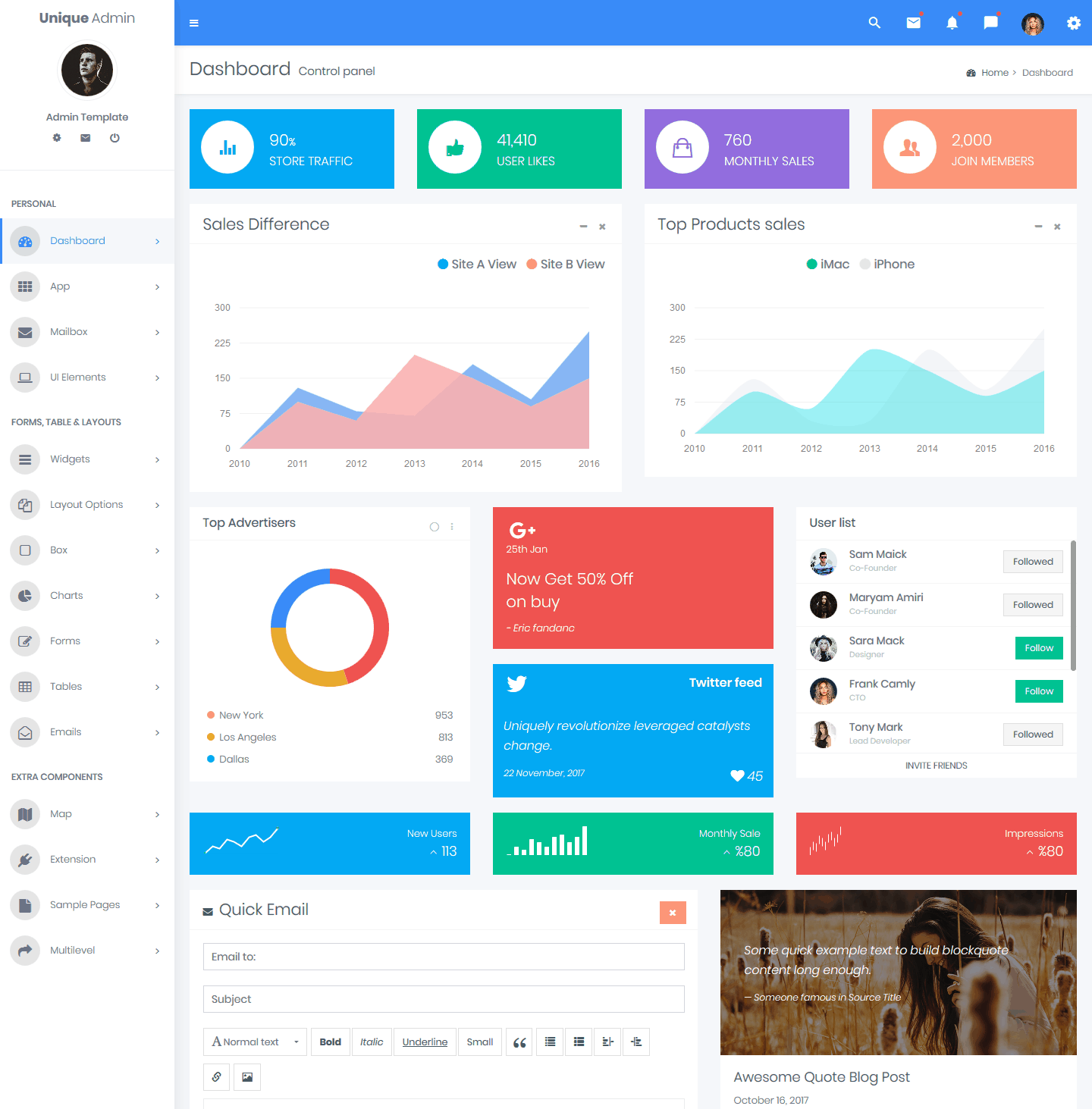 Pages
Pages is an advanced web app template that's more than just a dashboard. It's an entire framework of its own that also has a widget marketplace for adding more features to the design and customizing the dashboard however you like.
Minimal Lite Dark Admin
MaterialPro

MaterialPro is a brand new bootstrap admin template that's already proving popular at the ThemeForest marketplace.
MORE INFO / BUY NOW Demo
Minimo Pro-Admin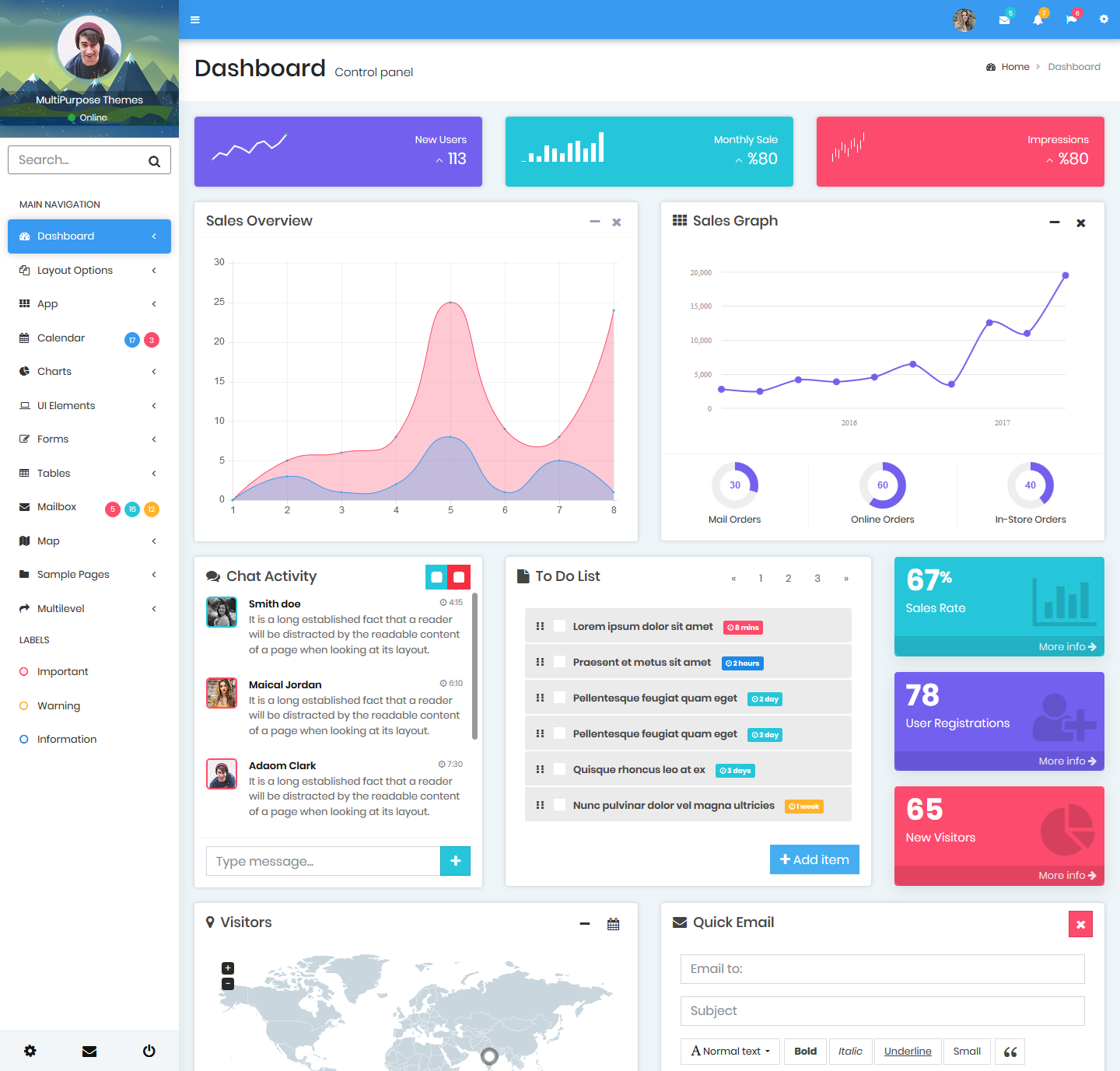 Codebase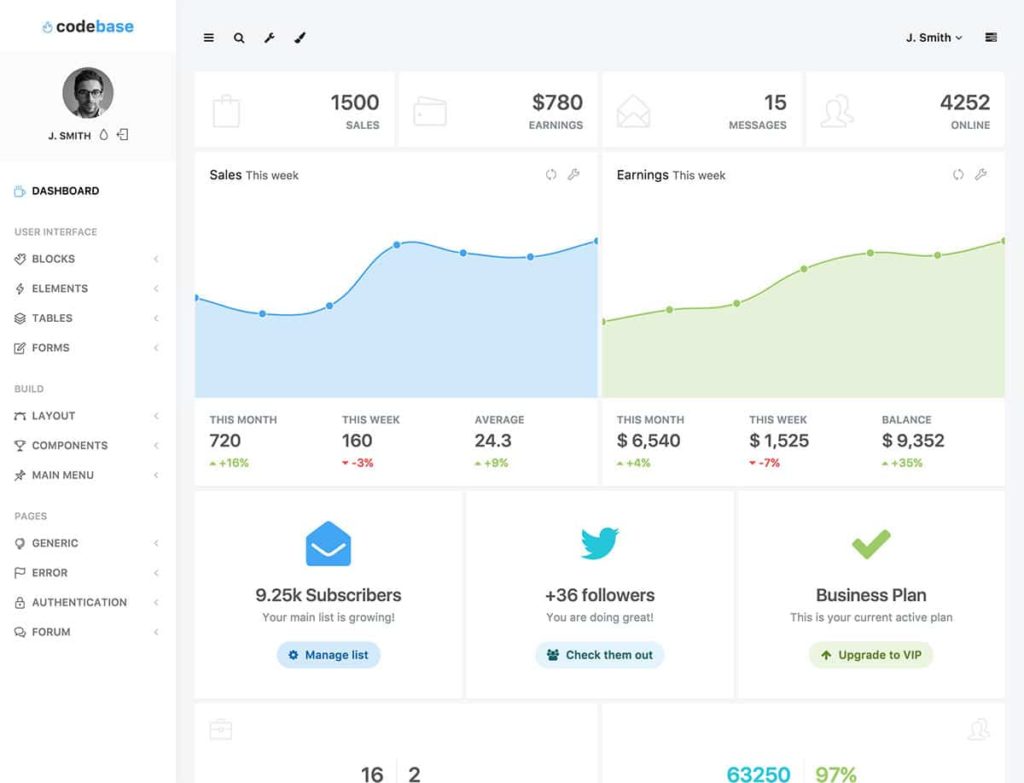 Codebase is a flexible framework designed to help you create the custom dashboard your project demands.
MORE INFO / BUY NOW Demo
Lion Admin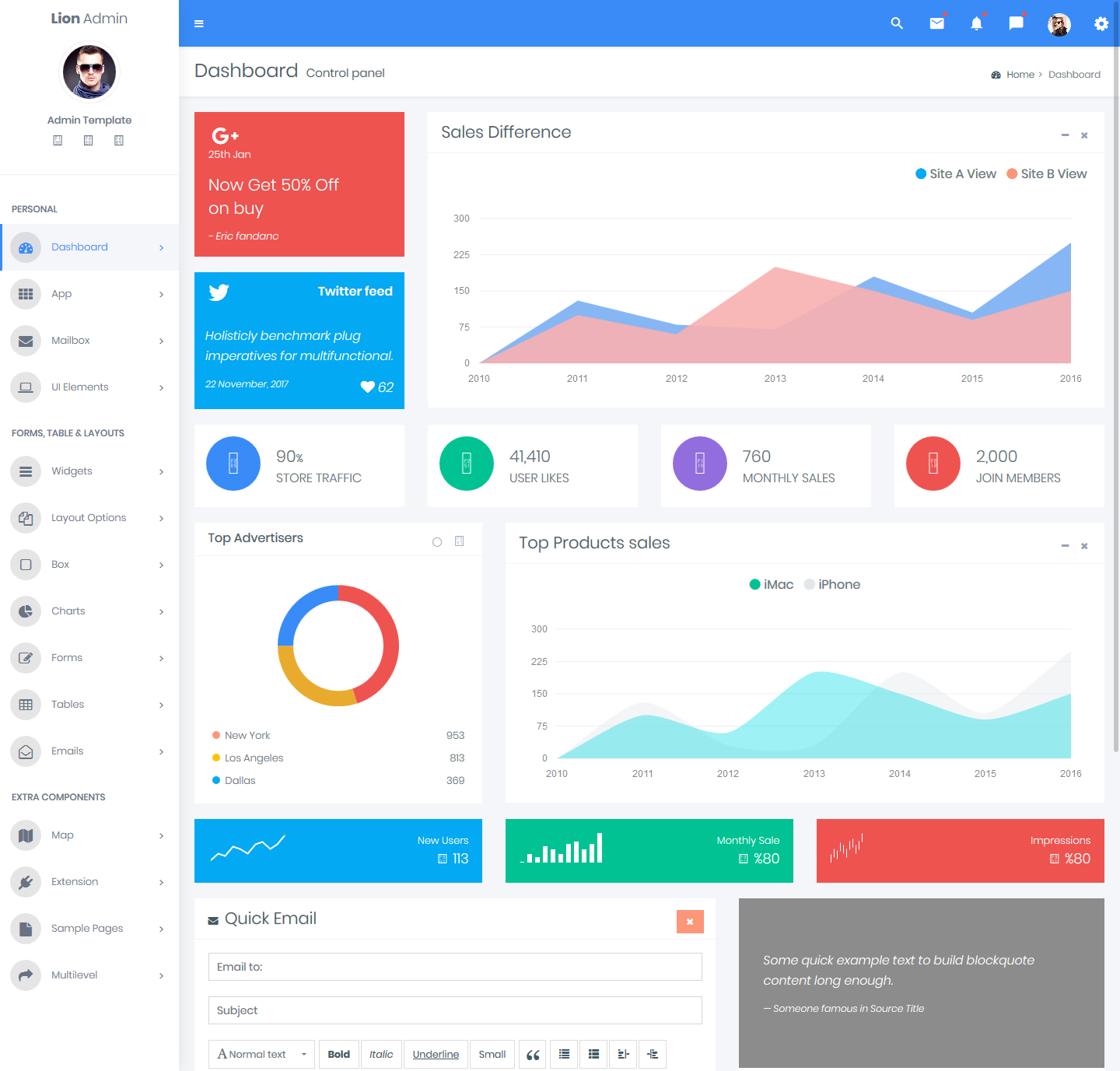 Metronic
Metronic is a well-established and popular admin theme that's been kept fully up to date since its initial release.
Minimo Pro horizontal Nav Admin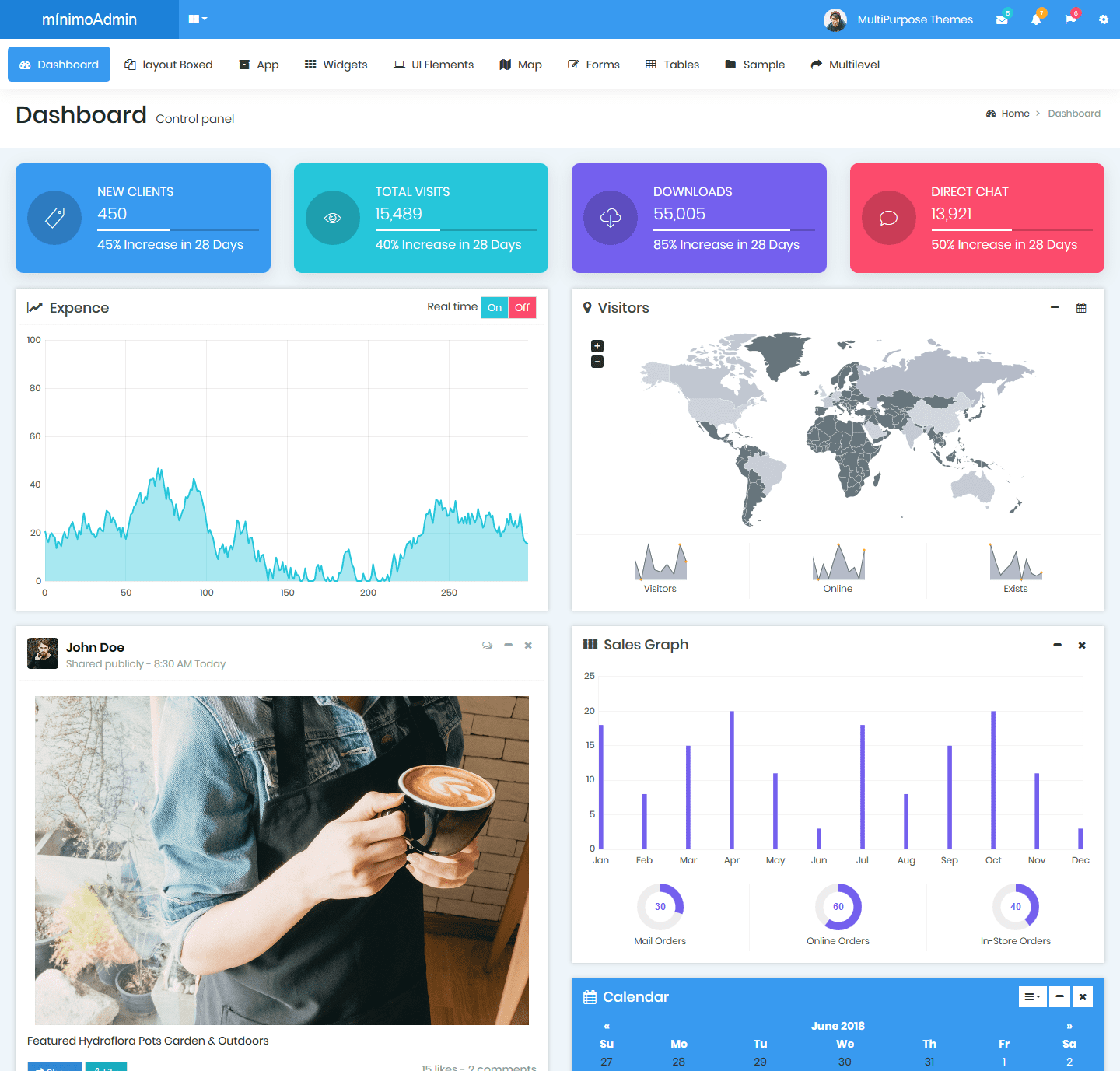 Pages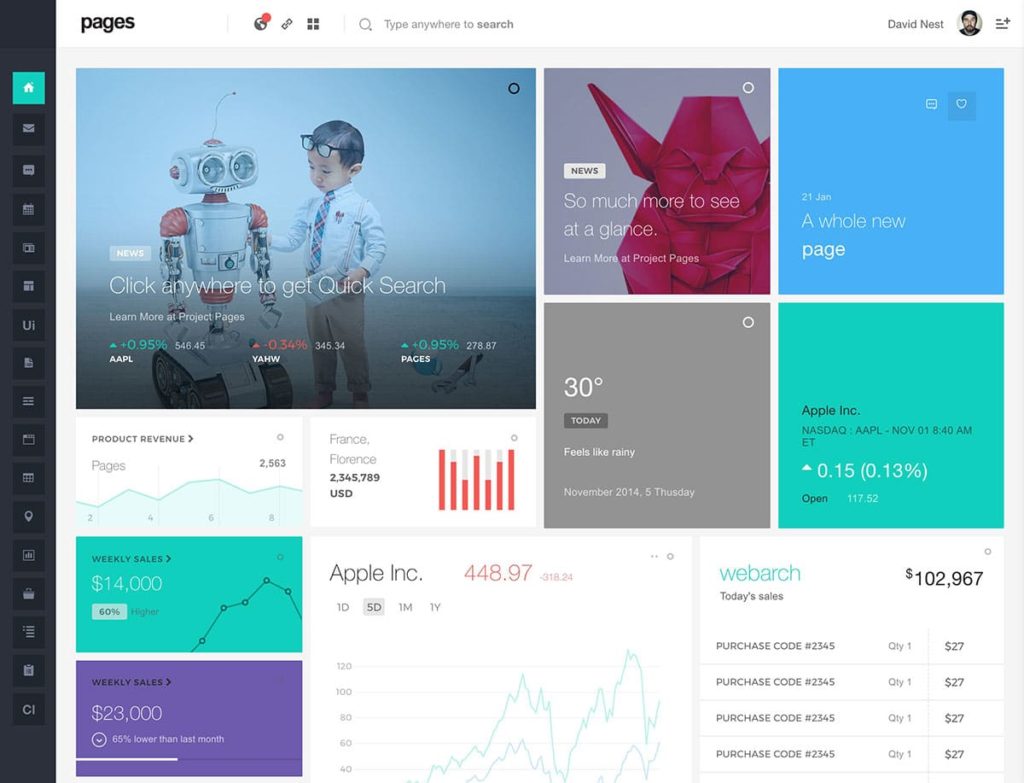 Built with the aim of being the fastest and most simple way to design a dashboard user interface for your website or app, Pages is packed with useful features. For starters, the Pages framework is highly customizable. Each layout that's included in the package can be used as the starting point for your own unique designs. Through the settings, you can easily choose from a range of color skins, menu types, and module layouts.
MORE INFO / BUY NOW Demo
Stack
New Simply download Stack, choose one of the pre-built designs, and start customizing it to quickly build your own bespoke dashboard UI. For those who want more control over the appearance of their dashboard, Stack also makes it possible to customize almost every aspect of your interface. Modifying the headers and footers is straightforward, as is creating custom color schemes and building bespoke forms.
MORE INFO / BUY NOW Demo
Monster Admin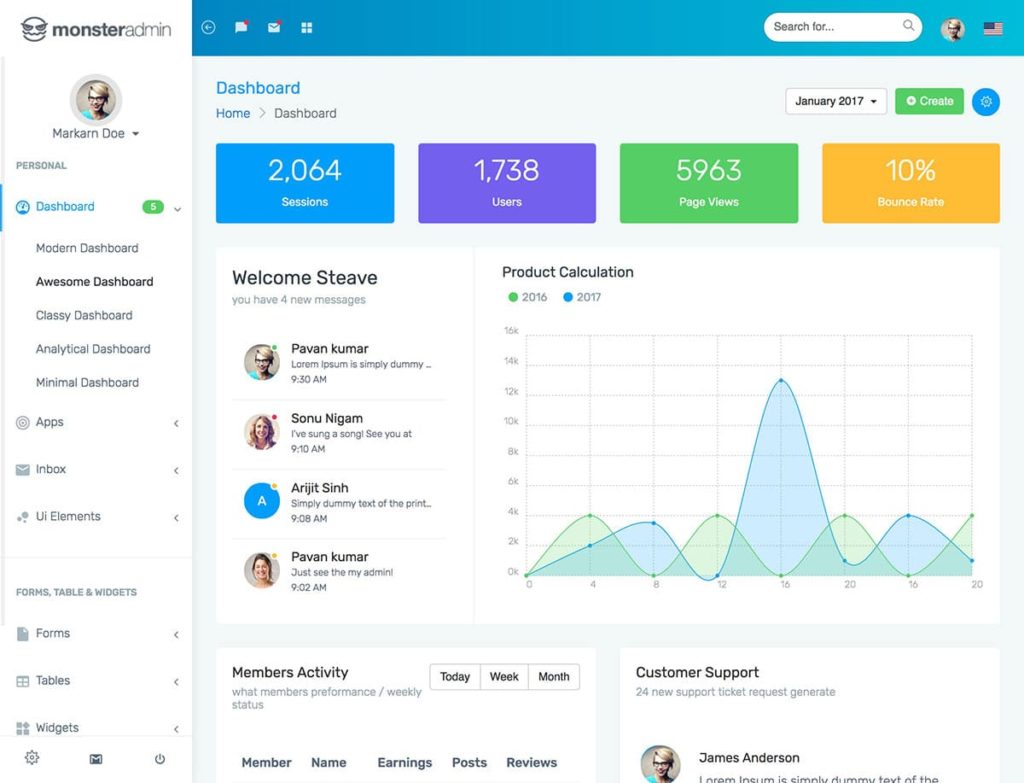 Depending on the type of app you're working on and the data you want to display, you should be able to use one of the Monster Admin demos as the foundation for your user interface. Once you've chosen a demo, you can then set about customizing it using the six color schemes or creating your own custom palettes. You can also switch from light to dark sidebars or vice versa and choose from the 3,000+ font icons.
Analytical Admin Dashboard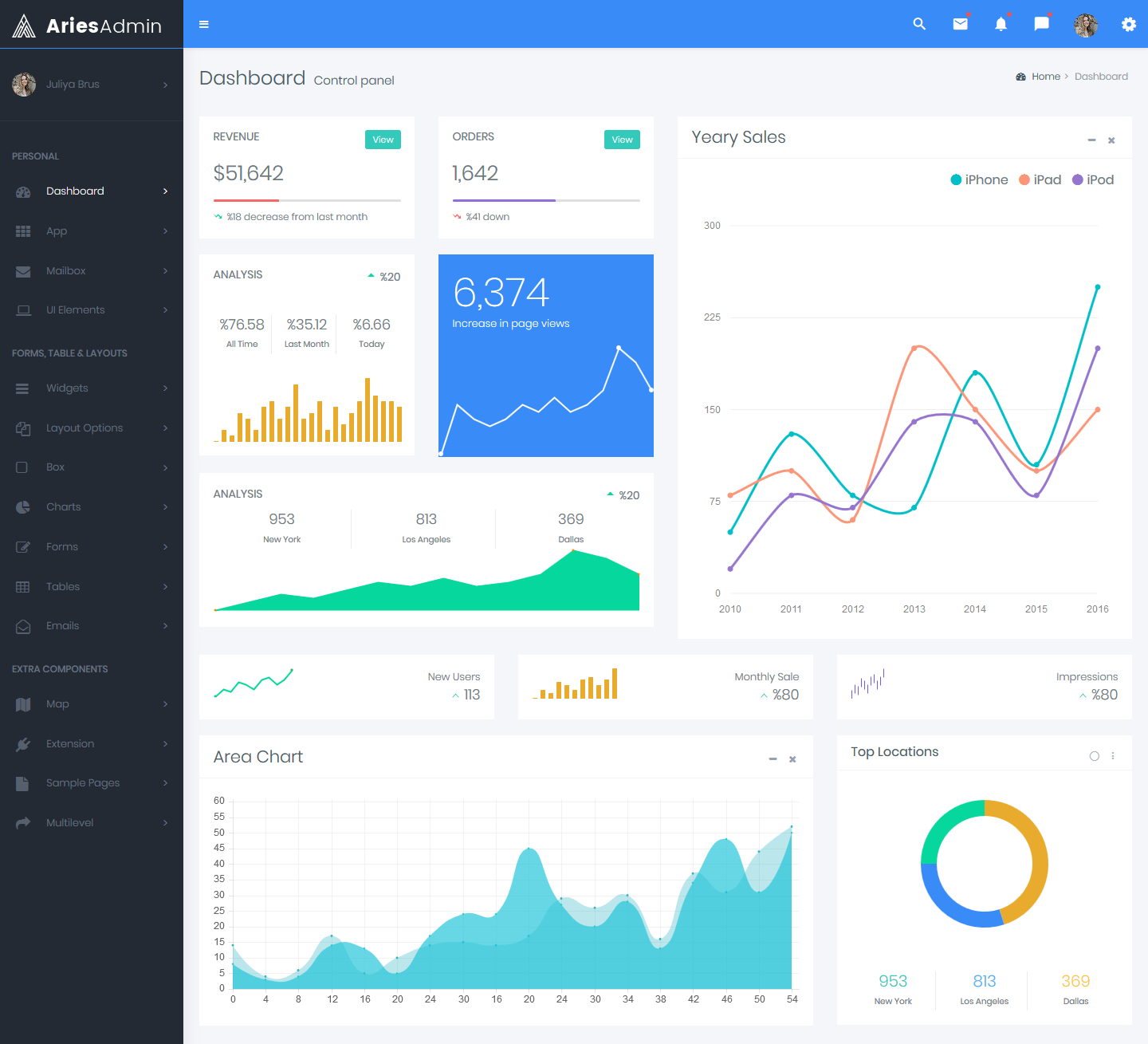 Limitless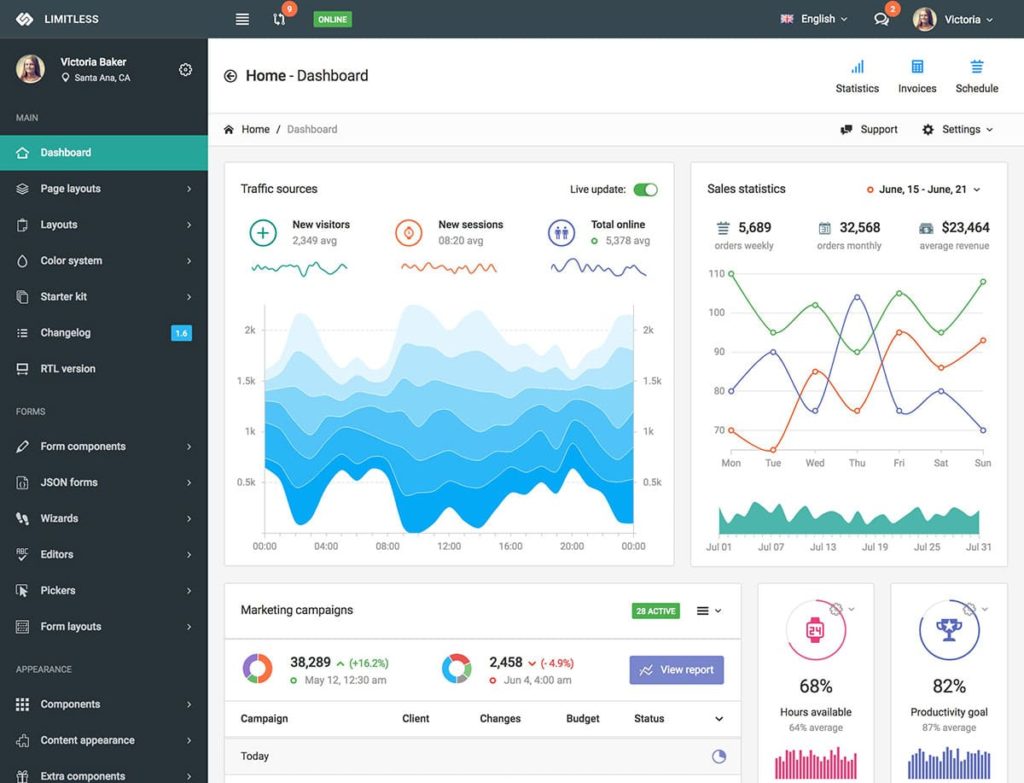 Limitless has been updated to now include even more tools to help you build a custom admin panel based on Bootstrap.
Porto Admin
Since the first version of Porto Admin was released back in 2014, the library of dashboards in this package has grown and now includes many high-quality options. All of the designs have been refreshed over the years and they are now fully modern and up to date.
MORE INFO / BUY NOW Demo
Elephant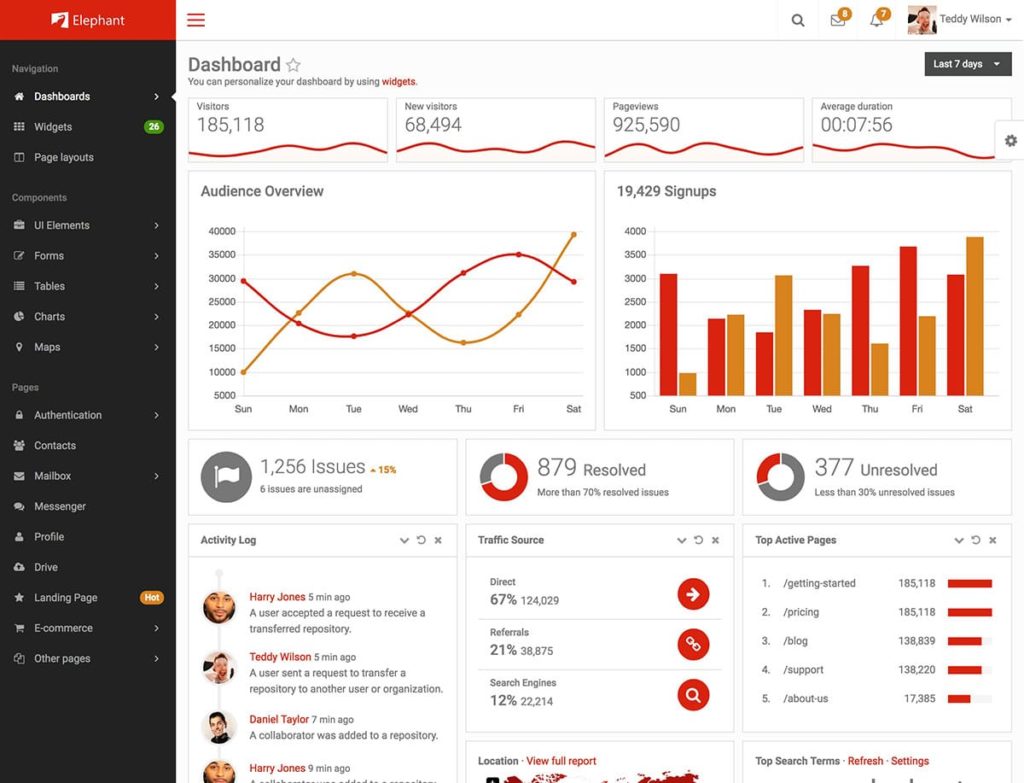 There as six variations of the main Elephant demo, which mainly use different color palettes to each other. This gives you a quick way to choose the option that best matches the color scheme of your project. Once you've chosen a theme, you can then select one of the other design variations, including options that feature square elements, rounded elements, right to left (RTL) text formatting, and a flat AngularJS mode.
Minimal Light Demo Admin Dashboard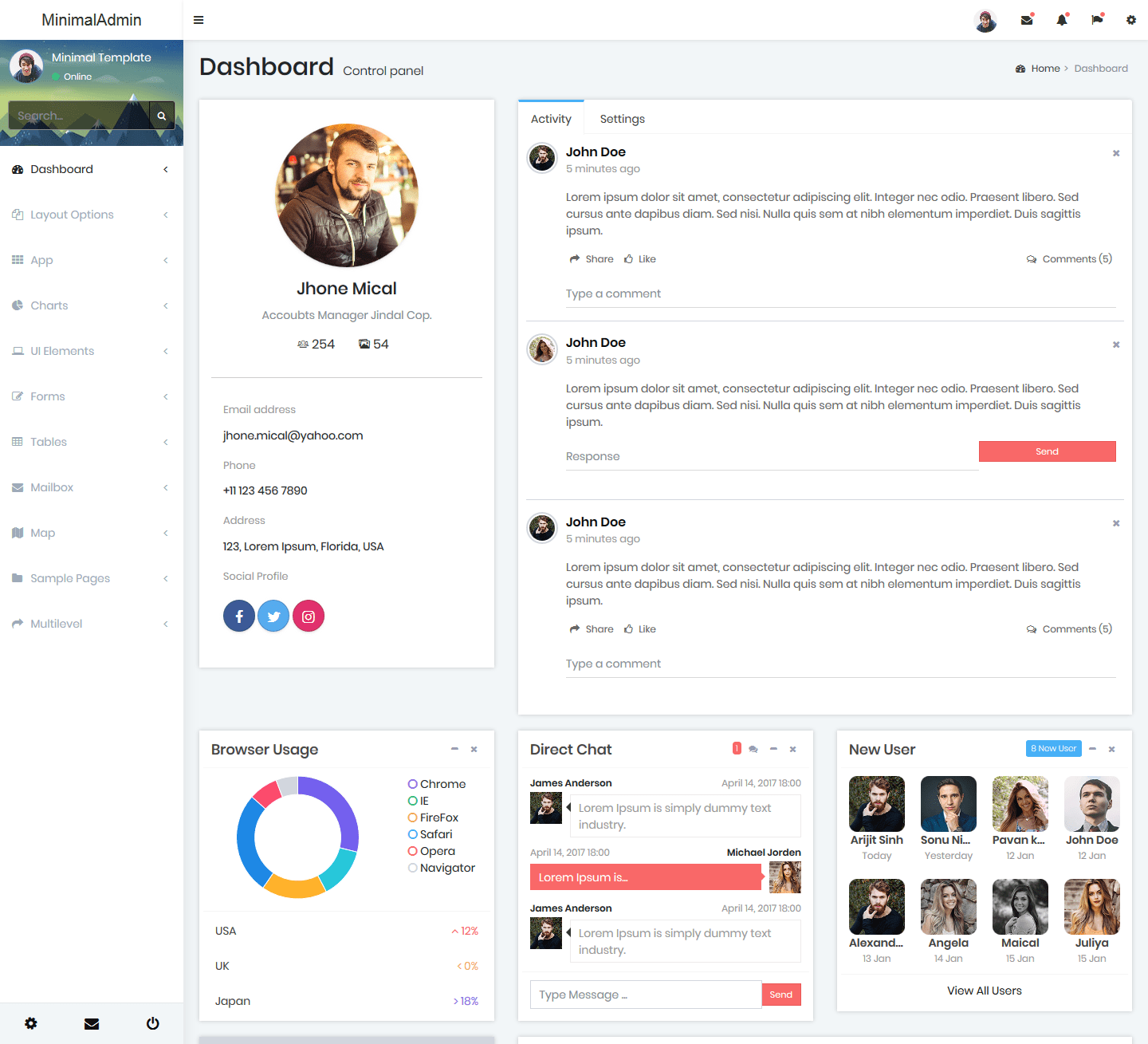 Light Admin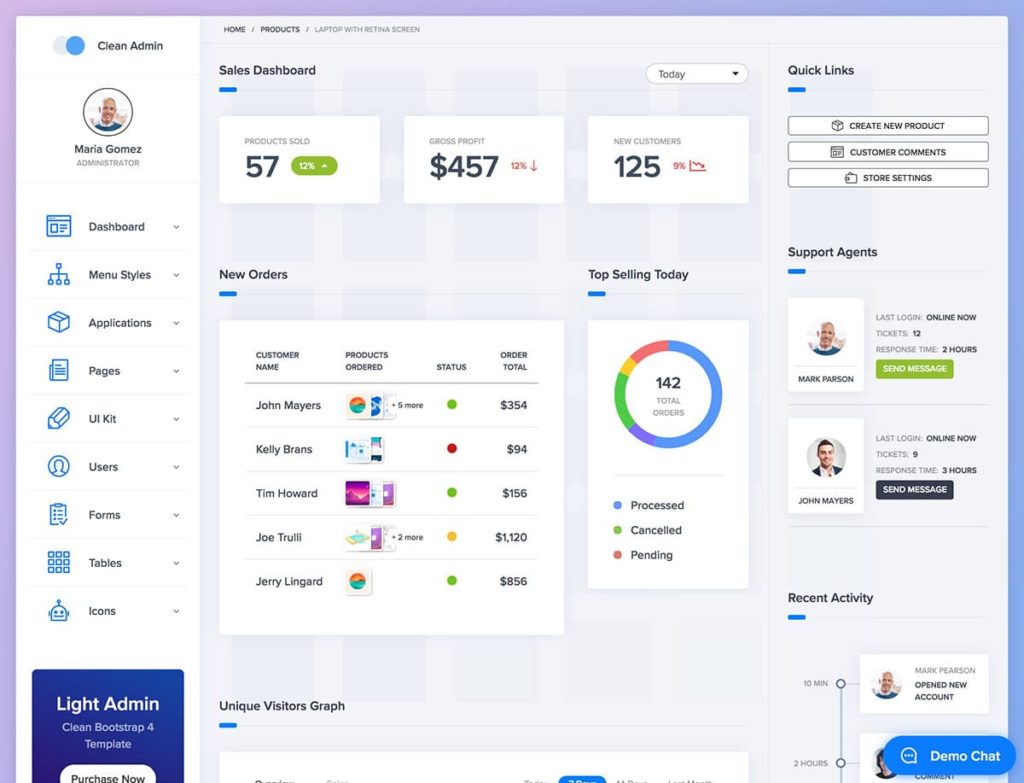 Light Admin has a very clean and minimal design that should appeal to anyone seeking a sleek and modern admin template.
MixPro Admin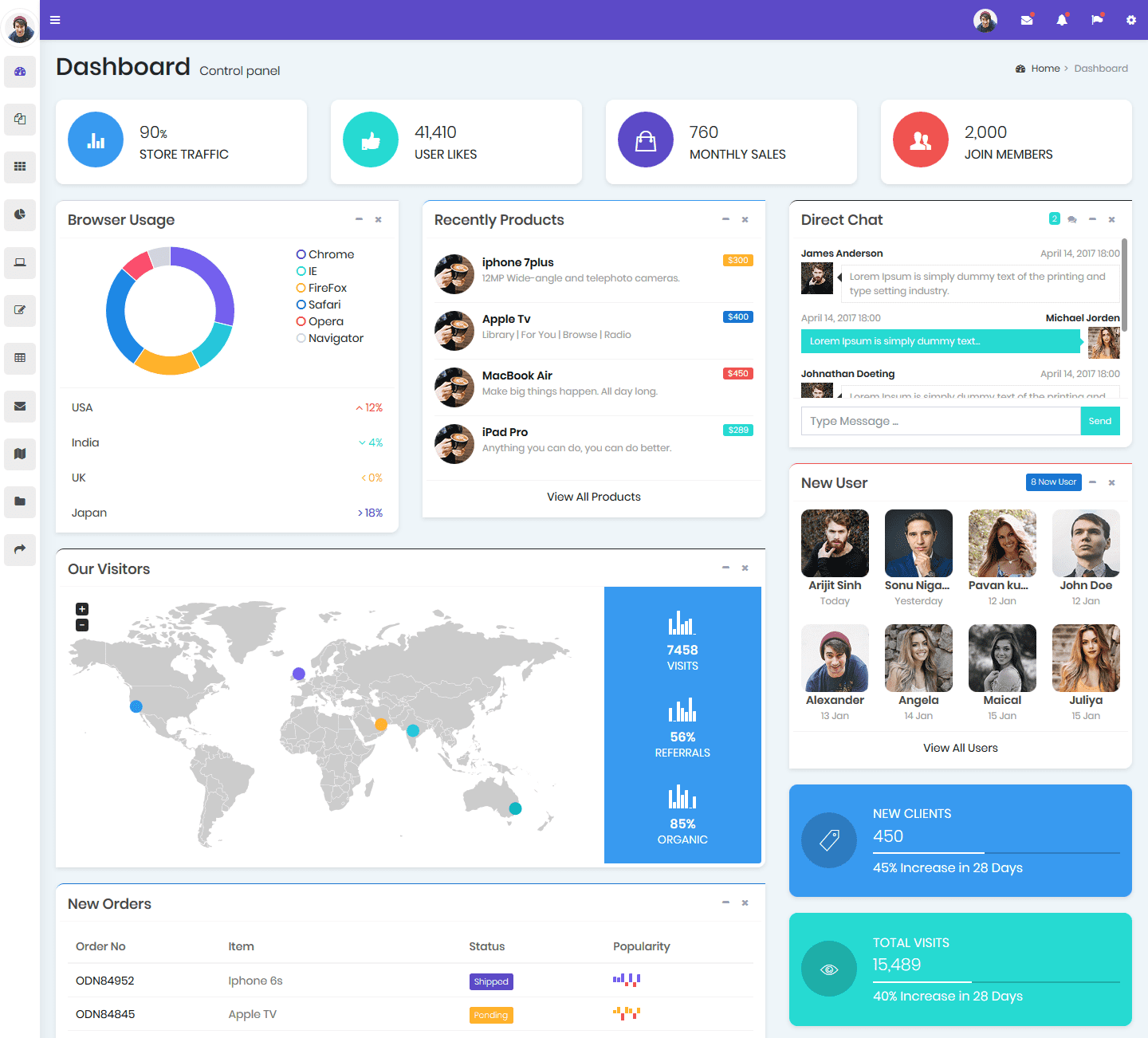 QuantumPro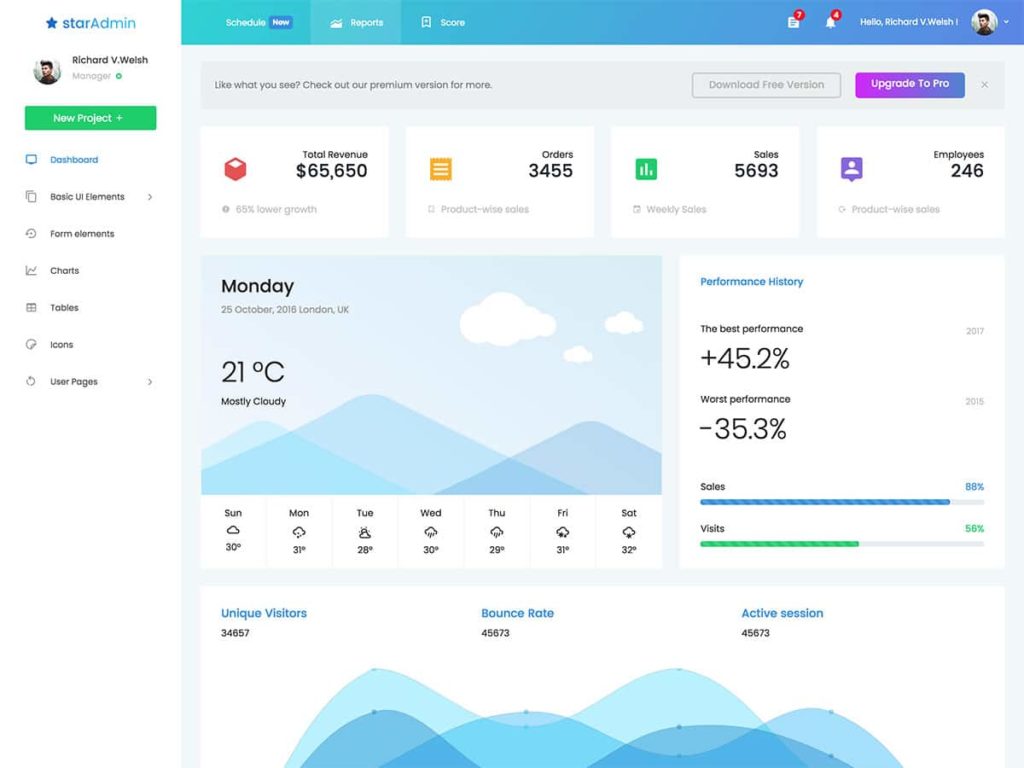 QuantumPro is a flexible Bootstrap admin template with a good library of impressive pre-built designs.
Hospital Admin Dashboard
FlatLab – Responsive Bootstrap Admin Template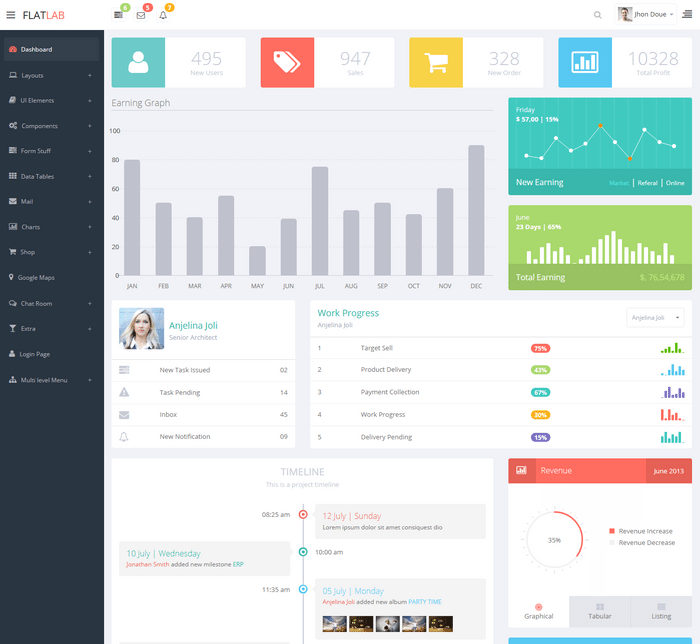 FlatLab is a Premium Admin Dashboard template with a genuine level outline idea. Flat color, clean substance arrangement, simple customization and expert coding is its center power.
Hospital Admin Dashboard
Material Dashboard Pro
Thanks to the collapsible menus and different sidebar layouts, Material Dashboard Pro is ideal for projects that need to display a lot of options and elements without overwhelming their users. The user interface is not only tastefully designed, making it a good option for corporate projects, but it also features a selection of well-executed animations to help keep the attention of users.
Stock Admin Dashboard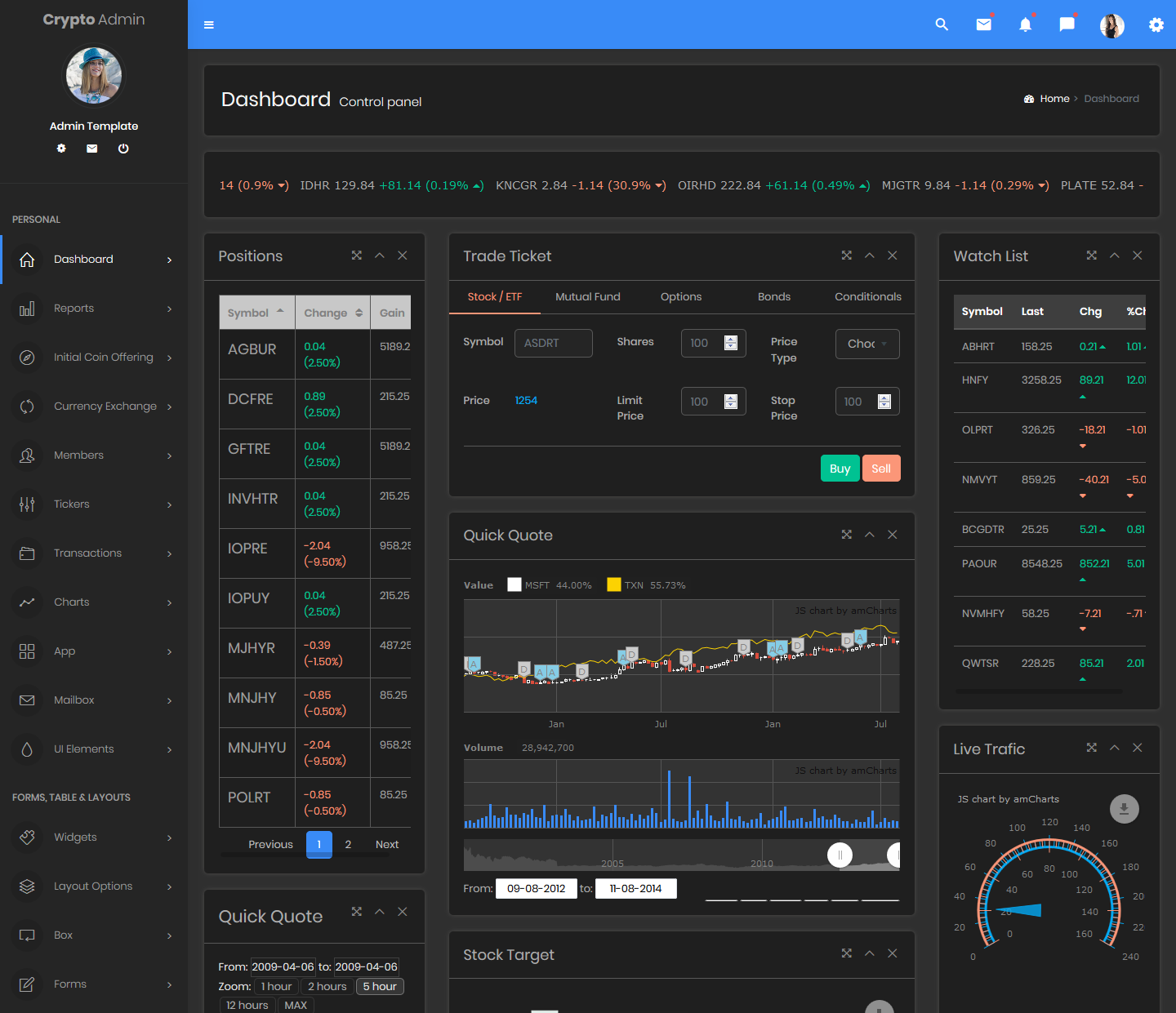 Ample Admin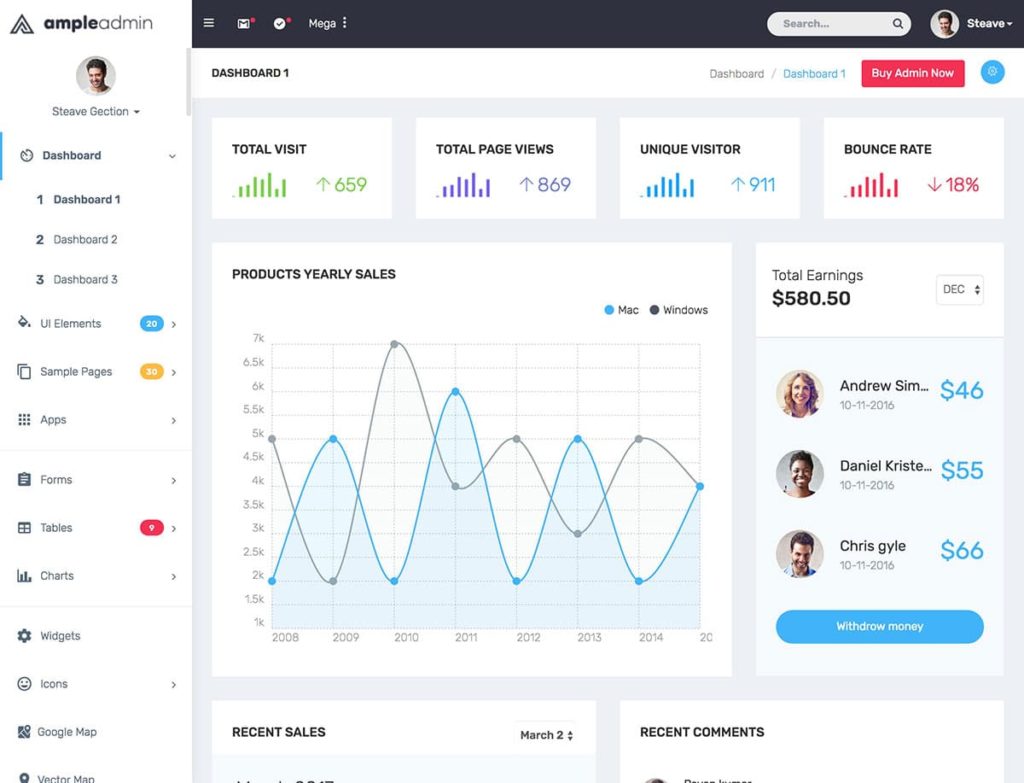 In addition to the three main dashboards, Ample Admin also gives you seven different design modes to work with. Thanks to this, you can almost instantly apply horizontal or vertical navigational areas to your dashboard. There's also a minimal layout template alongside the more feature rich and expansive modes to choose from. If you need it, the right to left (RTL) option is ready to go. To see them in action, you can check out any of the demos on the preview page for Ample Admin.
Cross Dashboard 3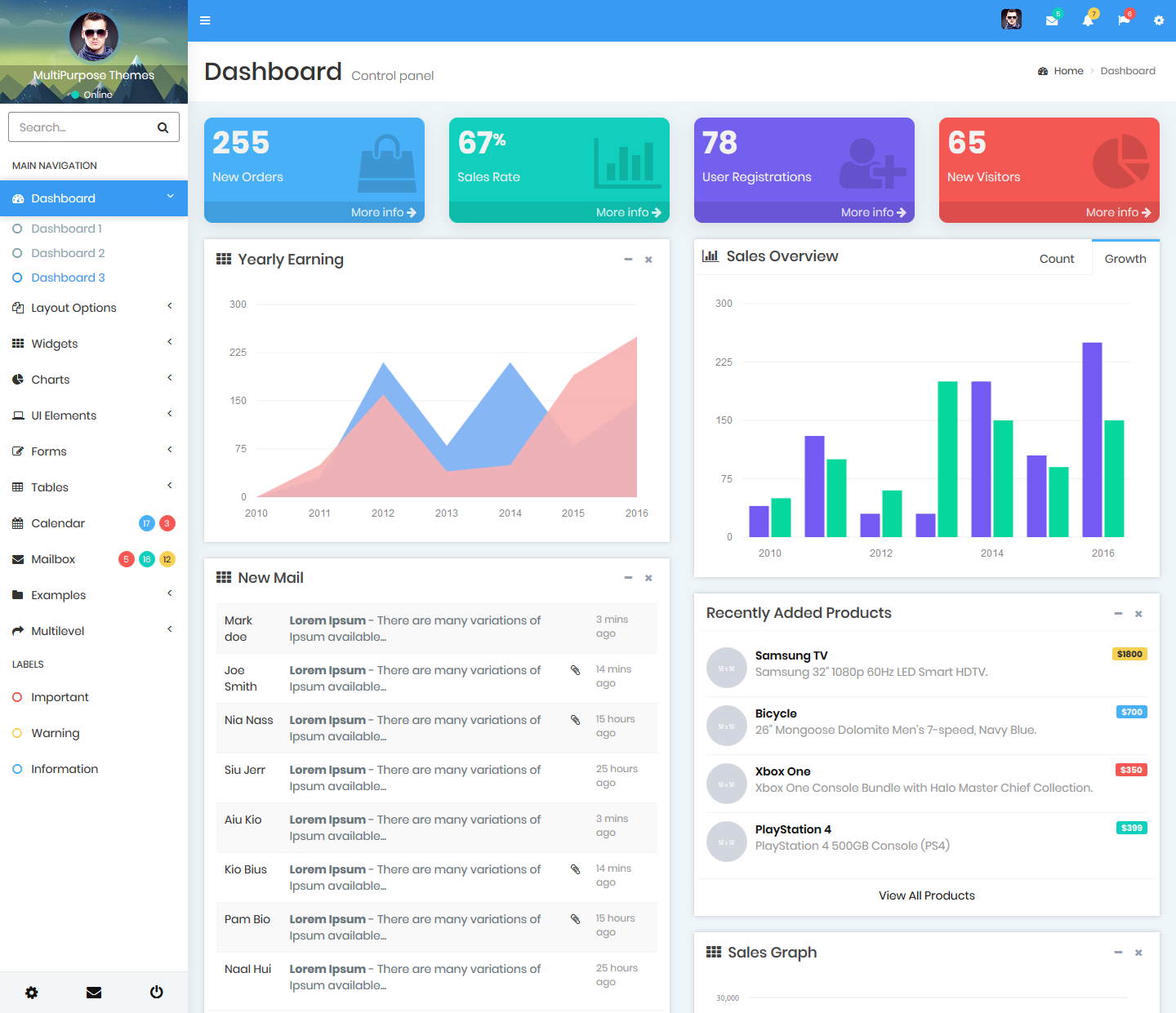 Ubold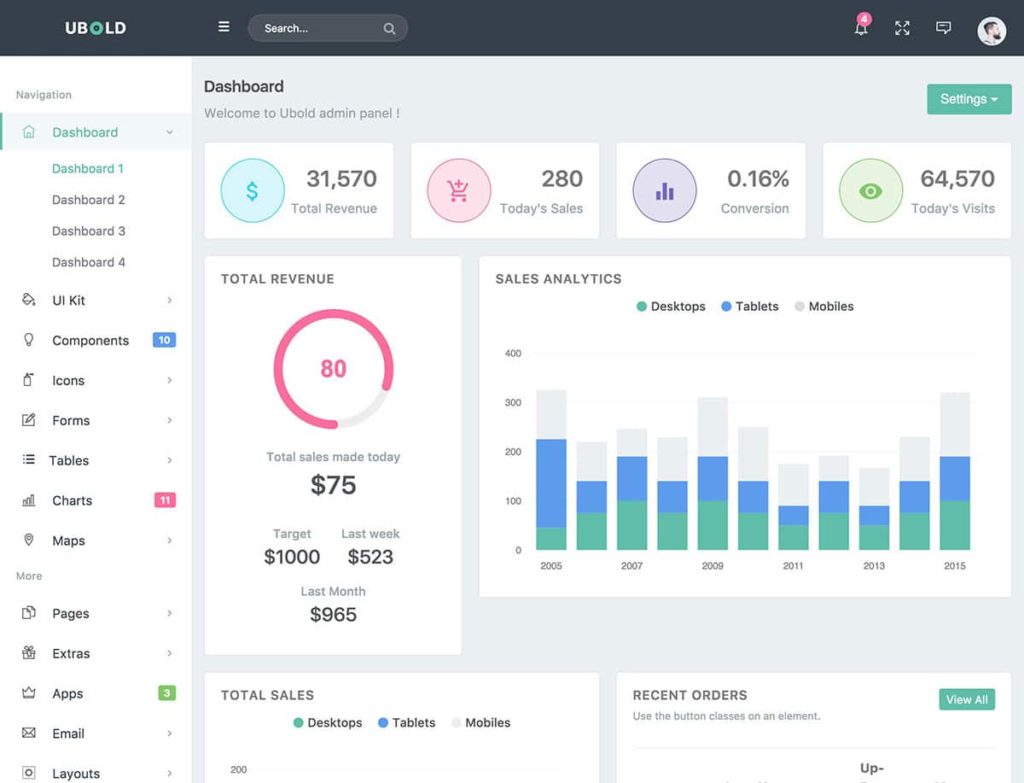 Ubold is packed with demos and pre-built page templates making this a highly flexible admin panel.
Music Dashboard
Cubic Admin
Minimo Admin Bootstrap 3 Dashboard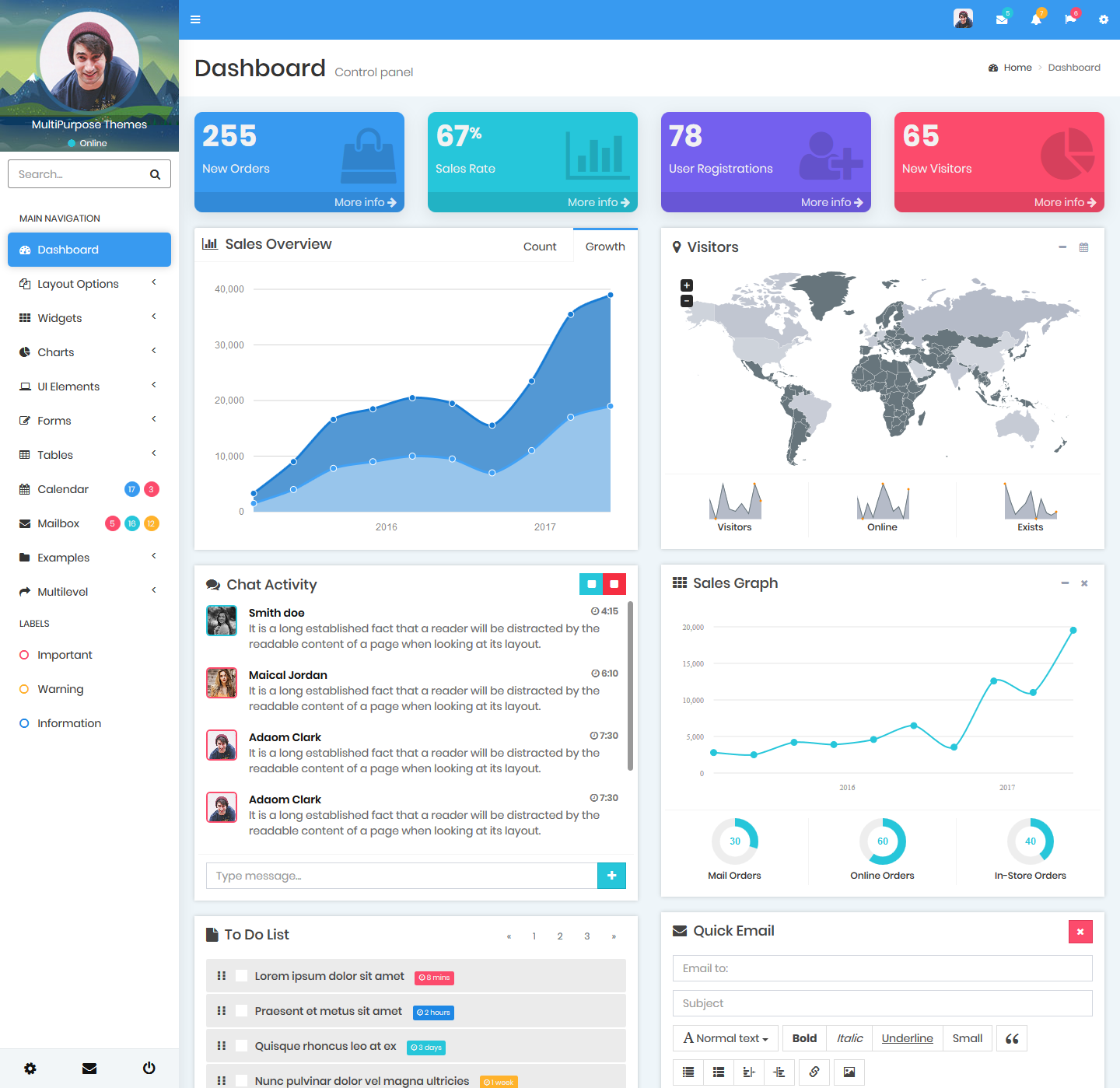 Color Admin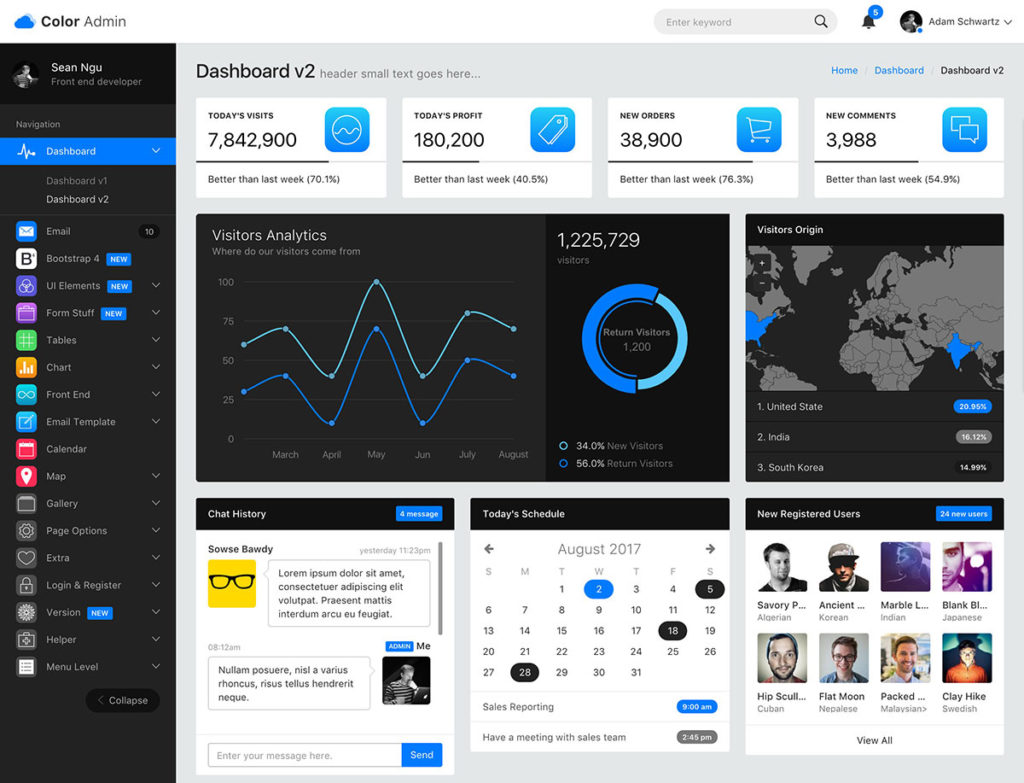 The Color Admin is a now on version 3 with even more new features added after the recent update.
Adminto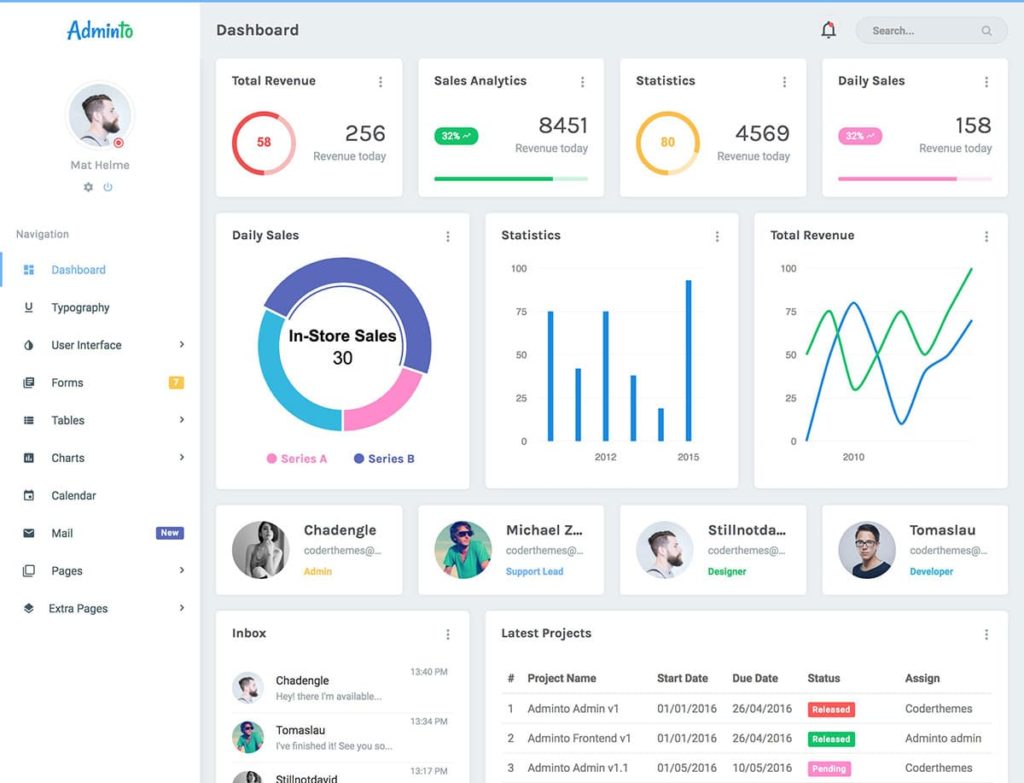 Adminto is another popular Bootstrap admin dashboard that includes enough templates and demos to help you complete your project.
More info / Buy Now Demo
Beagle
Beagle keeps things simple in terms of design, but when it comes to features this admin template definitely isn't lacking.
Real Estate Admin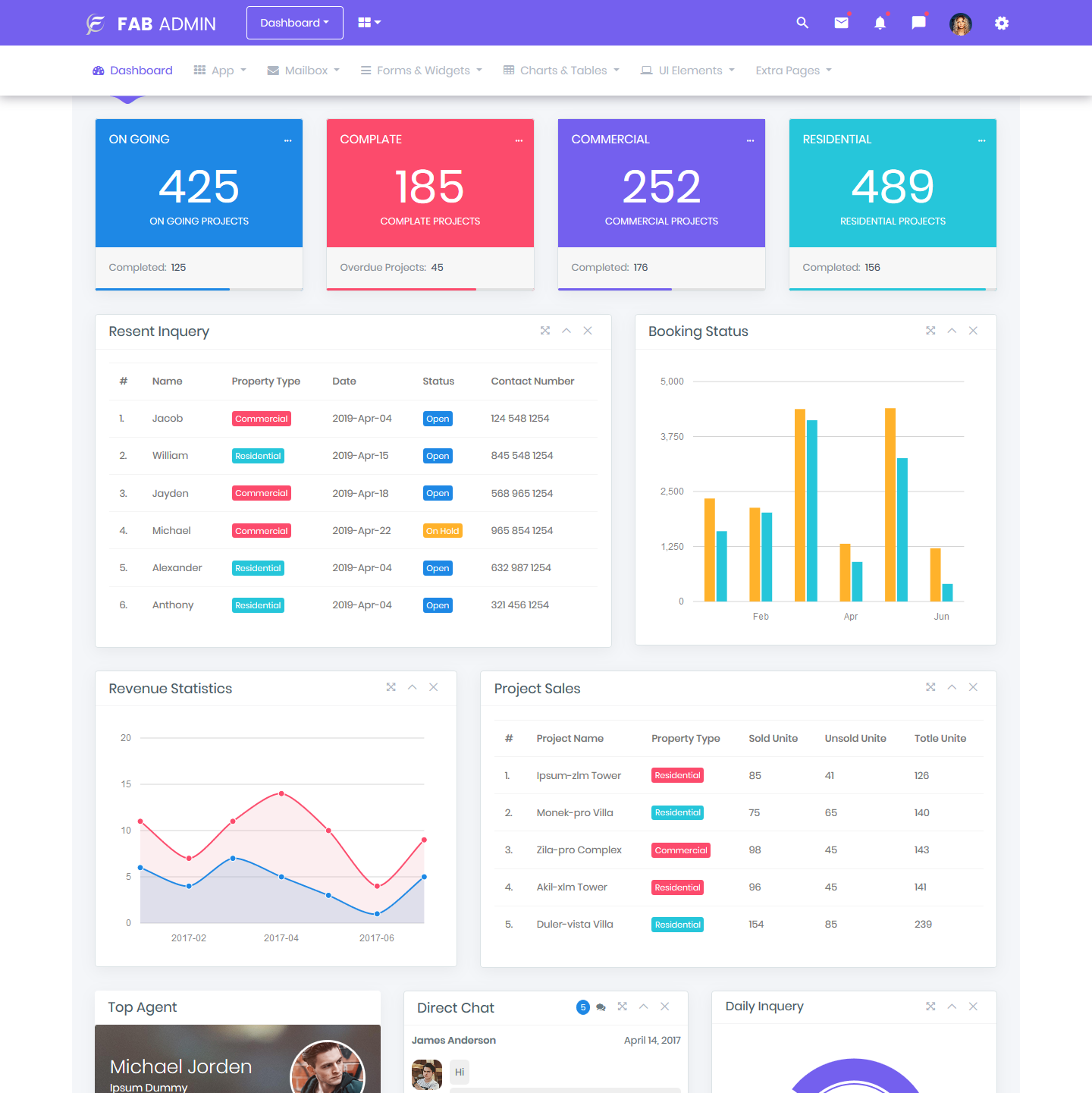 Notebook – Web App and Admin Template