Today we present some valuable coming soon pages in HTML5, css3 downloads that give your site guests a sneak look of what is yet to come. HTML website templates in web design are pre-designed for users and web designers, searching for quick and effective web plan.
Templates in any case are for managers or organizations who haven't yet procured web designers but at the same time need quality websites of their own.
1. Emma
Emma is the artistic template in your coming quickly web page designed for touch devices and mobile phones contains toggle perform with config file, very straightforward. Customize to suit any requirements, supports latest technologies like Bootstrap 3.3.6, HTML5 & CSS and some of in-built features like YouTube video background, slide show etc.
2. Charge –
A multipurpose, easy-to-use coming soon template, contains Mail chimp and PHPMailer which will help you to be connected with your customers as AJAX Chimp allows subscribing your website and with PHPMailer they can even send messages to you (email).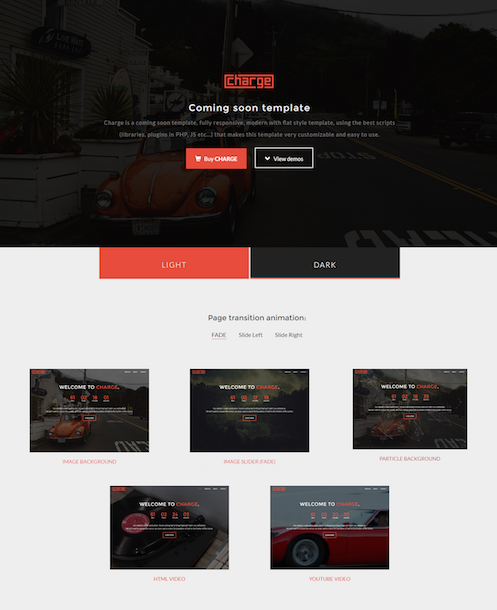 Demo Link
3. Company
This is maybe the least expensive web formats of the entire list and offers the best experience with a budget constraint comes with latest technology support like HTML5, CSS3, and Bootstrap 3.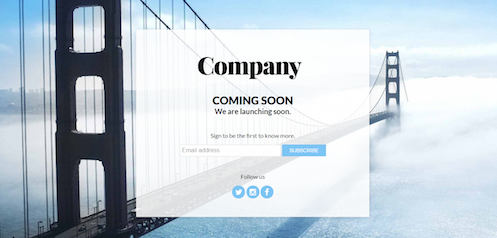 Demo Link
4. Deft
A multi concept template comes with Clean, modular and modern Design.
It also contains latest features like Bootstrap 3.x, Ajax Contact form, Mail chimp, Integration, Multiple ColorSchemes, CSS3 and JQuery Animations. Besides, it is also Retina ready so Mac users will find this template to be a delight and joyride to experiment with.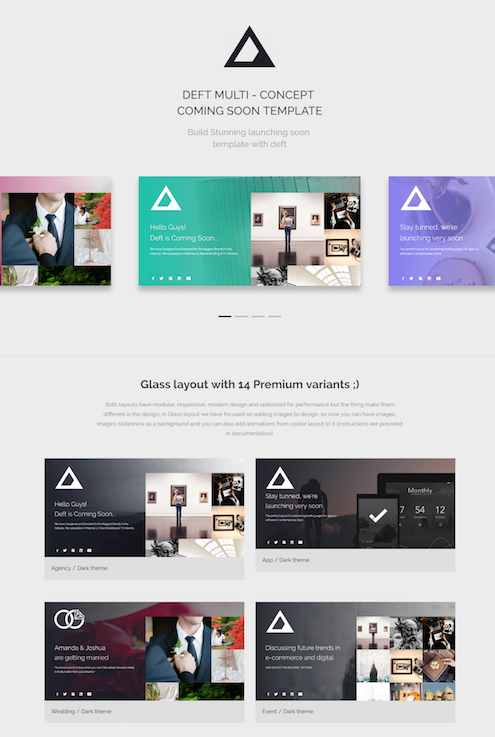 Demo Link
5. Iqon –
It features countdown timers, image background customization and comes with 14 pre-made layouts. IQON portable to TV response of the entire screen from the phone, built with bootstrap 3 frameworks, easy to customize, HTML5 was confirmed to 100% by the W3C, CSS3, SASS and Mail chimp.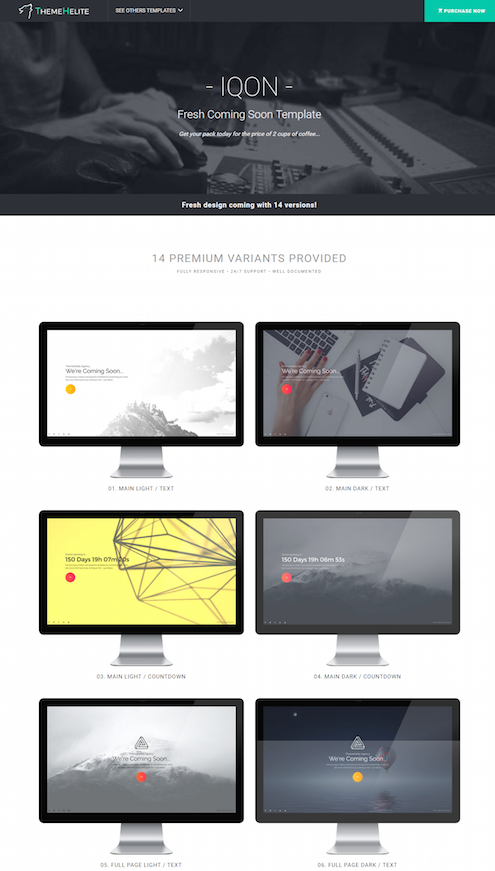 Demo Link
6. SoonX
SoonX is another multifaceted and flexible web template that comes packed with most recent features. It comes with the best background layouts so we recommended it for photographers and graphic artists. SoonX comes prebuilt with 7 variants ranging from a static background, light to animated and a unique Sea Canvas version.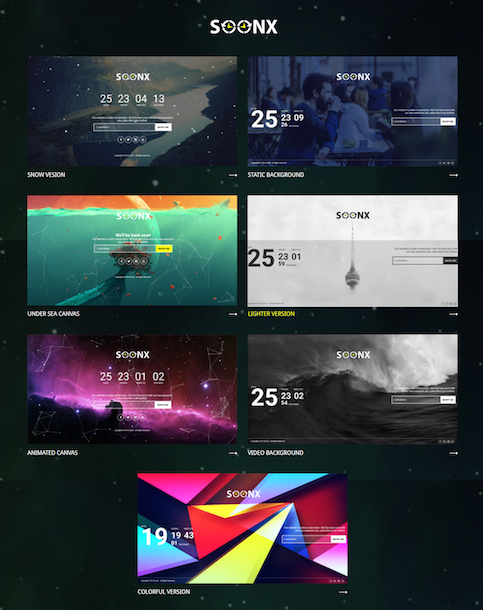 Demo Link
7. Oli
Oli is another modern looking, intricate web template that lets users design modern webpages. Change background image with less effort in the html code and run the jQuery timer as you need. The documentation is clear and straight to the point. Features are: Bootstrap 3 support, parallax scrolling, 9 background styles, AJAX subscription forms and Mail chimp integration, HTML video background and etc.
Demo Link
8. Gravity
Gravity is a responsive clean Bootstrap 3 based coming soon / under construction template. Oli comes in six versions: image background, image slider background, YouTube video background, ken burns slider, gradient background and color background.
Demo Link